ignore the prefix. i dont even know what it means. :P
anyways; selling a edge pro trem here. really well kept, practically mint because i took it out after a week or so and administered a original floyd rose.
so this'll come with;
whammy bar
trem claw(like you dont already have one)
springs
original floyd rose trem posts and anchors(these wont help with an ibanez... yes you can have them
)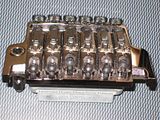 150 for the trem, 20 for shipping. any takers?