Google unveils Nexus One 'superphone' - CNN.com
Discuss.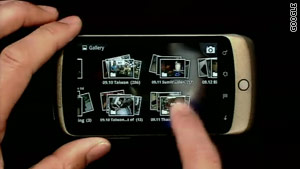 Not cheap.
CNN) -- Calling it their "superphone," Google unveiled the Nexus One on Tuesday, marking the online search giant's first leap into the smartphone market.

The phone, which goes head to head with Apple's darling of the market, the iPhone, is sold only through a Web store operated by Google and, unlike the iPhone and most other current smartphones, is available either with or without mobile service.

"We are very happy to be able to offer a choice," said Mario Queiroz, Google's vice president of product management.
T-Mobile is the initial service provider. Verizon in the United States and Vodafone in Europe will be coming on board later, and more operators are expected. Already available Tuesday, the phone costs $180 with a contract or $530 unlocked, leaving the phone open to other carriers.