...and boy did it take for-fucking ever.
My parents were out of town, so we hauled gear up to their place. It's an older single family, all brick construction, on about half an acre. It allowed us to go as late as we needed to, which was good, since we finished at 11:30 last night. It also didn't hurt that it was only ten miles up the road.
I loaded up my car and dropped a good chunk of the gear off the day before.
That is my Mesa cab (loaded with C90s), my '97 2ch Dual, a Stiletto, and my friends 2ch Dual (R005, fifth one every made).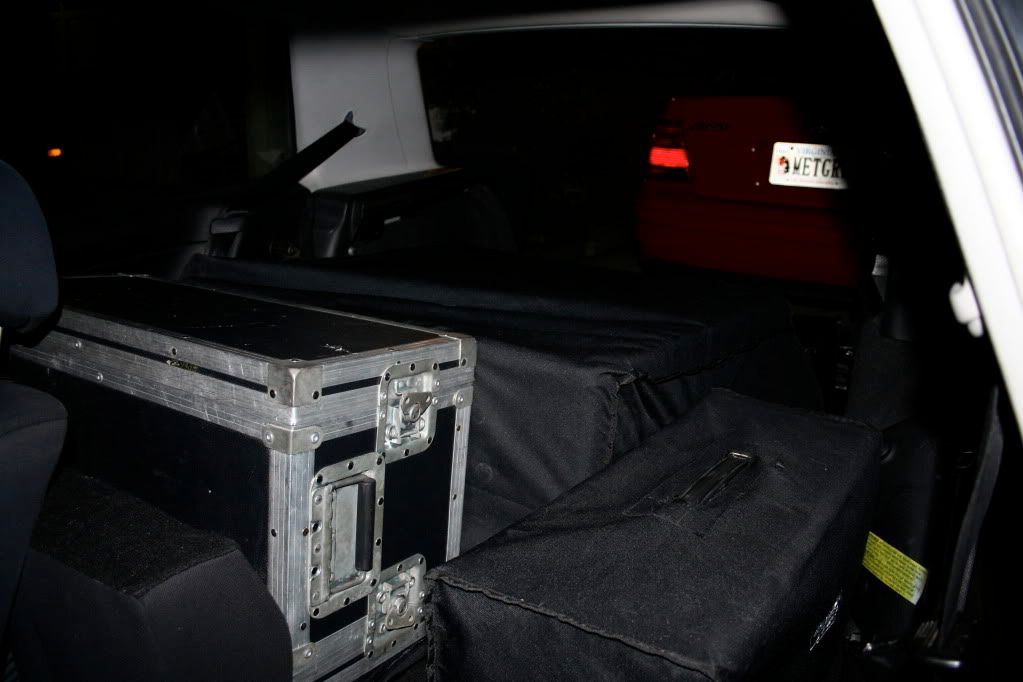 I'm seriously surprised the car didn't ride an inch lower.
I got over to Mike's around 9:30 Thursday morning. I had my box with all my cables, pedals and tools, as well as my friend's Mesa cab (this one loaded with V30s).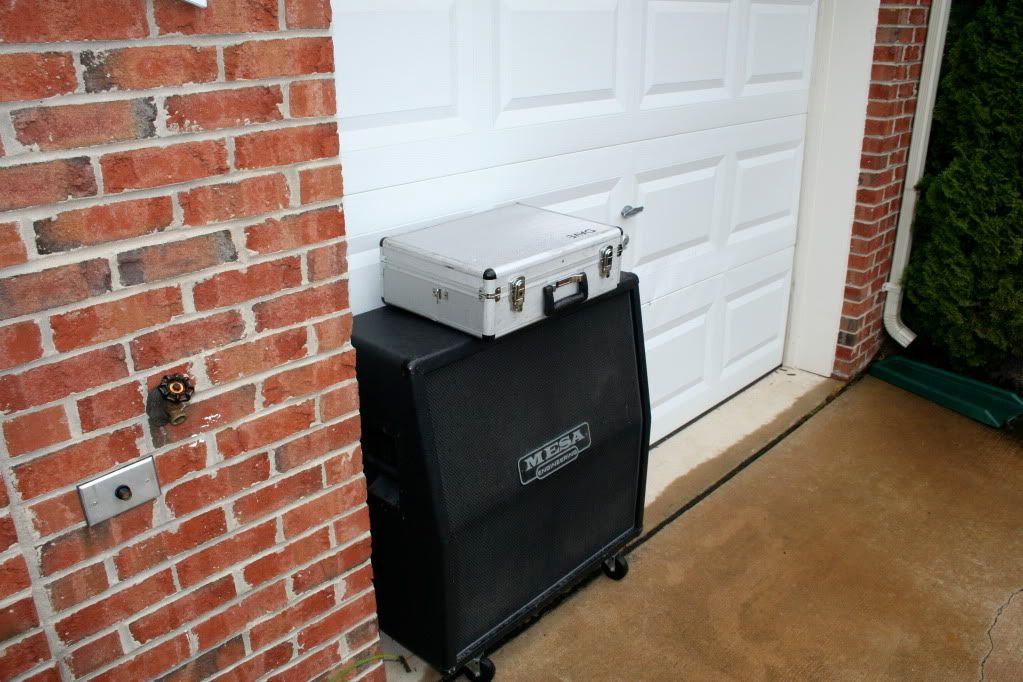 As you can see, the weather decided to cooperate with me.
As always, Mike was glad to see me. I wasn't glad to see Mike, since his lazy ass didn't make coffee. Mike let me know what he felt of my assessment.
We had a good deal of gear to drag over from Mike's house, too.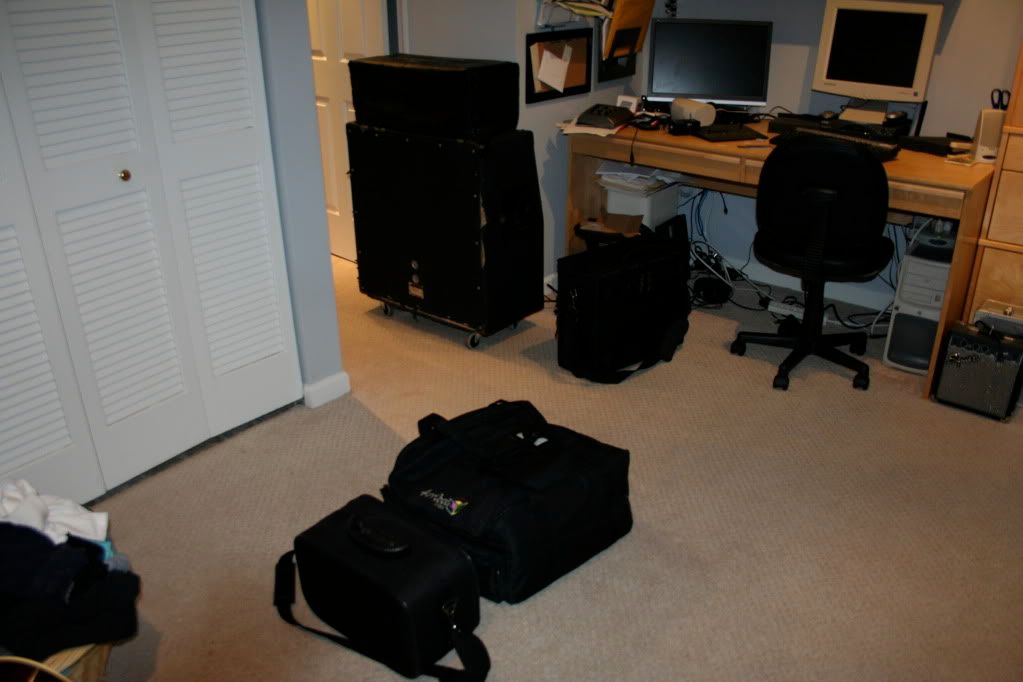 That's Mike's Triple Rec, his old Peavey cab (loaded with C85s), the recording rack (with Firepod 8ch mic pre and laptop), a bunch of XLR cables, mics, the re-amp box, his toolbox, and the studio monitors.
Did I mention it was raining?
Here's all the gear loaded into the back of Mike's Lexus. A week old and we're already beating it up.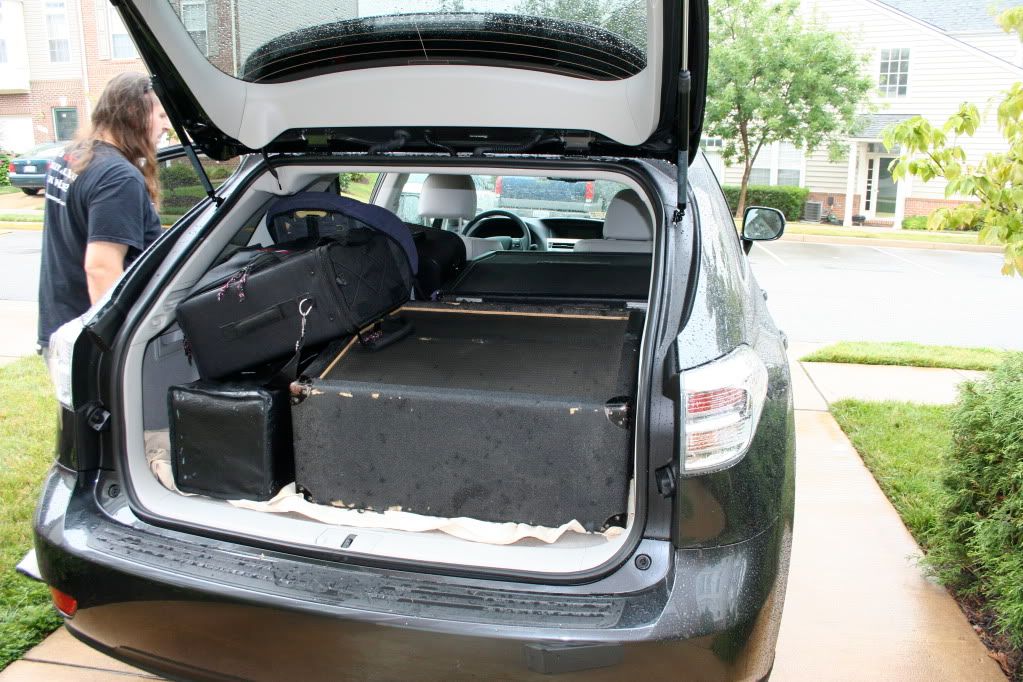 Veritably, we had a lot of work to do, so I didn't spend a lot of time snapping pics for some massive picstory, but I did get some good pics of our setup. Excuse the trappings of domesticated grandparents in the grip of terminal retirement.
That is the Stiletto through the C90 cab. We mic'ed it with a Sure SM57 and a Sennheiser e609. We set it up in the small storage/computer room off the back hallway. This amp sounds so good by itself that we didn't need a boost. I've done a lot of playing around with it and different pedals, and have come to the conclusion that the boost just doesn't give you anything useful with a Stiletto on ch2/fluid drive, unless horrible, uncontrollable feedback is what you're going for.
This is the last you will hear of the e609, since it is an unfocused, muddy, honky piece of overpriced garbage.
This is my Dual and Mike's Triple. You can see Mike on his knees, which is a common theme for him.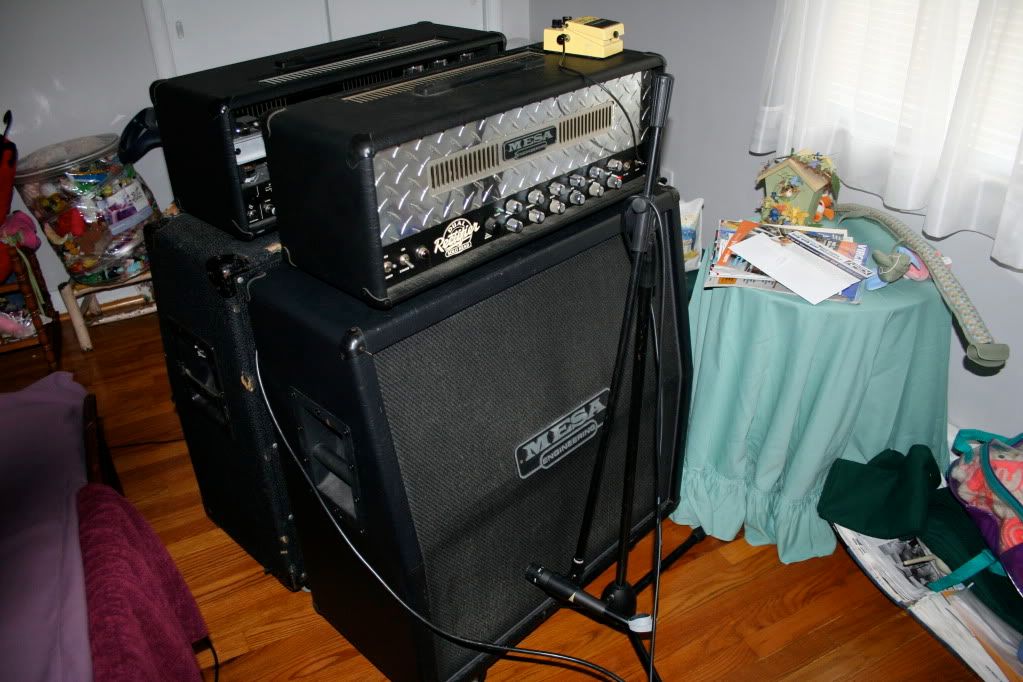 We started by mic'ing up my Dual, plugged into the V30 cab. That's Mike's magically delicious Boss OverdriveOVChaos perched on top. I scored this amp less than a week ago in a trade for my ESP SC7. It sounds absolutely amazing, but it wound up not getting used. Mike's Triple sounded better for rhythm, and Dual #5 sounded better for lead.
After a couple of runs with the Dual, tweaking along the way, we just turned it off and plugged the Triple into the V30 cab, leaving everything where it was already at. We got a great rhythm tone nailed in about five seconds. I think the Dual would have been a great rhythm amp, if we weren't using the Stiletto as well. The Stiletto is designed to sit in the mix with a newer Recto, but more on that later.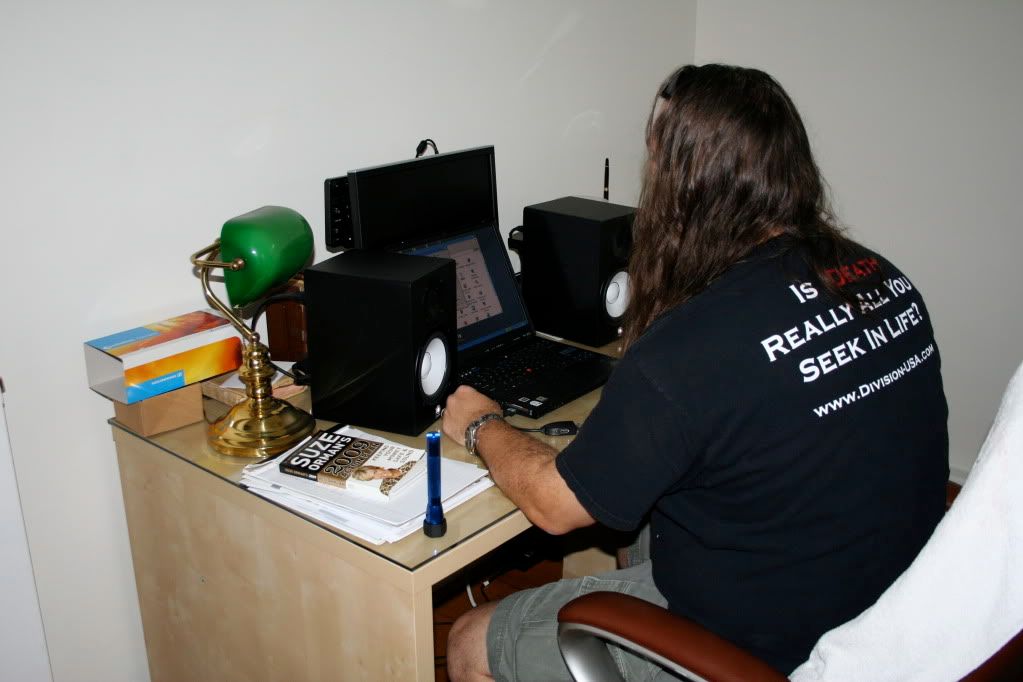 We used my old man's office as a control room. Those Yamaha monitors have some of the most accurate and up front mid range response that I have ever heard. After 13 hours in front of them, your ears are just fried.
It was pretty entertaining running rhythms, since the control room was right next to the room with the Triple, and the Stiletto was across the hall. The resonant frequency of the room is a low D, since the floor would vibrate when we hit that note.
We had things up LOUD. A Triple on 10:30 is pretty frightening, even with all the doors closed, and the Stiletto was probably around 11:00. My parent's next door neighbor actually wandered over to see why there was a strange vehicle in the driveway, and why the house was rumbling.
Luckily, he's a) one of the coolest motherfuckers on the planet, a total Ozzy-loving redneck who I have gotten drunk with on many occasions, and b) he said you couldn't hear more than around 10db from off the property. We could have probably gone louder, but we were already raising our voices to understand each other in the control room. Any louder would have required plugs. In the hallway, it was ridiculous. In the amp rooms? Suicidal.
You can see all the cabling running from the Firepod (on the floor), out the door to the amp rooms. That door had to remain closed when we were hot, or we wouldn't have heard the monitors. The rhythm sound wound up being the Triple on ch3/modern, mixed with the Stiletto on ch2/fluid drive. They sounded absolutely amazing together. The Triple has a tighter bottom that J-Lo, tons of presence, and that wonderful dry, lower-mid bark. Meanwhile, the Stiletto has that thick, crunchy mid-range that just seems to plug up all the holes in the Recto sound. We tracked both amps at the same time by using a Radial ABY box.
We only recorded on main rhythm track each, and we ran both our guitars through this setup. Mike tracked everything with his Soloist 7 (25.5"), while I tracked all but one song with my Sii-7 (27"). The guitars also sat well in the mix together, in much the same way as the two amps. Mike's was that classic Soloist upper mid-range honk (completely different in character than the Les Paul honk), while mine was B-R--I-G-H-T and punchy. They'll probably get a different blend of the amps in the final mix since mine can benefit more from Stiletto mids, while his can use more Recto presence.
So, on to the really important stuff: leads.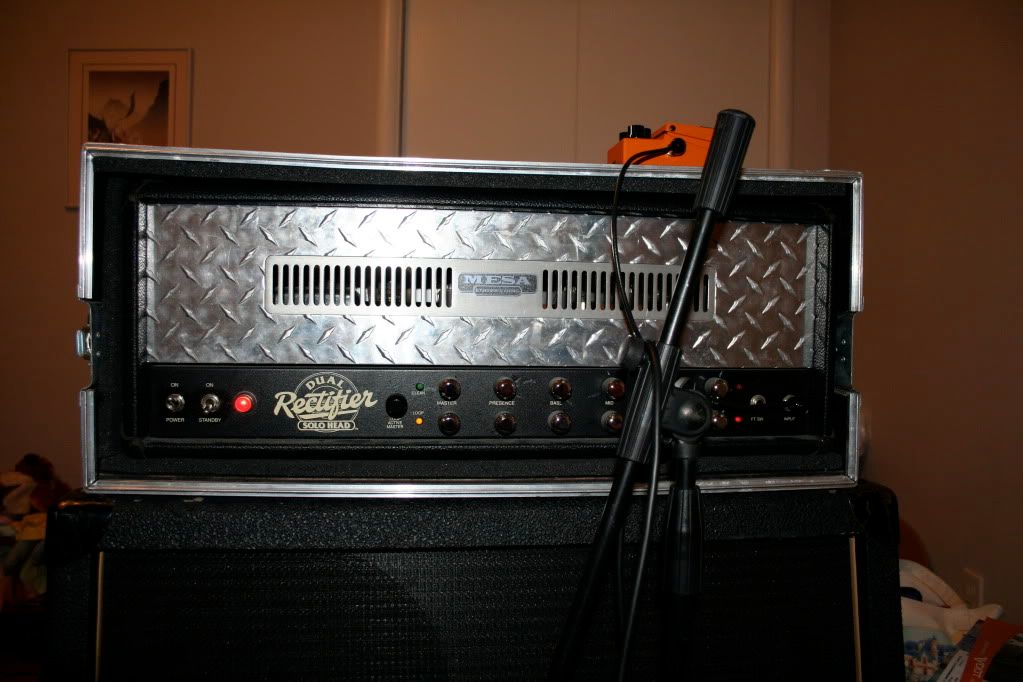 This is, quite simply, the finest amp I have access to. It is the fifth Recto ever made, a revision C, which is the earliest known revision to ever be sold to the public. There all sorts of tiny little visual differences, and the line changed a lot in a very short period of time. To put that in perspective, my Dual is in the 8000-range, made just three years later, and is a revision G.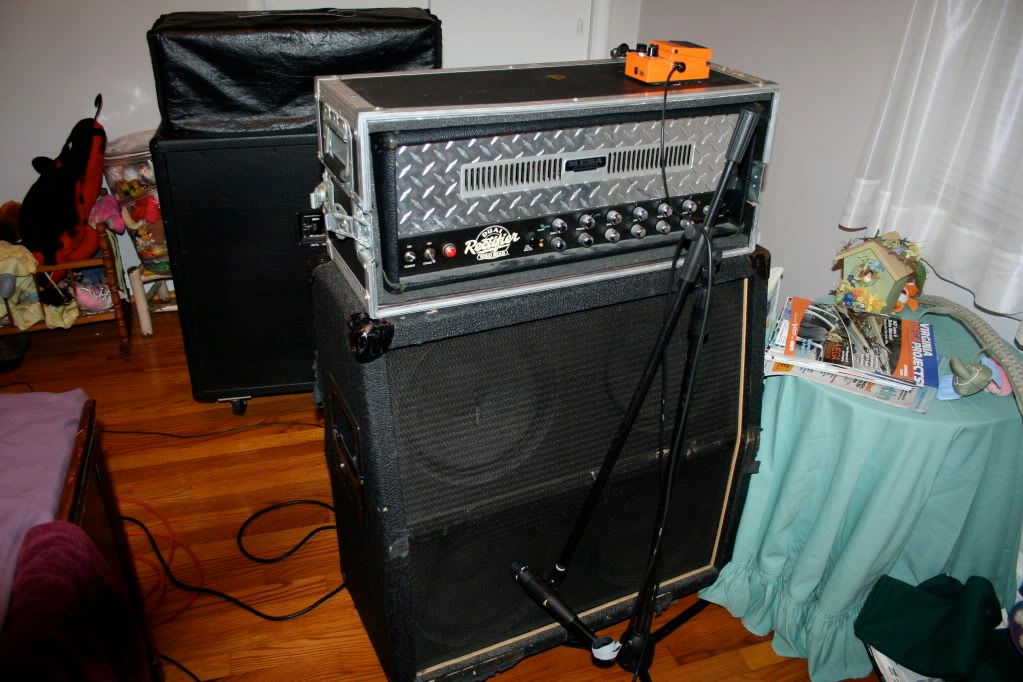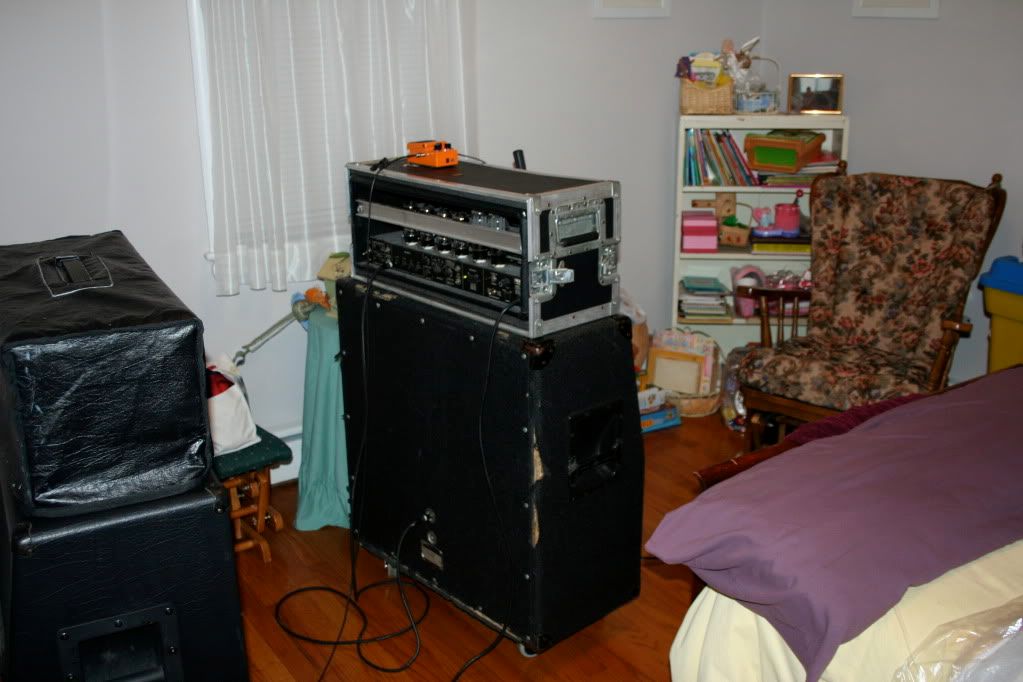 I spent some time playing around with this amp at home, and V30s just don't work that well with it for me. It is really, really bright and present, and the C90s just seem to do a better job at keeping it from getting harsh. Since the C90 cab was with the Stiletto, we used Mike's C85 cab, which sounds almost identical. It is actually a lot like a Soldano--you can push the gain well into the point of complete saturation, yet it never seems to loose articulation. The gain was around 1:30,
with
a boost out front. We also ran it really, really loud. I put it in loop bypass, since it sounded better running off the channel masters directly, and turned ch2/modern up to around 11:00. We almost needed ear plugs in the control room. We started with the modded DS-1, but with everything else in the chain, it was far too noisy, so we went back to the OD-1.
The Stiletto? No change. We didn't touch a knob, pedal, or mic placement. I swear, that amp is like bacon, since it goes great with everything.
The lead tone we got was stupifyingly awesome. I thought it was impossible to get such a creamy, saturated tone that didn't sacrifice articulation. The leads just explode out of the mix, and every round, fat note punches through like a typewriter. I am totally mixing amps for leads from now on. We were like a couple of kids geeking out over how good it sounded. With that, we packed up and headed home, pulling into Mike's around 12:30pm.
I'll leave you all with this: the codeword for the day was "Quigley", since that is what we would mention whenever we thought the signal going to the amps didn't have enough gain. "Hey Mike, Chris it!"
Oh, and thanks to Todd (Siggy14) for all the gear he lent us. Thanks for making us sound good, bro.