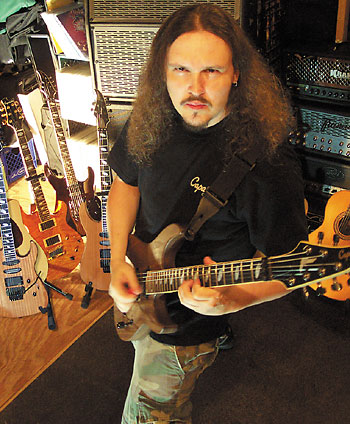 I know that some of you know this guy, but some don't and I assume at least some are unfamiliar with his solo work. He was in Death (on
Spiritual Healing
) and in Testament (
Low
and
The Gathering
) before he, ironically like Chuck Schuldiner, developed a brain tumor.
I guess he's doing alright now, and he has two solo albums,
Convergence
and
Feeding the Machine
. I have only heard the latter, and frankly I wasn't a very big fan. The bass and kick are extremely muddy and overloaded in the mix, and the album is an interesting prog exercise but I can't really stand to listen to more than 2-3 tracks at a crack. Just too chaotic and meedly-meedly-moo. I really liked
Race With Devil on Spanish Highway
and the title track. My drummer swears
Convergence
is better so I'll have to check it out.
He's big on Caparisons, EMGs and Framus amps.
This is a really sweet looking Ibanez that I can't identify: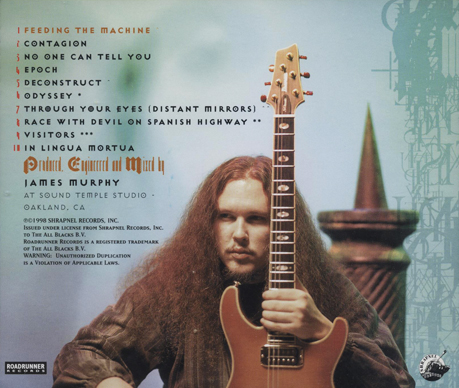 Seems like a dude who went through a lot, is relatively underappreciated but has a solid body of work. Discuss.