Or the tale of an extremely elaborate gear trade.
Going back 6 weeks-ish I spied my old 3x12 on Ebay, not too far from Stuh84. So, plan was hatched for Stu to pick it up for me, with me coming up to get it this weekend. Which then spiralled into a mini gathering also involving Blank Plank (Ant) and Peteus (erm, Pete), plus Stu having my Zilla off me and Ant having Stuís re-speakered Marshall 1922. Whew! (I said it was complicated!)
Anyway, thanks to my Vypyr deciding that making noise was something it didnít fancy doing, Iíve been left ampless while Peavey sort it. Cue more Ebay hunting and purchasing an Ashdown Fallen Angel 60 for just £157
So, Thursday night I headed into London to pick up the Ashdown, and Friday afternoon I headed up to Stuís. Friday night was mostly spent watching movies, but we did make a bit of noise with the Ashdown/Zilla combo.
Saturday morning bought some jamming with these: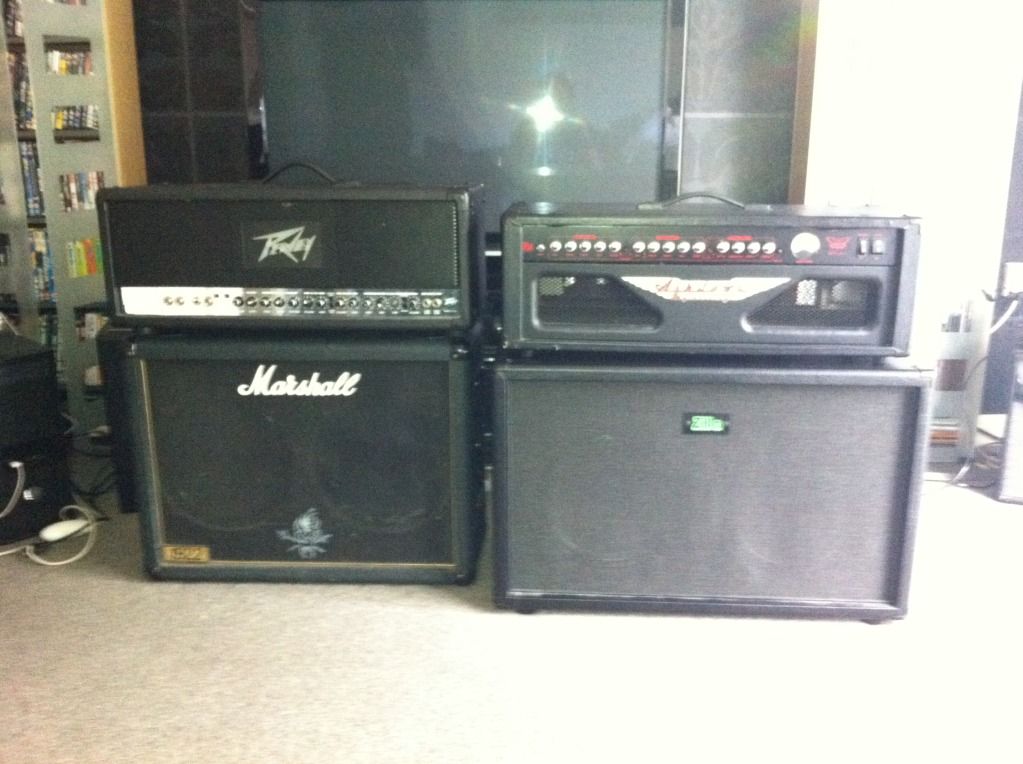 Just to really confuse things, the amps are actually plugged into the cabs theyíre not sitting on. I have to admit, it made for a nice fat sound and they worked together really well. The Ashdown is a nice amp for hot-rod Marshall tones, but definitely not a gain monster (as we found later). Some of the built in fx are useable, but their easily disabled anyway.
Next, a quick McDonaldís trip for breakfast, where we spy this: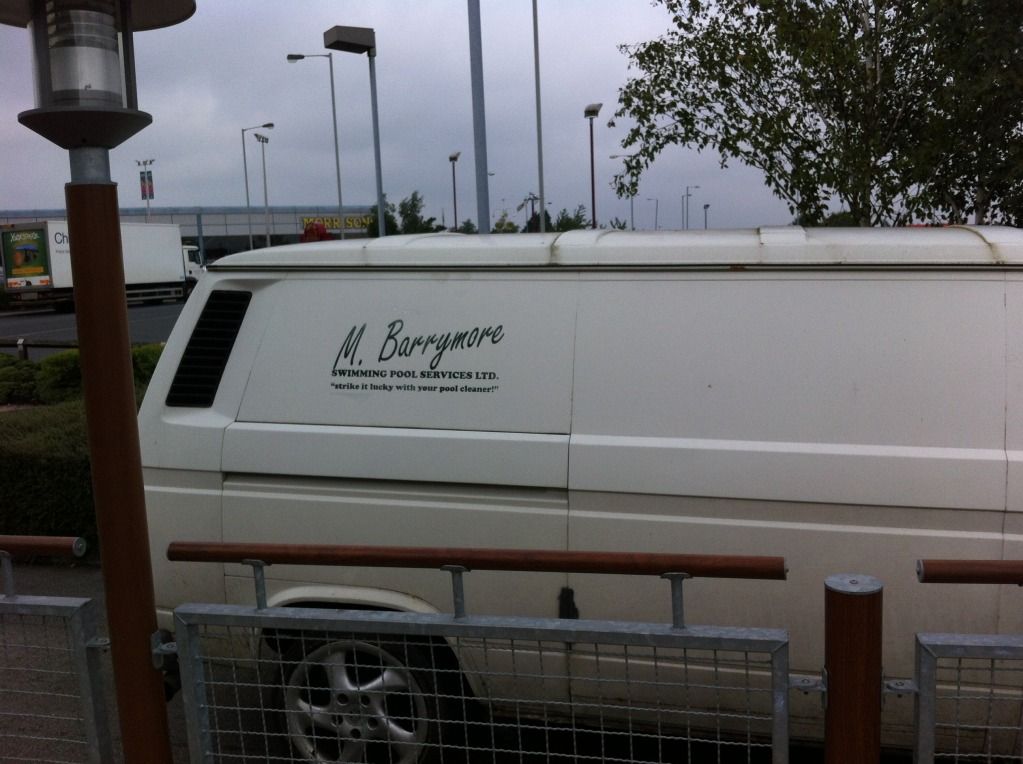 Back to Stuís to wait for Ant. Get fed up waiting and fuck off to Stuís jam space to start setting up gear. When Ant finally turns up we shoot off to Rich Tone music where we met Pete, then had a general nose around. Had a good go on a 5150-3 and Iím very much in love. Channel 3 especially was melting faces, and I was quite shocked the gain was only on 3. I do not want to be near that with the gain dimed. It might be the Manure signature model, but Antís RGD7 was very nice to play and the Blackouts sounded awesome through the 5150. We all had a go on that, so the others can share their thoughts, then Ant had a go on a 200w Blackstar while I tried an ESP Horizon 6 string through the 5150. Beautifully made & playing guitar, but the Duncanís left me unimpressed.
Back from there for much abuse of amps & guitars at the practice space. My Ashdown definitely had the least gain, but then I wasnít too upset given the competition. Peavey Ultra Plus, Blackstar Series One 100w, Engl Savage 120, Engl Invader 150 and a Laney Ironheart. Cabs to hand were my 3x12, Zilla Fatboy, Zilla Super Fatboy, Engl 4x12, Marshall Mode 4 4x12 and Marshall 1922 with a V30 and a G12-T75. Both Zillaís were loaded with a Swap Thang/Legend combo, so we did an A/B using the Ironheart. Unsurprisingly the Super Fatboy has more bass, while the Fatboy has slightly more clarity. Then we did the obvious and ran both together, which was absolutely awesome. Check the MG Facebook for evidence.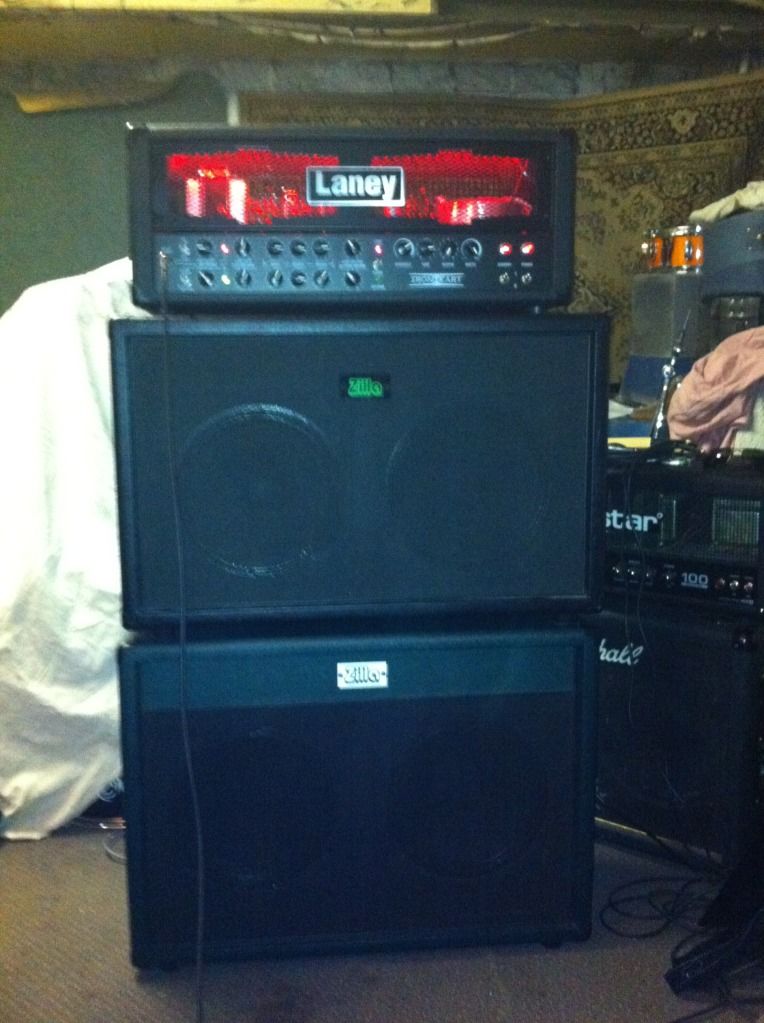 None of the combinations we tried sounded bad, which just reinforces that once you have semi decent gear you can dial in a good tone. The Ashdown surprised us as being quite a good amp for 8 strings, and the Ironheart impressed us all. Ant was lusting after Peteís Interceptor 8 and Stuís Xiphos (he wantís it back), and there was a point where I thought I was going to have to surgically remove Pete from my Stef 7.
Last thing before we went was to set up some gear shots. Excuse the crappy iPhone pics:
The wall of tone: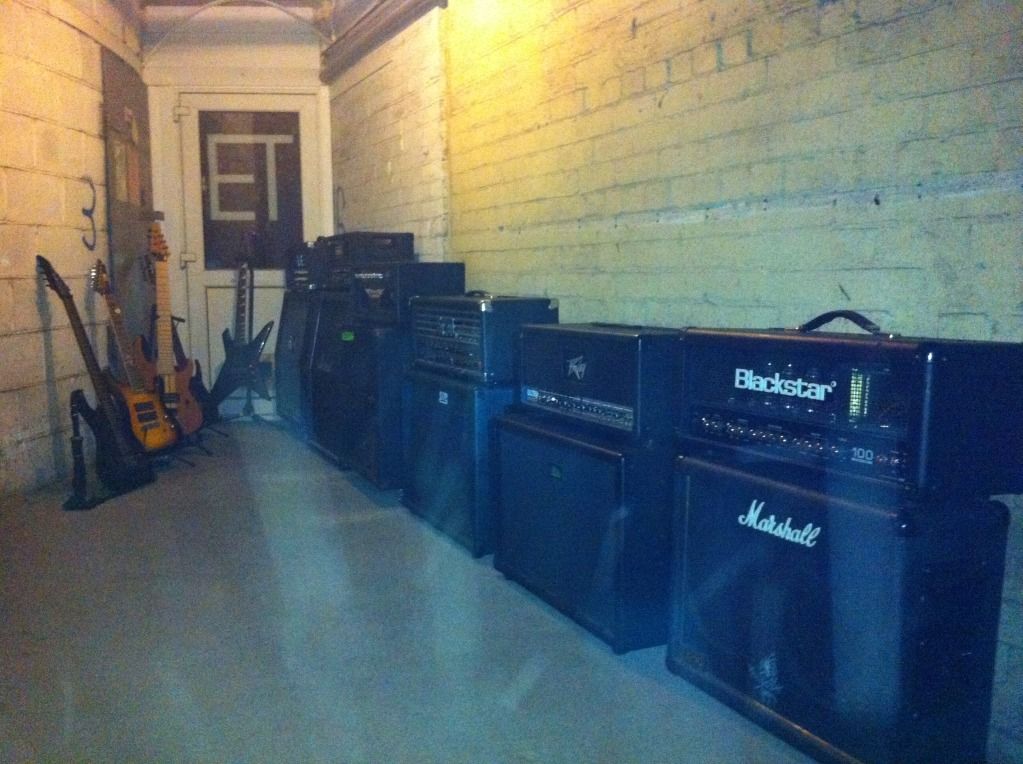 Antís Blackstar & Marshall: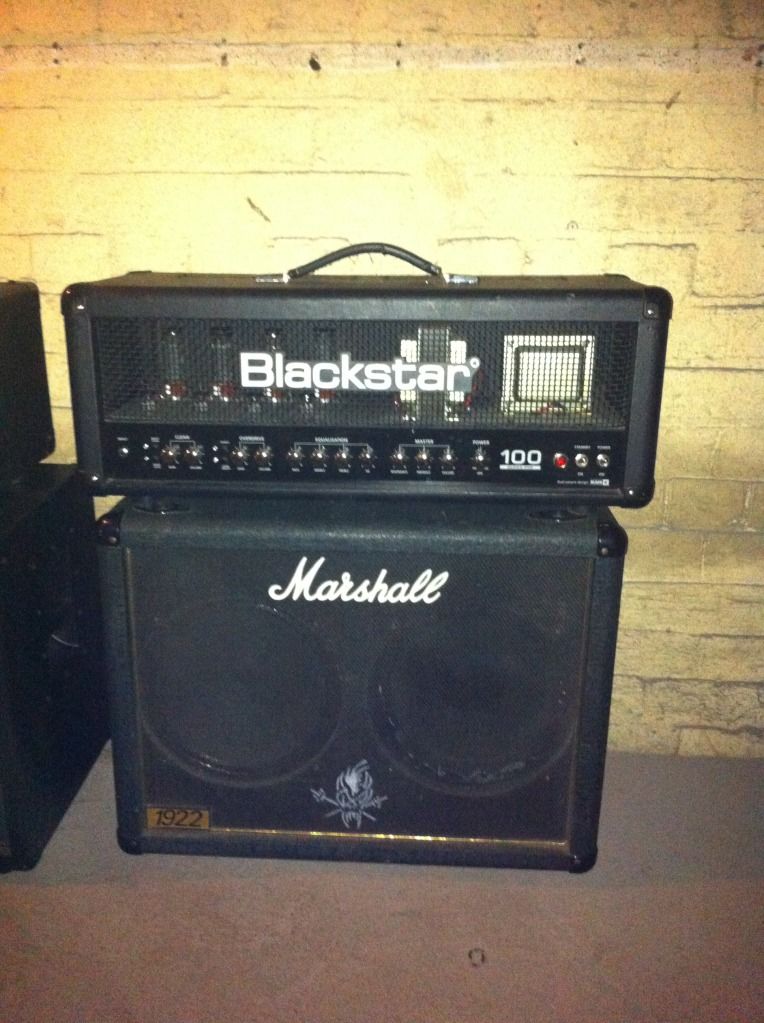 Stuís Ultra Plus & Zilla: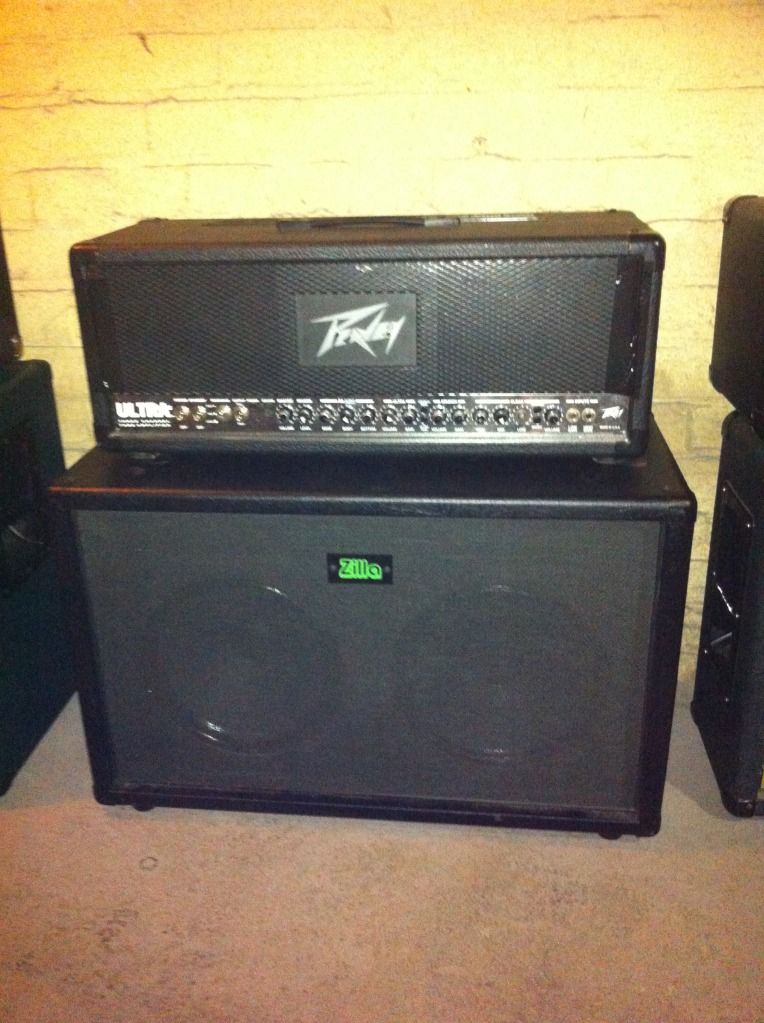 Peteís Engl & Zilla: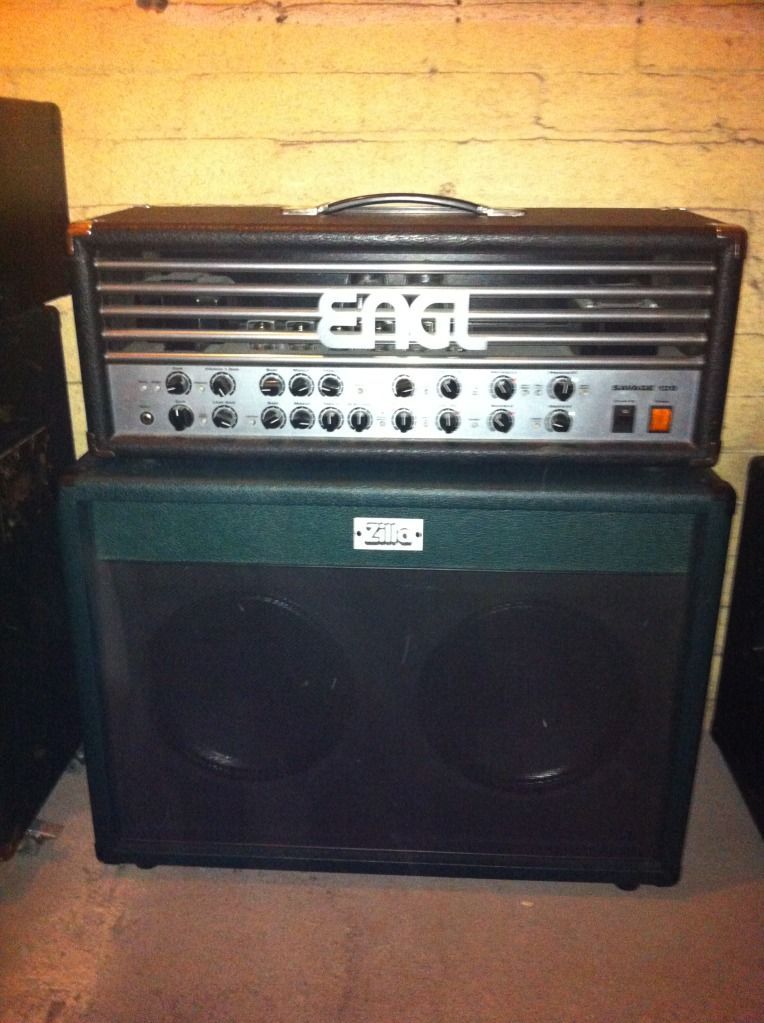 My Ashdown & Trace Elliot (note to self, move the feet on the Ashdown so it fits on the cab better):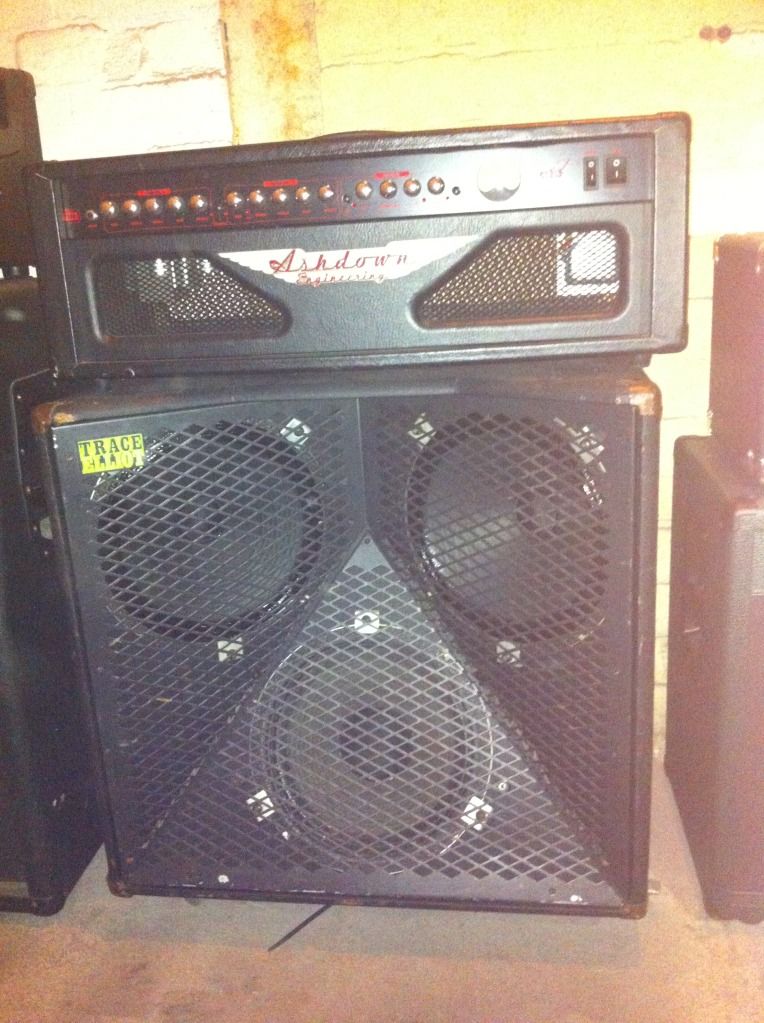 Peteís Ironheart & Mode 4: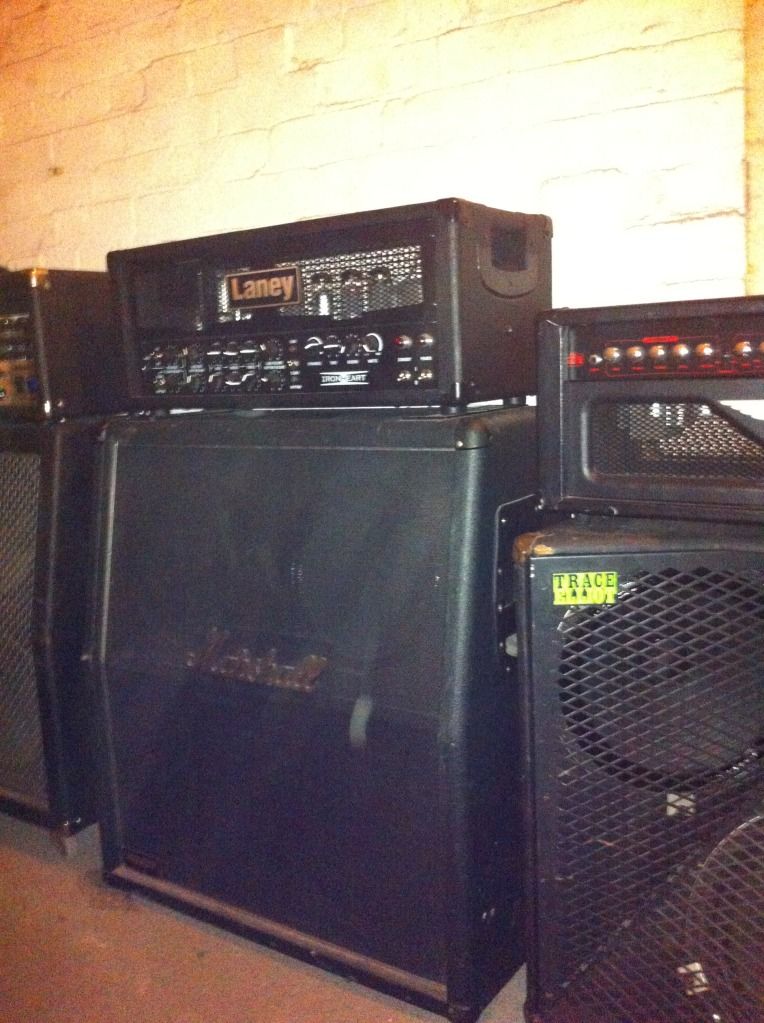 Stuís Engl stack: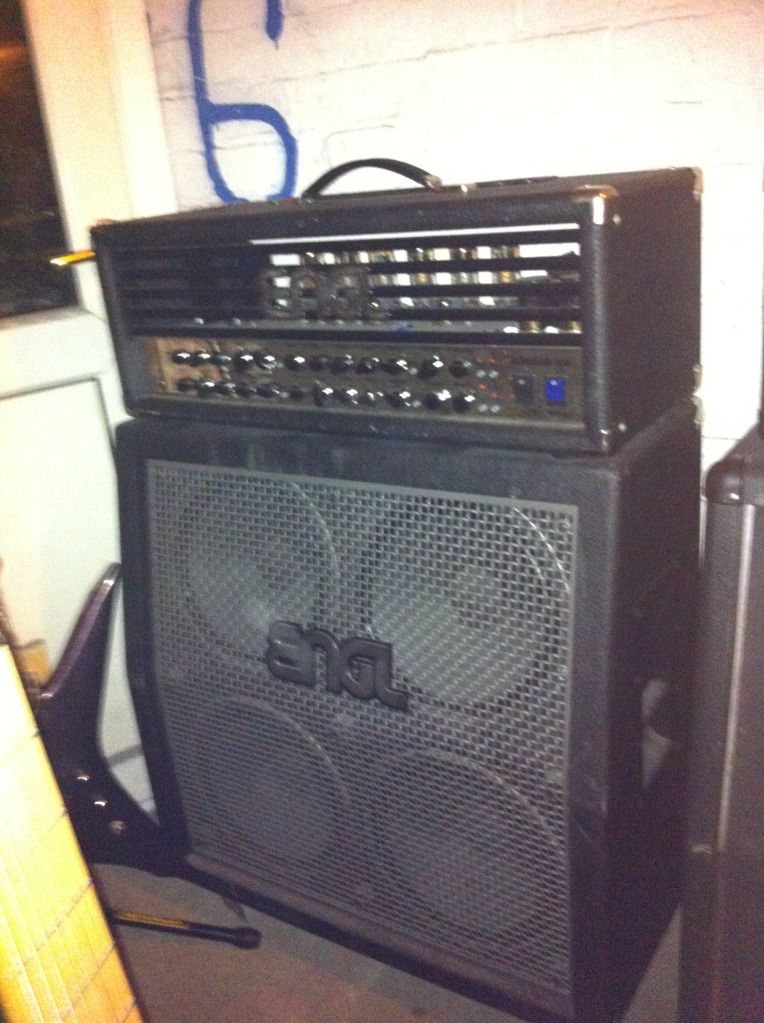 Guitars (Peteís Interceptor 8, my SC607, Stuís Intrepid 8, Antís RGD7, Stuís Xiphos 7):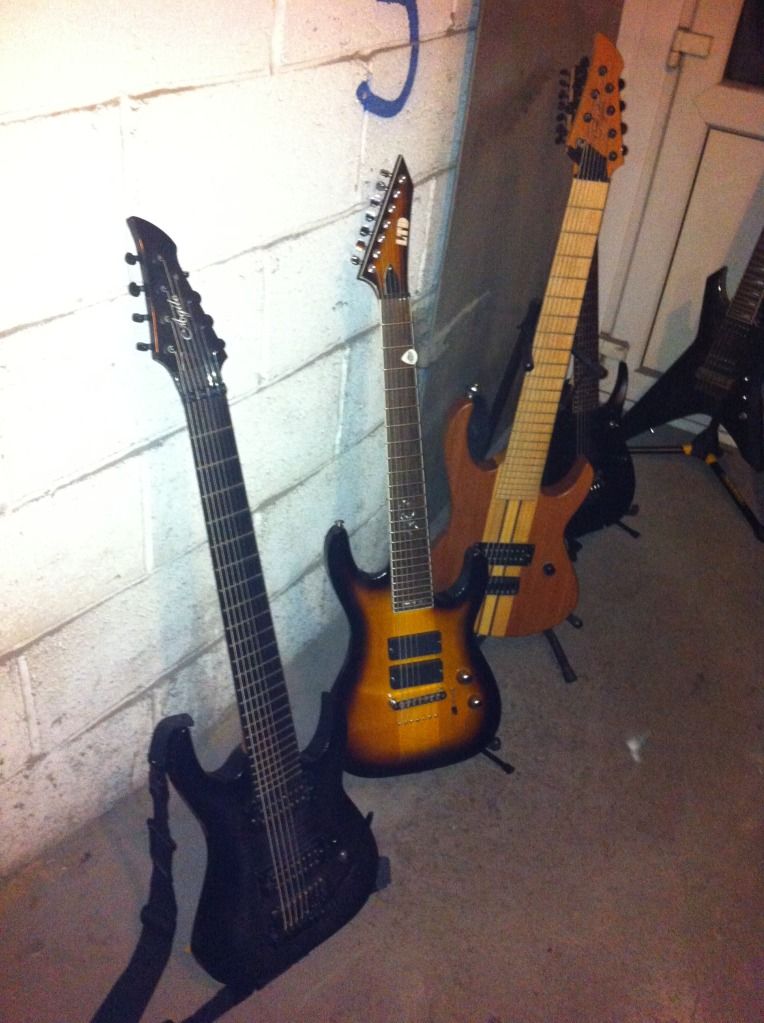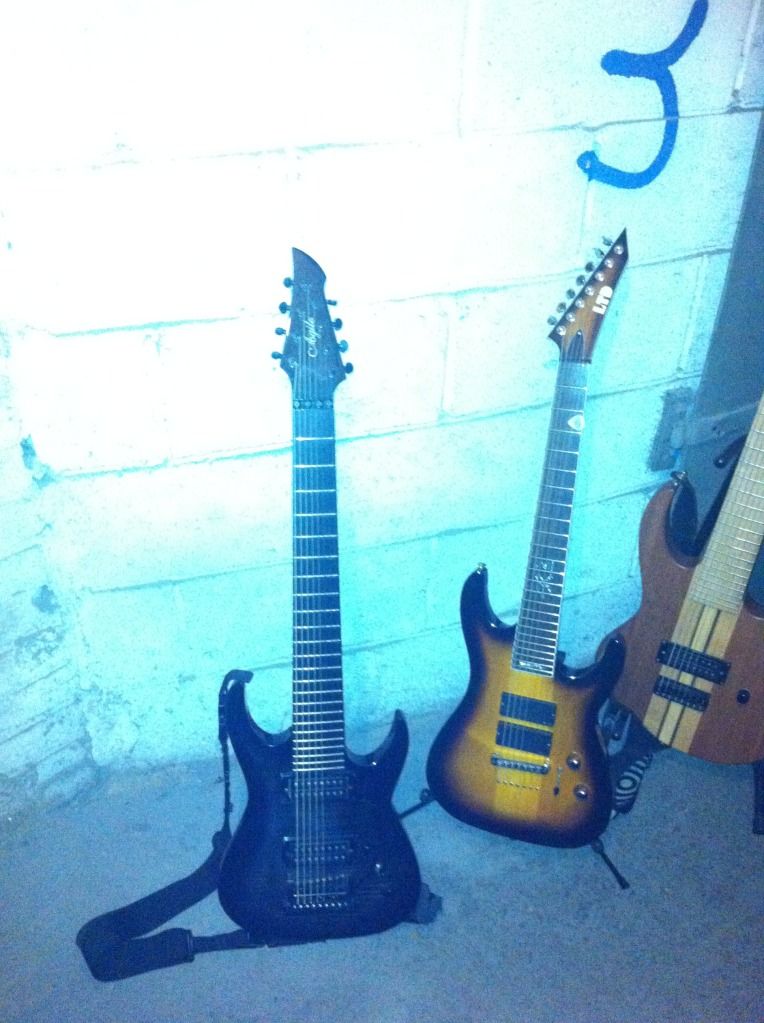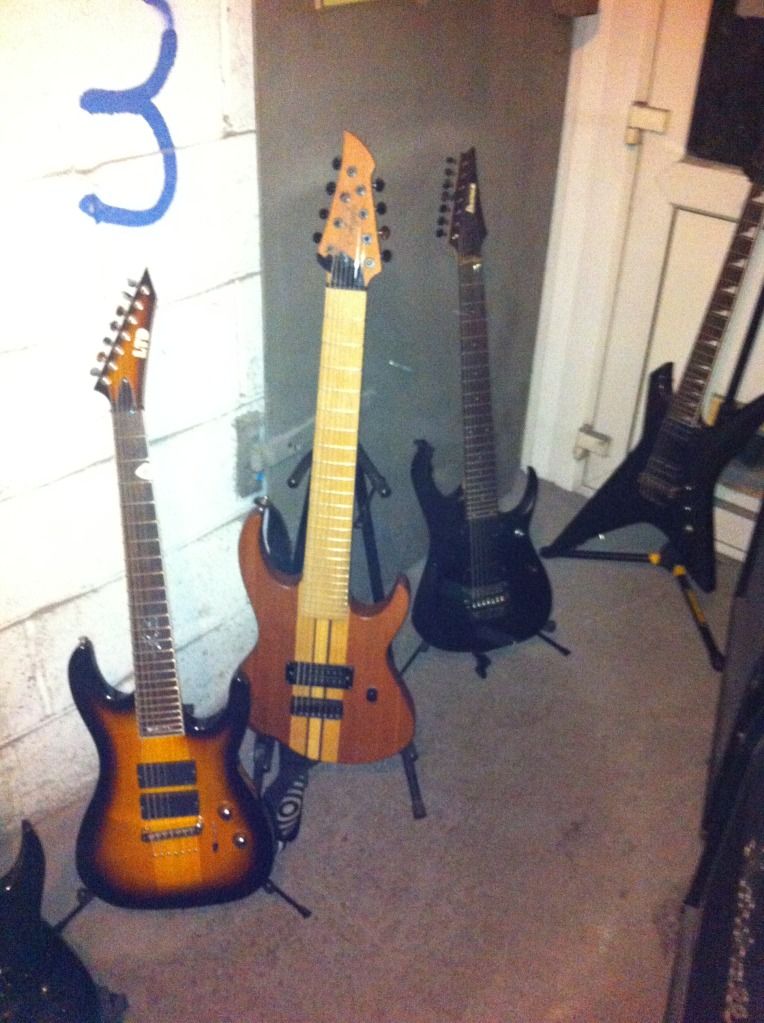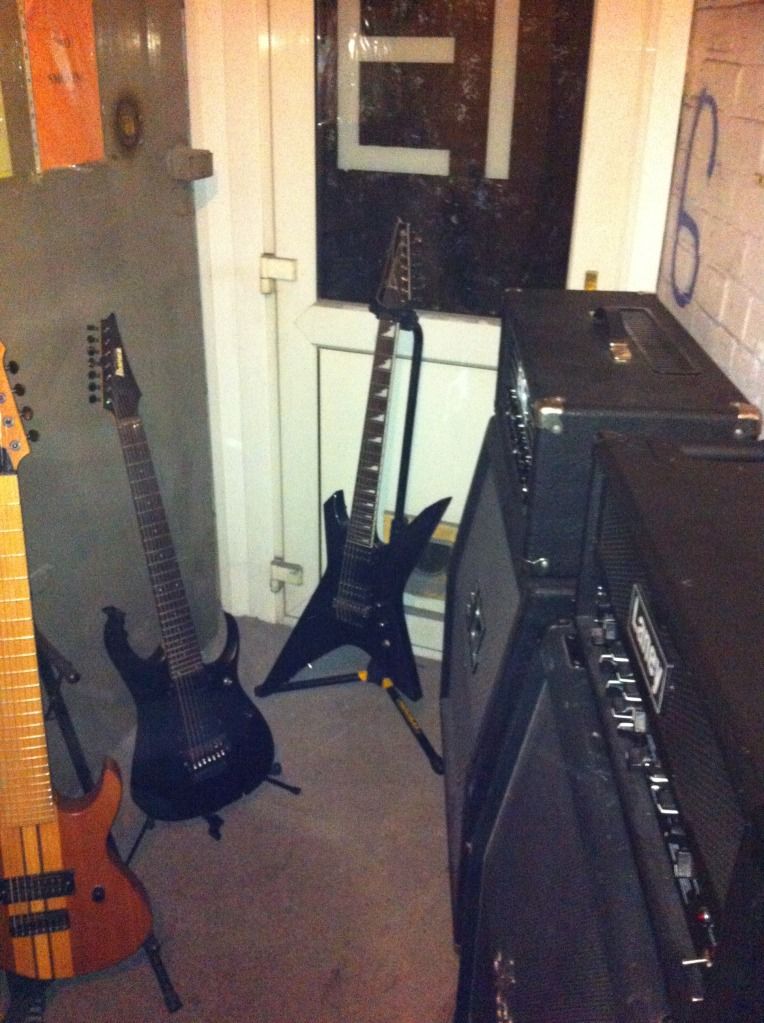 Back to Stuís for a curry, more guitars & films. Plus hatching plans for another meet hopefully soon.