Greetings chaps
The story:
While writting the 2nd album for my band Tempus Fusion, I burned myself out. Got overworked and was super frustrated with my mixes, song structures, snare sound, enough reverb here etc etc until I realised one day that I hated every single fucking thing there. So I closed cubase, backed up all my audio files onto an external drive, uninstalled cubase and stopped everything.
Left my music shop job, band went on pause, got a sick BMW that none of my gear would fit in so I sold ALL my gear except my JP7, 7string I built and a shit acoustic not worth anything. I didnt play guitar for 3 years after that.
I did get a 6 string bass about a year ago and that was fun to learn slap and to understanding a great bass tone but it was easy and kinda boring after a little while. I didnt really have anything I listened to, to play.
I posted a few months back about finding some new metal to listen to as I had been out of the loop for a few years. Got some great suggestions so thanks for that guys
Short version:
I have returned to guitar playing after I got burned out and took a 3yr break from music entirely.
Where the fun starts...
I have abandoned standard/drop tuning and am now playing GCGCGCE / Devin Townsend tuning. It is fun as fuck! So much so I have no interest in go back any time soon.
I love SYL and everything Dev and have been learning strapping songs. Im also going to learn Alien from start to finish. That album is actually a metal masterpeice. I could go crazy about how great that album is but I want you to listen to this and focus in on the guitar parts and how fucking weird they are!
https://www.youtube.com/watch?v=3Faw4mj1Vfo
Currently I know Imperial, Skeksis, Shitstorm, Love?, Thalamus.
I will probably do a "How to play XXX" for each song on that album as they are so much fun to jam. But it is so alien to me and that is the feeling the album was named for so that makes me want to do it even more
But seriously its the best metal album ever made imo.
I've said to the guy from my old band Tempus Fusion that I want to do a SYL cover band for lols. They are up for it too so that should be fun
Me and my drummer are going to meet up and write some stuff to see how it goes too. Might redo the old band and give it a new life. But time will tell on that one.
So currently relearning my love for metal, guitar, sick tone and heavy as fuck riffs. I can still shred but my muscles are getting worn out faster. Should slow it down really lol all im really playing is SYL songs. Hit the deck running...
Gear...
I have gone back to my hand made 7, The Bullet! (left)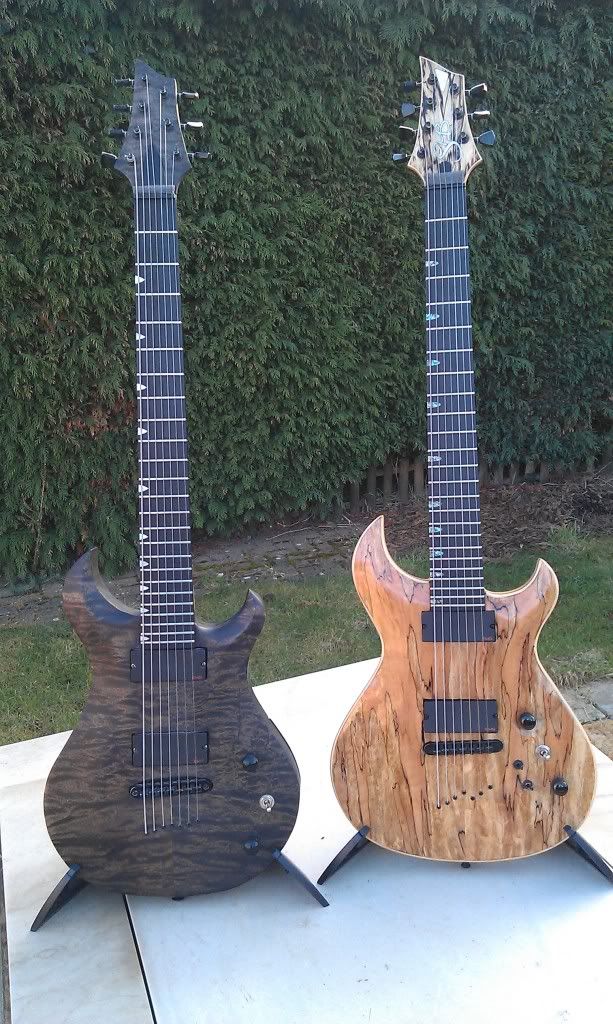 Got myself a Line 6 POD HD500x pedalboard and works a treat for the price. I will propably just use it direct if any gigs happen with that SYL cover band.
So currently learning tons of devin and syl songs and jamming random riffs I come up with. Got a basic cubase setup again so I can record if I want to.
Me and my drummer are going to meet up and jam some ideas with the aim to write "Alien 2.0" and redefine what Tempus Fusion was, and see what we actually end up writting. That power and engery is what Im wanting though for sure.