gentlemen, my apologies for having neglected my membership on this forum and for re-posting something potentially a little past, but if it's of interest:
not exactly a glorious, rainbow-laden pictorama as it was a bit of a rush case of unpacking it, smiling, and having to put it away to make room for the drum recording about to happen, but...
a short while ago, courtesy of
james dunkley
(our producer), andy sneap offered to swap my 6505 for his 6505+, knowing i wanted one.
i said yes, and have now received it. i asked that he sign it.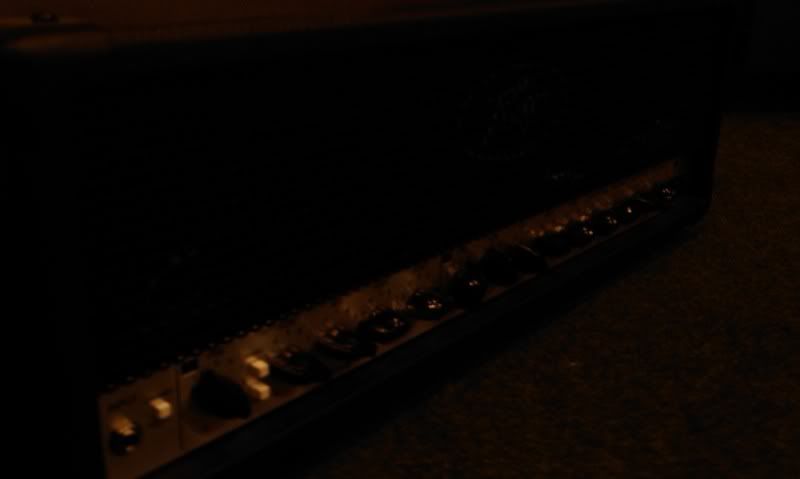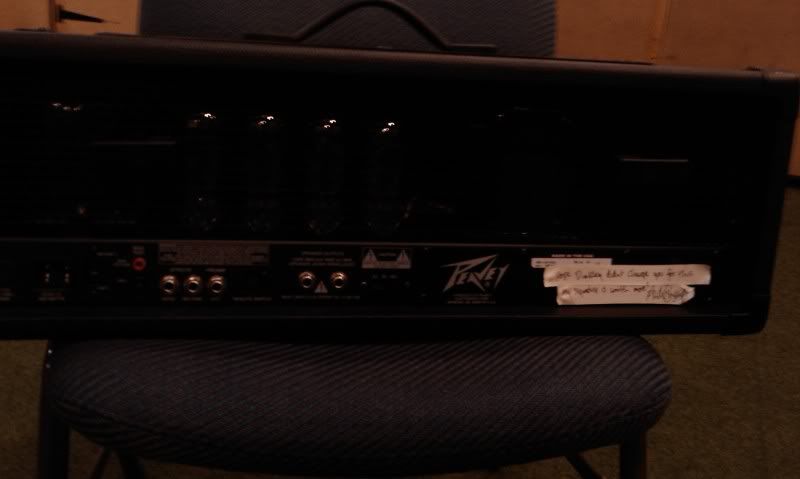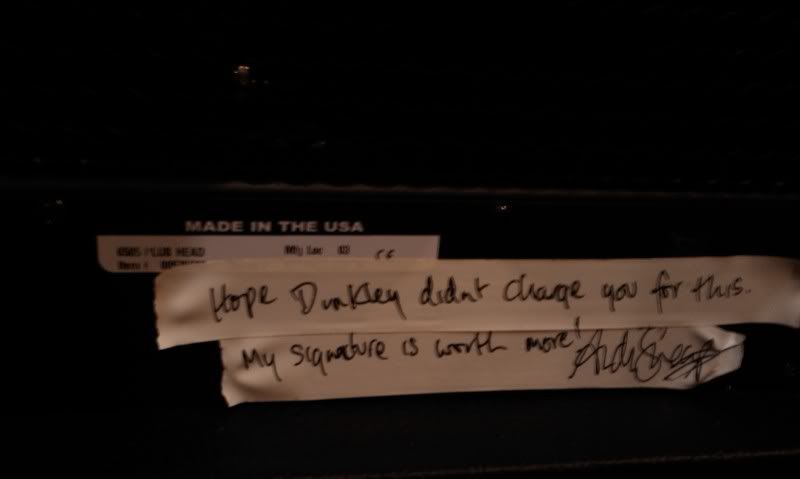 and the update from last night's session at the studio:
so it's been a series of intriguing incidents with this one.
first off, went to get it all set up last week here at the studio and... no power. changed the power lead... no power. tried a different wall socket... no power. went to check the fuse in the amp... the fuse hadn't blown...
...THERE WAS NO FUSE.
now, before you start asking why i'm making such a big [font] deal of this, it's because it worries me. sense would dictate that sneap clearly must've raided the 6505+ for a fuse since another amp had blown, doubtless in the middle of an important session, and forgotten to replace it, sent it down to me. no. my theory is that andy sneap can generate his own metaphysical fuse wire from thought alone. the harrowing possibility is that he senses when current is sufficient and then ALLOWS it to pass to the amp via a stretch of vacuum we call SNEAP-SPACE. i've been thinking about this, i can explain more, but i understand he has spies and i may already have said too much. all i'll say is; if sneap can do this already...
what else can he do?
i'm not sleeping well currently, i can tell you.
this week, having finally bought the fuse (3.15a), i was going to get james (7dyingtrees) down to help me set up the rig but we've since realised earlier tonight that the channel switcher port is a 7 pin and i'm needing to link that to the nobels MS-4 to allow all switching to happen via my FCB on the ground (effects, channel switching, hopefully at some point a loop containing overdrive and noise suppression). there's no point getting him down until i can get some kind of lead that will be 7 pin to 1/4 jack. any advice is welcome.
however, bugger it, i just wanted to set it up anyway and that we have. bloody hell. i LOVE this amp and in my humble, HUMBLE lowly tumbleweed of an opinion i feel that it far exceeds the 6505 regular.
i've also now tried it with a digitech bad monkey (borrowed from james) which frankly STONKS. even got a few raised eyebrows from fellow band members at the first attempt with it, and i'm by no means a tonesmith.
additionally, i've finally tried it whilst using my digitech studio quad (what i hope to using as effects until i can get a G major) and i'm bloody pleased with the results. overall, despite not yet having all the MIDI switching boiled down to just the lonesome FCB on the floor, i'm seriosuly pleased with this upgrade. it's also worth me saying that all these variations are sent even more diverse by the roter and the wiring config i have on it; it's sounding SO cool.
this, gentlemen, is the beginning of me getting my sound.
H