I don't know how many people still power their pedals with 9V batteries, but I'm one of them. I know it's not very green, but I like the simplicity, and the batteries usually last a long time.
Well, I just got a Line 6 compressor pedal. These Tonecore pedals are essentially little computers, so they draw a lot of power. I measured this compressor pedal and it draws 56 mA. Compare that with 4 mA or so for a typical distortion pedal.
I expected the Line 6 pedal to eat through batteries, but I was very suspicious when it wouldn't even turn on with known working batteries. I did a little research and found a discharge study of different brands of 9V batteries. Here's a plot of battery voltage versus output charge: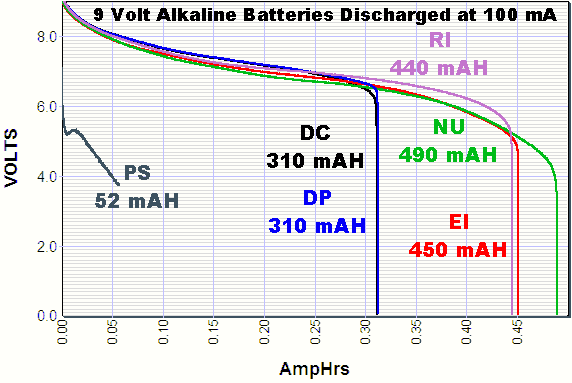 Guess which brand of battery I was using?
That's right, my pedal will only last 1 hour with this brand of battery. That explains why those batteries were so cheap.
Here's the whole study for those interested:
Discharge tests and capacity measurement of 9 volt transistor radio batteries