Atomic Music was having a blowout sale last weekend, so I managed to score this neat little sucker for a very good price.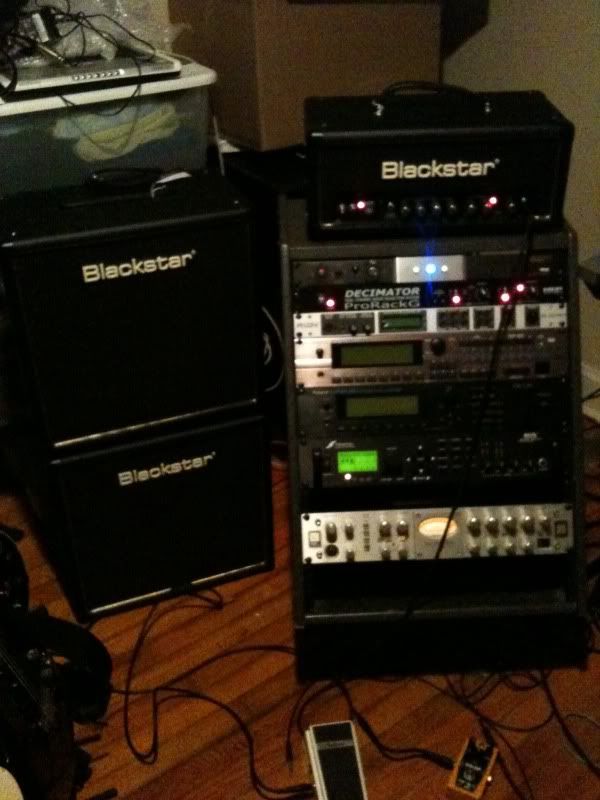 I have the head plugged into my iso cab w/V30, and it sounds fantastic. The problem I've had up until now is that even my Mesa 20/20 was a little bit too strong to power a single speaker and get any kind of amp push. But a 5-watt amp is just perfect. I use the Blackstar both on its own and also with the Axe-FX as a preamp using the Blackstar's fx loop. For me, it sounds better as a power stage w/Axe-FX than the 20/20 does--fatter, and less chimey.
The Blackstar on its own with the iso cab is quite versatile, since the ISF control allows you to blend between "EL34" and "6L6" modes. I find the Blackstar sounds a lot better with the ISF dialed closer to pure EL34, giving a very convincing Marshall crunch. The 6L6 is a bit flubby, though it sounds good for doing a Santana thing. I use the Blackstar with a MHP 72░ overdrive pedal, which sounds good with it. I may experiment with other pedals to get a bit more saturation, which many of you know I have a weakness for...
I haven't had much of a chance to play with the Blackstar cabinets yet, since I've been busy dialing in sounds with the iso cab. They make a great place to set my drink, however.