I wasn't really looking to get all acquisitional again, but then this popped up on eBay. Pretty much the great white whale of classic home recording gear.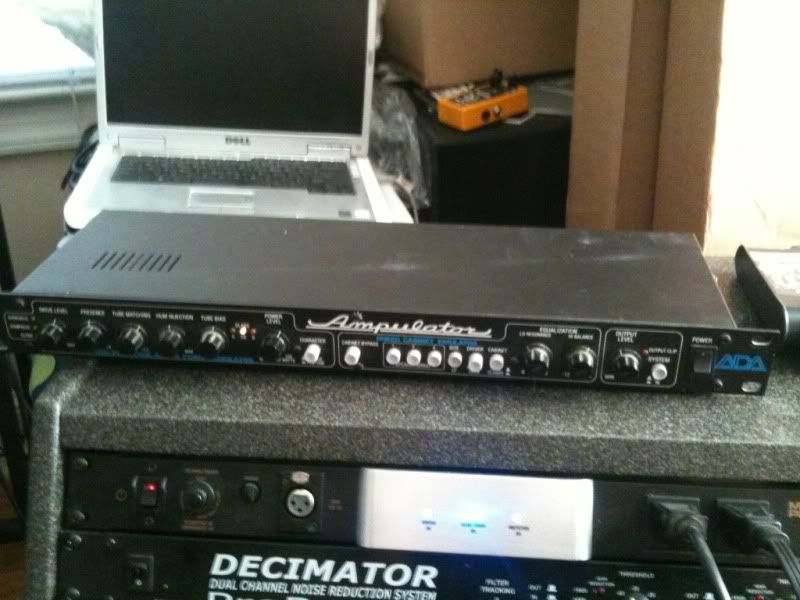 I had one a number of years ago, but I didn't know what the fuck I was doing when it came to amp settings back then.
For those who don't know, the ADA Ampulator is a cabinet *and* power amp simulator for use with a preamp. Actually, it isn't simulating a power amp, it really is one, just that it's a "micro-circuit" powered by a 12ax7. It simulates the push/pull between a power amp and cab quite nicely. It sounds tons better than a standalone analog cab sim, in my experience. And it has that real three-dimensional quality that I've never heard from IRs. Chug? Oh fuck yeah. One of my higher-gain Axe-FX patches is stunningly brutal with the Ampulator in the loop and in place of a cab block. Totally destroys the internal cab sim I was using with that patch.
You can adjust the power amp section several ways, going from Class A to Class B, and from 2 to 200 "watts." The controls are interactive, so it takes awhile to get the hang of it.
The cab sim portion of the Ampulator is basically an ADA Microcab II, from what I understand. It has options for 10" or 12" drivers and 1, 2, or 4 speakers. One neat little hidden trick is that you get the best sound of all by engaging all three "1" "2" and "4" buttons at once. Like a V30 4x12 on steroids. You can adjust the low and high resonance points to taste, too, as well as open or closed back. Playing around more with it, you can get rid of the V30 sound if you want, but that sound cuts right through.
These are rare as hell, because they were introduced only a few months before ADA's factory burned down and they went out of business.
I'm happy with how nicely it gets along with the Axe-FX, but I'm planning to get a tube preamp to go along with it. Maybe a Rocktron Piranha, since I've never tried one of those.