So, I've been piecing together a new live rig for the last 6 months or so, and finally got the last piece: the cab!
The basic idea of this rig is affordable, reliable, and versatile. And this is what I ended up with: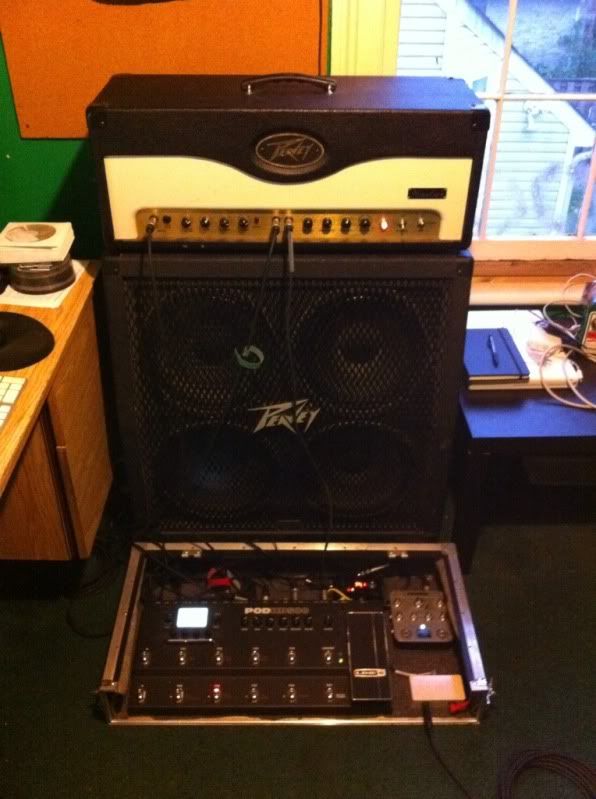 Peavey Windsor head
Peavey 412MS cab
Line6 HD500
Fishman Aura Spectrum
Korg Pitch Black
and my little home made splitter box.
Guitar runs in on a Planet Waves stereo cable, splits out to two signal paths.
First path runs to the Pitch Black, then to the HD500 which is 4-cabled into the head. Most of my tones will be based around the head's own tone with effects from the HD500 (functioning like the M13), though I will be using the HD500's pre-amp models for cleans, and for the occasional other tone I feel like throwing in, mostly for bedroom jamming.
The second path runs the piezos of my Tele into the Fishman Aura Spectrum, which runs an XLR out to the Mic In on the HD500, then out the XLR Out to the PA/Monitors.
This allows me to do all of my switching/blending/panning through the HD500, and if something should fail, there's a backup:
-If the head or cab fails, I switch over to a duplicate set of patches with poweramp/cab modelling and run completely through the PA.
-If the HD500 or PA fails, I run completely through the Peavey and not worry about effects, piezos or true clean tones (likely bring my MXR Zakk Wylde Overdrive as a backup so I can have some clean/gain switching).
And if I plug in a guitar that doesn't have piezos, it just functions as a regular guitar rig.
Now I just need to clean up the cables (shorter XLR in pedalboard, clean up power cables, snake 3 cables between pedalboard and head) and velcro my pedals down