As a preface to all this, all but one of the local shops here in London were bought out and taken over by Long & McQuade. I wasn't sure what to expect but it looks like all the little guys got to keep their jobs and now have to wear a tie (lol).
I was out getting my photo ID done up and decided to hit every pawn shop and guitar store I could find on the way back home. Long story long I ended up at what was formerly known as the london guitar shoppe and after some mucking about with the whole "old employee vs new computer system" madness i had finally put in an order for the Line6 Pod HD Pro. Desk man said it'd be here in 1-2 weeks. So I go merrily on my way to pack for a trip to kitchener/waterloo to spend the weekend with my girl.
That was 5 days ago.
Today I open my email inbox to find this: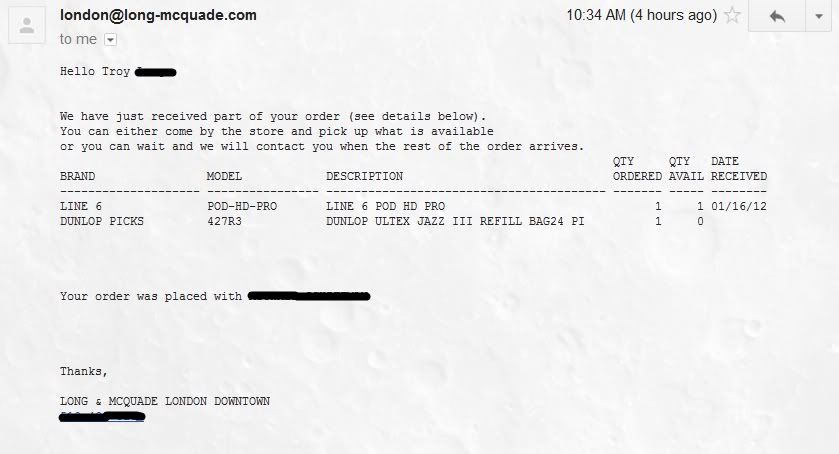 FFFFFFFUUUUUUUUUUUU-
I wanted to be at home so I could at least have my order receipt when I go pick it up. Hopefully I won't get denied, have to bus home, get the receipt and bus back downtown. Oh well. New gear on the way! I'm headed back to London tomorrow morning for work that night, so I won't have to wait long, regardless.
Unoriginal picstory and generic metal clips tomorrow!