I picked up a used electro harmonix small stone phaser and it arrived yesterday. So far I'm loving the sound out of it. It's very warm sounding and will sound great on some proggier clean stuff! It's one of their nano series pedals so it's not in a big casing and has the normal 9v adapter, a friend of mine said the bigger one's had an awkward smaller power supply.
I decided I'd gather up the pedals I had lying around the house and take a group shot, some of these belong to my brother who also lives in the house.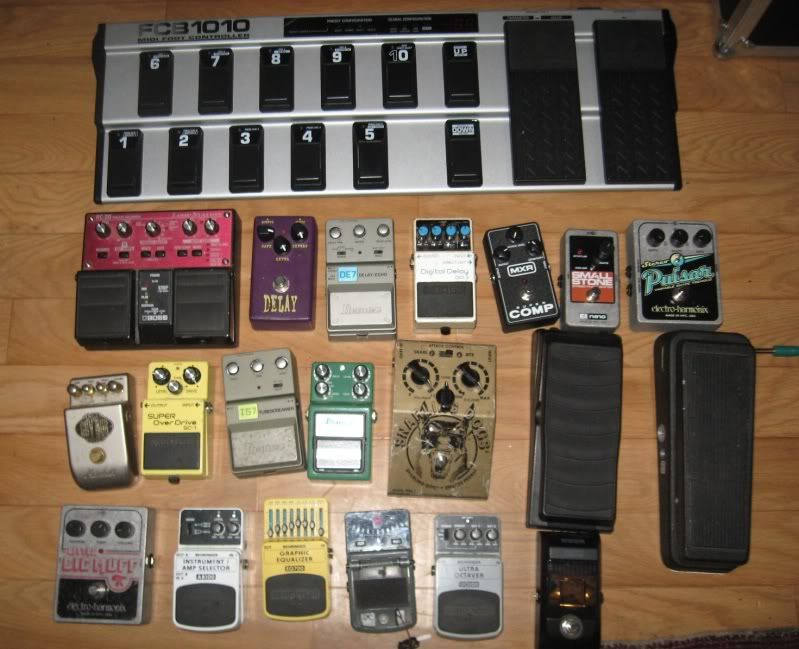 I normally use the midi footswitch for controlling my gsp1101 live. They're not all the greatest, I picked some of them up cheaply just to mess with a few years ago to see if I was interested in the effects or not.
I'm hoping to add some more pedals in the next while, I'd like to get a tc electronic chorus and a Strymon EL Capistan. I've been looking at some loopers from loop master too. I'll probably get rid of the pulsar, though it's a fun stereo pedal, because it's hard to dial a nice usable tone from it!