The latest rumors regarding the Mesa Mark V, pic on top from Petrucci's rack from the summer: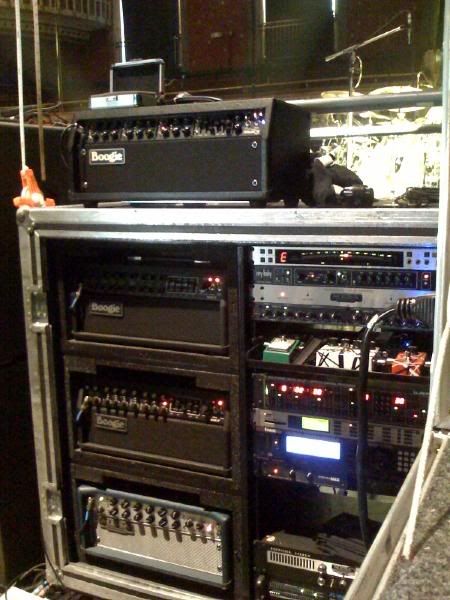 Each channel has: 3 voicings, a bold/dark switch, 3 power settings, eq selector, Gain, treb, mid, bass, presence knobs.
Channel 1 voicings- Clean, Fat Clean, Tweed
Channel 2 voicings- Edge, Crunch, Mark I
Channel 3 voicings- Mark IIc+, Mark IV, Extreme
3 power settings are 10w, 45w, 90w
eq selector selects graphic on/off/footswitchable (graphic has 2 eq pots added)
selectable tube/diode rectification for each channel
tweed setting on power switch, simul class but was loaded with 6l6's
reverb, serial loop, footswitch has 8 switches on it.
Mark IIC+ sounds great, Mark IV sounds just like the Mark IV lead channel,
Mark I is nice and dark. Fat Clean and Crunch sound like the Stiletto.
It is the exact circuitry of the Mark IIC+ and Mark IV when you select those modes.
One techs opinion was that the cleans were the best Boogie has ever done, surpassing the Lonestar and one mode sounding very "3D." One of the modes on Channel 2 is also said to the closest "Marshall" sound Boogie has ever done.
How much of it's true and will come to pass? Who knows, but that's the recent rumors. NAMM is coming soon, so we'll see.