Actually, some new, some belatedly reported!
My rig as it was is on the right, Ashdown Fallen Angel 180 (modded), Trace Elliot 3x12 and a 3U rack in the middle containing a Line 6 XD-V70 wireless, TC Electronics G Major and a Korg DTR-1 (my old one reclaimed from Blank Plank's mate). Masking tape on the Ashdown is because I'm fucking about with settings and taking notes.
On the left is my newly acquired Marshall 1960, picked up from Lozek yesterday. Built like a fucking tank, it weighs a ton. It also has some "interesting" graffiti inside, including a 1989 date, so it has to be at least 23 years old. It's also had a pressure wall added to split it into two 2x12's and a couple of pillows stuck in it for sound deadening. Needs some TLC, but it'll get there.
Part of the weight could also be down to the wiring. On the left is my heavy duty speaker cable, on the right is one of the wires from the 4x12! Andy wasn't joking when he said it was like garden hose.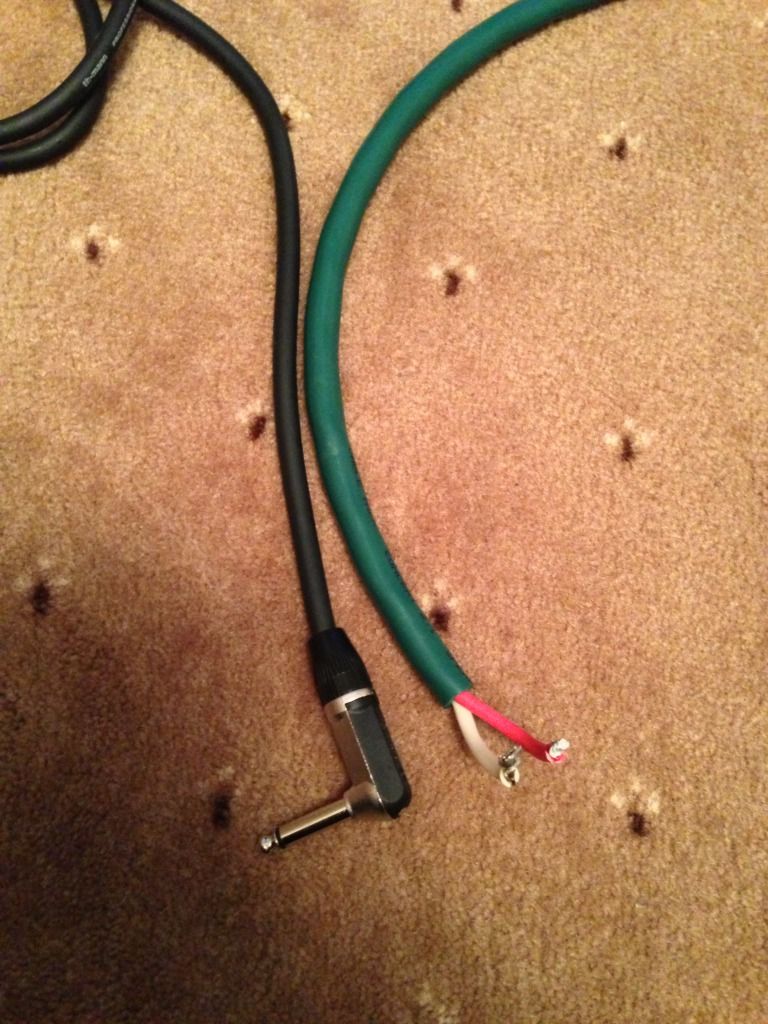 The plan is to A/B the two cabs for the next month or so, after which the better sounding one stays and the other one goes.
For the astute amongst you, you'll have clocked I've gone for a "vocal" wireless over the Relay's. Thomann are knocking them out for £15 less than a Relay G30, including a guitar conversion cable. The only advantage the G30 has is the cable tone setting, if you think it's worth it. The XD-V70 slays the G30 on:
All metal construction
Same transmitter as the Relay G50 & G90
Rack mountable
Aerial outs, so multiple units can run from one pair of aerials
Balanced XLR and unbalanced 1/4" outs
So yeah, kind of a no brainer there. If you want a rack mount wireless, this is half the price of the G90, and 1/2U width so you could run two in a 1U space if you have a piezo equipped guitar or want to run a headset mic too. I love the twin outs, it's meant I can have my tuner totally out of the signal chain.
TLDR: I bought new shit, it's good.