Quite a lot has changed with my gear in the 6 weeks or so I wasnít on here, as in pretty much everything. God bless selling off unused gear and bonuses!
Starting with the small stuff, my MTM2 is now sporting an EMG 81/60 combo and sounds bloody nice. The Duncan Designed Blackouts it came with werenít awful, but these are better.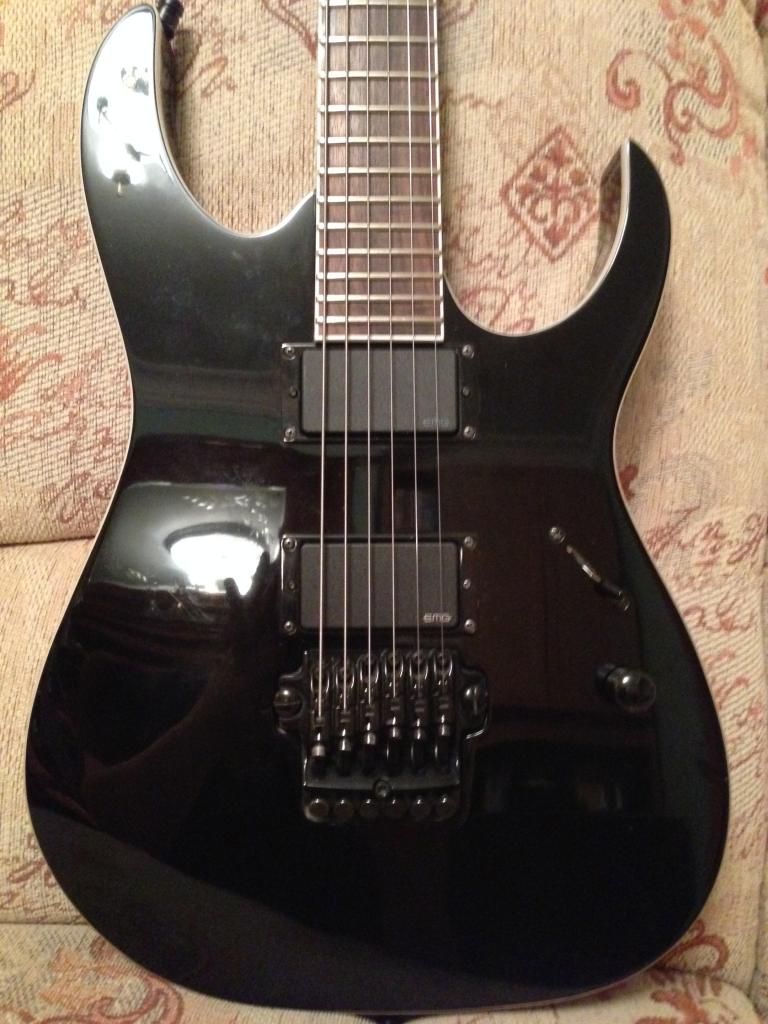 Stepping up a level, the Powerball is gone. Sounded good, just didnít work out the way Iíd hoped. Traded it with a mate for this LTD SC607B, with the middle pickup swapped for an EMG 707. Sounds fairly similar to my SC607, with a bit more midrange snarl and the low B really thunders on this one.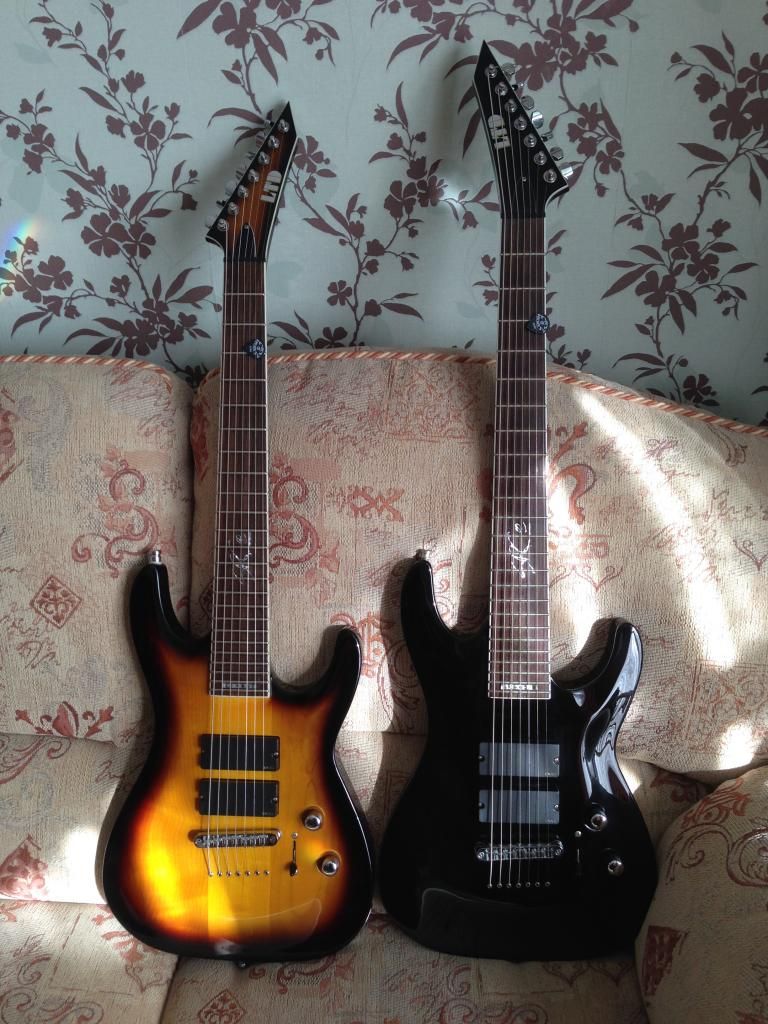 Next up, the pedalboard. Pretty much everything has changed here. The only things remaining from my last setup are the wireless and the power supply
I already owned the Akai overdrive, but itís now added to the board. Whatís new:
Pedaltrain 3
TC Nova System
EB Volume Pedal
EB Volume Jr (as an expression pedal)
ISP Decimator G String (replacing the regular Decimator)
G Lab M4L midi switched 4 way loop for switching the OD in when I'm using the JCM 900(under the board)
Engl Z11 midi switcher for changing channels on my JCM 900 (also under the board)
Gigrig Isolator (yet to be mounted)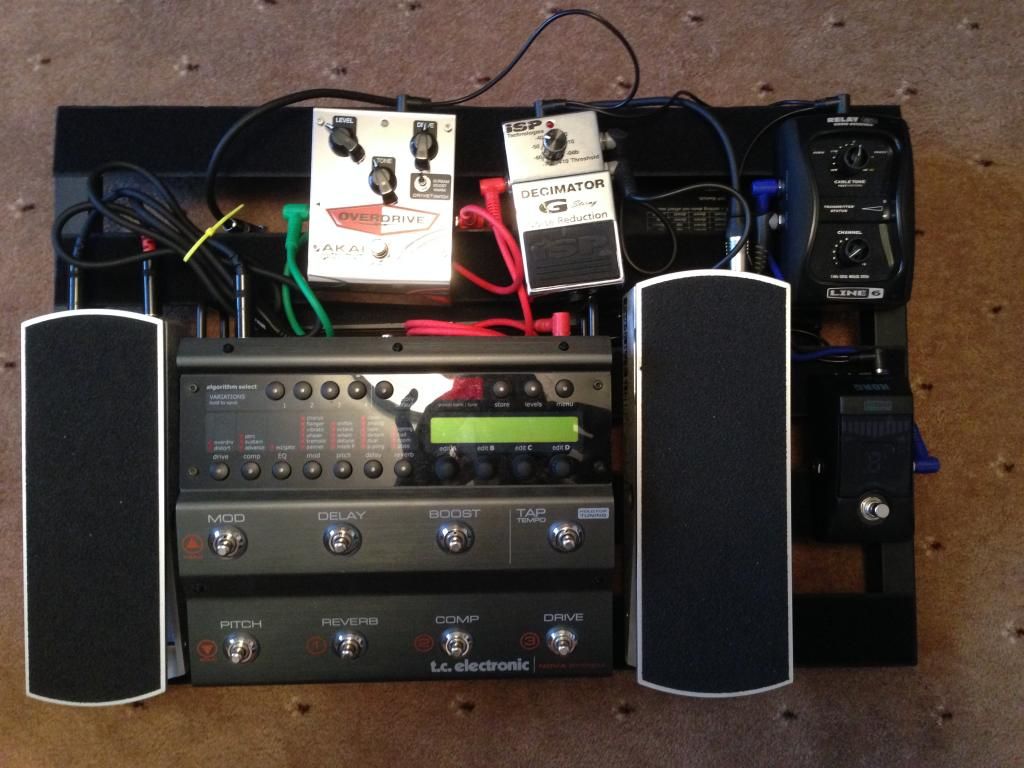 Excuse the crappy cabling, Iím just using my existing patch leads until Iím 100% happy with the layout and then Iíve got the bits to make up some custom length high quality cables. Iíll also mount the Gigrig Isolator and Distributor and sort the power wiring at the same time as well. Also, the Decimator is at a jaunty angle because the velcro keeps slipping on the underside from some reason, so I'll be trying some heavier duty glue.
Finally (and the most epic part of this thread), my new amp. The 5153 is gone. In its place I have another white (for now) amp. I present: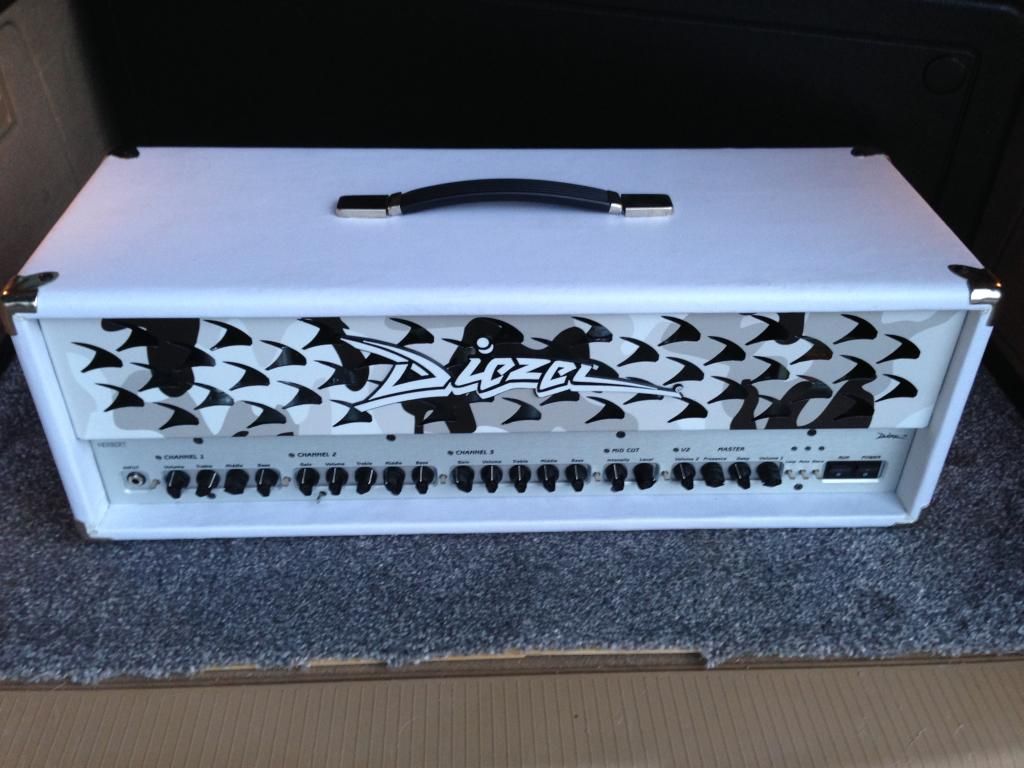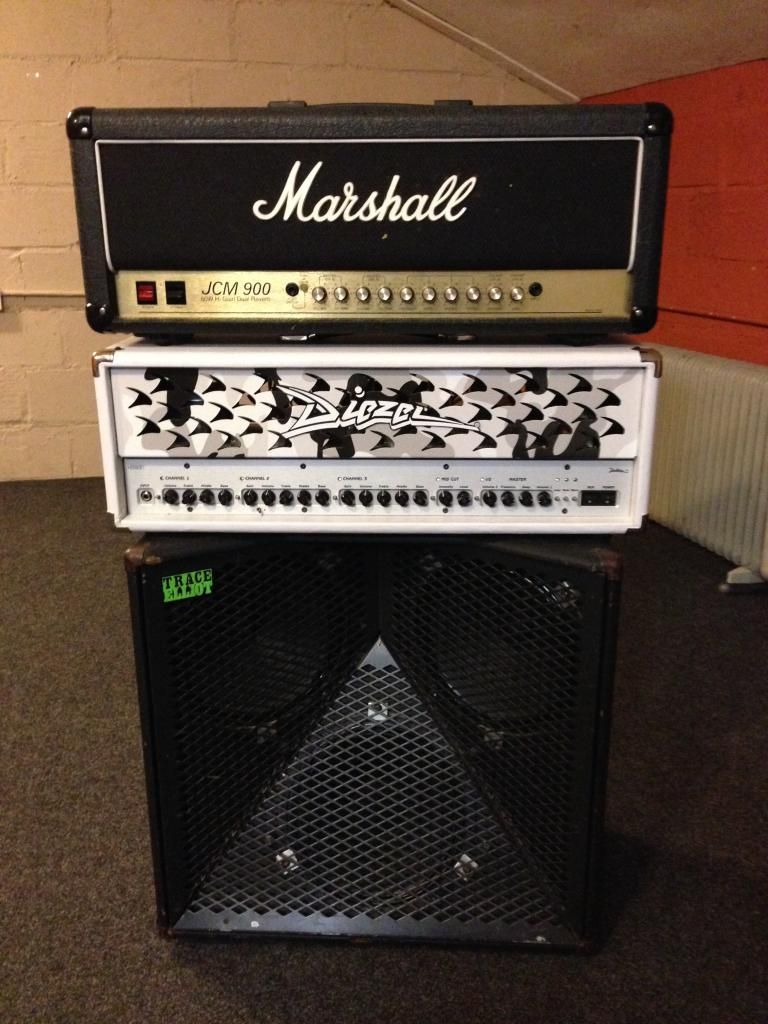 My Mk2 Diezel Herbert!
Itís a bit of a beast (both tonally and weight wise), but Iím still dialling it in. It came with a sextet of Ruby EL34ís, which Iíve now swapped for a quad of Tung Sol 6L6STRís and a pair of Tung Sol 6550ís. The white recover looks cool in the pics, but itís rather an amateur DIY job, so the shell will be shipped off to Zilla to be recovered to match my incoming Fatboy (but more on that when it arrives). Sadly it has also transpired that Iíve bought a Herbert with a fried MIDI chip, so a replacement is now on the way from Germany. Annoying, but I did get it a massive amount less than the new price.
I donít get why more people donít play Diezelís in the UK. Theyíre definitely seen as a mega high end amp (which they are), but out of the reach of mere mortals. Yet the Hagen is the same price as a new Dual Rec and the Herbert equivalent to a Triple Rec. And Rectoís are fucking everywhere. Plus this was priced pretty much smack bang between a used Dual Rec and a new 5153 100W.