don't get me wrong, I really like my Axe FX, but I just love pedals, and also I feel it would be somehow perverted to hook the Axe in the loop of a 70s vintage amp.
Anyway, as for the first time in my life (no shit) I also have to play leads/soli in a band/live setting, I needed to spice up my leads. Two things immediately came to mind, first of all:
WAH. Of course. And here's my confession: I have, until now, never played - let alone owned - a wah. Never felt the need for it. Always kinda wanted one though, but there was always something else more important.
So, I did my homework, "studied" online what there is to know about Wah's, what is available on the market, where are the differences and so on and on and on...I also listened to pretty much EVERY fucking sample available on the web. Only to learn (again): They all ain't worth shit. Even if they may represent the tone of the pedal somewhat accurate: You need to play and feel it to know if it's the right one.
See, I was DEAD SURE I would get the Slash (yeah, i know...) Classic Crybaby, because every clip I heard was PERFECT. So, I went straight to the shelf, grabbed it (and a few others), hooked it up....and was not impressed. Hooked the next one up, a Classic GCB95-F, with Fasel coil. Also kinda "meh"...I was getting a bit uneasy, I was expecting much "more" to be honest", but neither felt right...
So, next one - CB-535Q. YES. Now THAT IS what I was expecting. Immediately sounded "right". I still was struggling with "using" it, getting my foot in accordance with my playing (also, it didn't help that I had to sit, as the tryout guitar - Schecter Keith Merrow 7 (by the way, an absolute cheap shit of a guitar -> and I am a Schecter fanboy) had no strap attached), so I kept playing (unlike the other 2, I didn't unplug it within a minute), until the sales assistant (a guy from a befriended band) joined me again and said "I brought you another one, I really think you need to try that one out." So he hooked me up with a Crybaby 95Q, that I also immediately liked. Both have a little boost button (that is actually really usable in a band setting, as it adds up for loosing a bit of the "mixcut" when activata da wah), and on both volume and "Q" (widen the (mid)range where the wah acts) can be dialed in. So I switched between the 95Q and the CB535Q back and forth....and I must say SOUND-wise, I would prefer the CB535Q just a tad (!) more than the 95Q (but they are close as fuck, because the Q-control really is awesome), BUT I ended up with the 95Q for playability. 2 reasons to be precise:
1.) there is a spring, as resistance. all the others are just "as is", too easy going for my taste. I instantly liked having the pedal jumping back.
And when it jumps back:
2.) Auto-off. You step off the pedal, and it turns off automatically and is true bypass (!) right away. Any stepdance saved on the stage is a win for me.
Those were the buying points for me. So, enough talk of wah, here is an obligatory pic: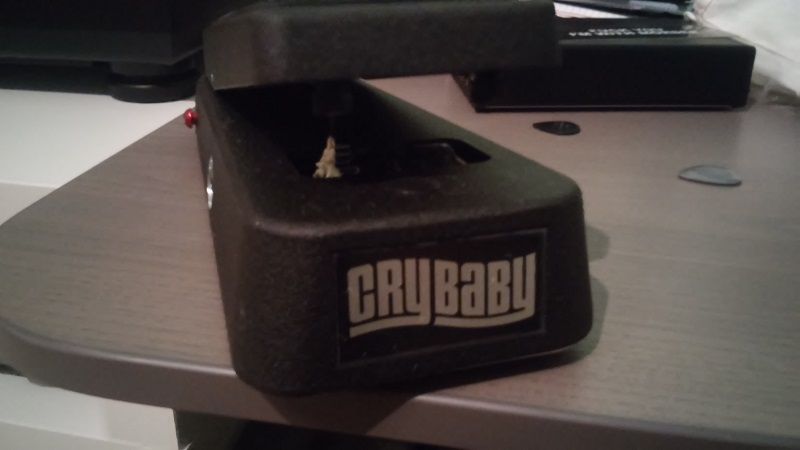 and here, the little red button is the "boost". NO way you would hit that in a live setting.
This is also only active when you use the wah, so I just leave it always on.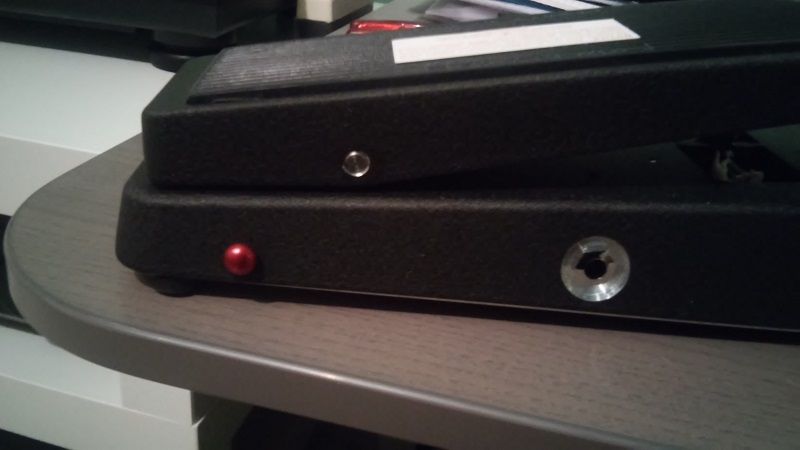 So, while a Wah is already instant-awesomeness for your leads, it is by far not enough. So, up next: Delay.
Found a sweet deal on a used Earthquaker Devices Dispatch Master, some dude was selling it in near mint condition for half price as EQD is still pretty much unknown here. Lucky me! I actually wanted to stay "analog only" on my board, but on this one I couldn't resist - also as it is "analog bypass", read: only the effect itself is digital, so if you blend in just a bit of effect, it is only just a bit of digital signal). Snagged that little piece and loving it so far! It's a Delay and Reverb, both really USABLE, and not just for weird showing-off effects that in reality no one can use in a band setting. (It
can
do weird stuff also, but it's also perfect for spicing up your solo)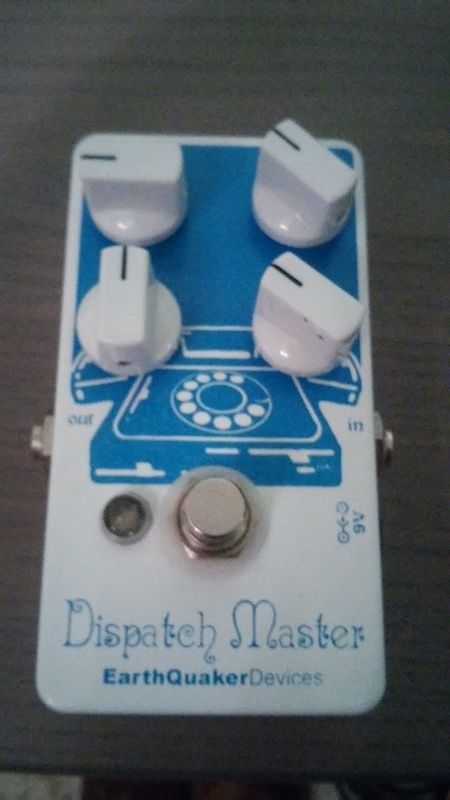 No samples yet, but there is still
THIS
clip showing almost everything it can do.
And as this still is not enough (therefore: more to come; and I want to be able to pre-adjust a full chain (delay+chorus+phaser...) before the song, activate all epdals right away, and then jsut with one switch add them into the active chain), and also as I didn't know how good the bypass of the Wah really is: I wanted to get me a Bypass-Loop pedal. So, the obvious choice is Lehle, as their reputation is excellent, and everyone I know swears on their products. However - 100,- for a single bypass is hard to cough up for me. Not that I couldn't effort it, I just really feel that this price is out of proportion.
So, a guy I know recommended me this german pedal builder, "amp-fx", who hand builds those pedals in excellent quality. Heary, heary. So I checked his stuff out, and saw that he is offering a 2 channel loop pedal for 69,- (including shipping costs). Same thing from Lehle would cost 235,-. I found this a deal too good to pass, and got me one, and 2 days later it already arrived. Build quality is indeed excellent, and the best thing is: It is completely passive built. So, you can use without any need for power. You would only need to hook it up with 9V if you want the status LEDs to work of course. Really cool feature imho. See: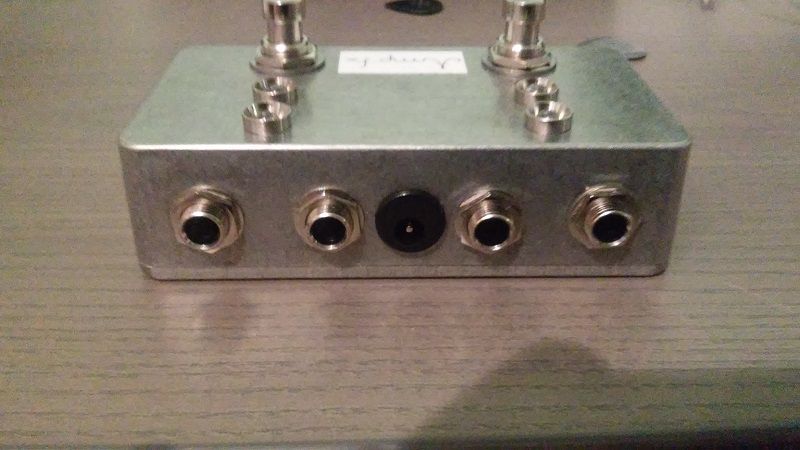 So you can see 2 LEDs above each loop, and it works like this: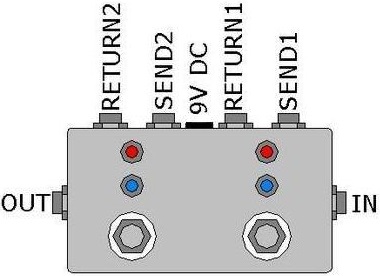 Blue LED = Bypass. Red LED = Loop is active.
Very cool little pedal, excellent build-quality (I took a look inside, really well made). For the moment, it stays off the board, because right now it would only have to handle the Delay. As soon as I have Chorus and whateverItIsIbuyNext I will put this on the board.
The guy is offering more on amp-fx.de, also for example a single-channel version of this for only 39,-, including shipping in EU. Can't beat that. Really. Also available: 3 Ch versions, Patchbays, OCD-clone, Keely comp clone, Woolly Mammoth clones...I might get back to him on some of this. To my fellow european comrades here: I really can't recommend enough.
Enough talk, all of this needs to be hooked up:
So, that's my chain at the moment:
Boss TU2 -> Crybaby 95Q -> Bloody Murder (it does doom) -> ISP Decimator -> Black Arts Pharaoh -> EQD Delay.
BLINKY LIGHTS!