Some of you have known about this project, other's won't. So, a little history for those "in the dark":
I bought a UV777PBK from Chris9 over at sevenstring.org about 18months ago, but he'd swapped the neck for an RG7621 neck and blocked the trem. Still, it was a decent price and I took a gamble. I managed to find a NOS UV777PBK neck at Ibanezrules at a reasonable price (the exchange rate was good then), so I bagged it and returned the UV to stock. All good, except it was astonishingly bright, much brighter than the UV7PWH I had as my main player at the time. So, off to Ebay it went and ended up selling at a nice profit
So, having a spare RG7621 neck and a large wad of cash sitting around I did what any sensible man would do and comissioned a custom body from
DM Guitars
. He's ghost built for Burns and currently ghost builds JJ guitars, plus he'd refinished a guitar for Chris De Burgh, so I figured he'd be good. And he was local to me at the time too
Fast forward to the start of this year and due to his shop move, loosing my number and a few cash-flow issues related to being made redundant, I finally get the guitar in my hands in March. I'd left the pickups, bridge & neck with him for ensure a perfect fit, plus it was his first 7 string build. As well as making the body he'd atached the neck & drilled the bridge mounting holes for accuracy.
Add on some procrastinating and a house move and I finally got onto the build up this week. So, what is this mystery beast? It's a modern take on a Tele body (I wanted to beat everyone to a Tele 7, then the Agiles came along
), with the body contours of a Strat so it's nice & comfy to play
Specs:
Natural finished swamp ash body
RG7621 neck
Bare Knuckle Nailbomb bridge & Cold Sweat neck pickups, both Alnico magnets
Allparts 7 string singlecoil middle pickup
5-way switch, vol & tone
Mini switches for neck pickup pahse reversal and master killswitch
I've still got to finish setting it up, but it already sounds absolutely amazing. Possibly better than my KXK, so I might have to get some BKP's for that soon. I've also still got to drill for the straplocks, hence the masking tape on the body sides.
Anyway, enough prattle, pics! (the green switch tip is only there as none of my black tips fit)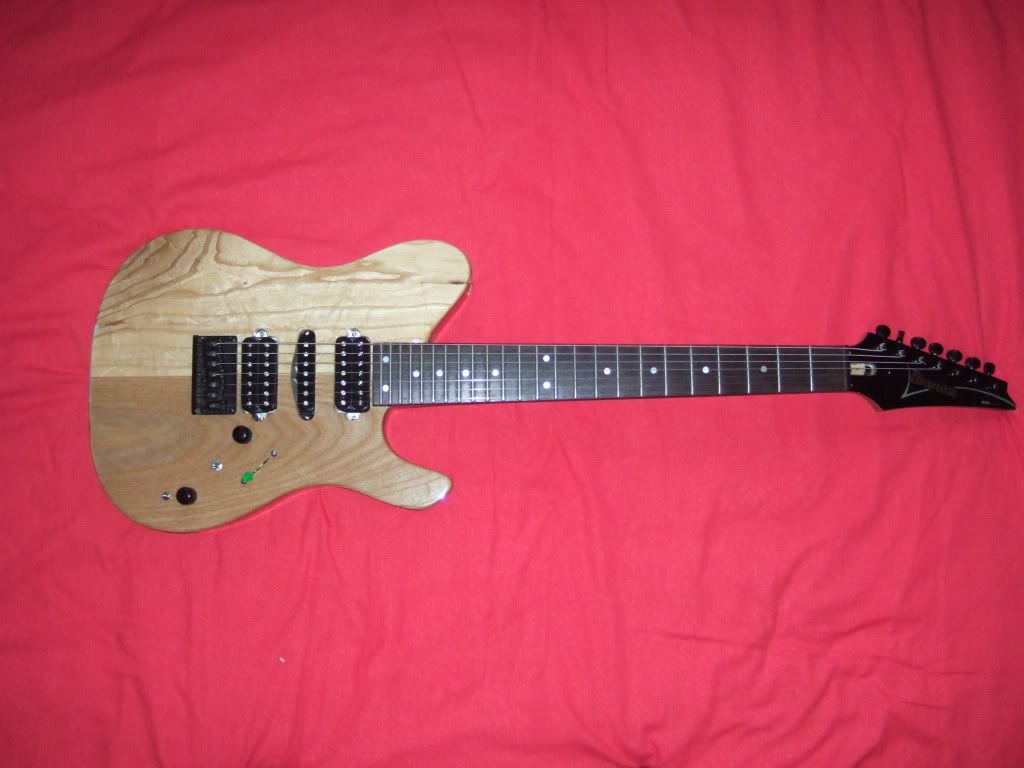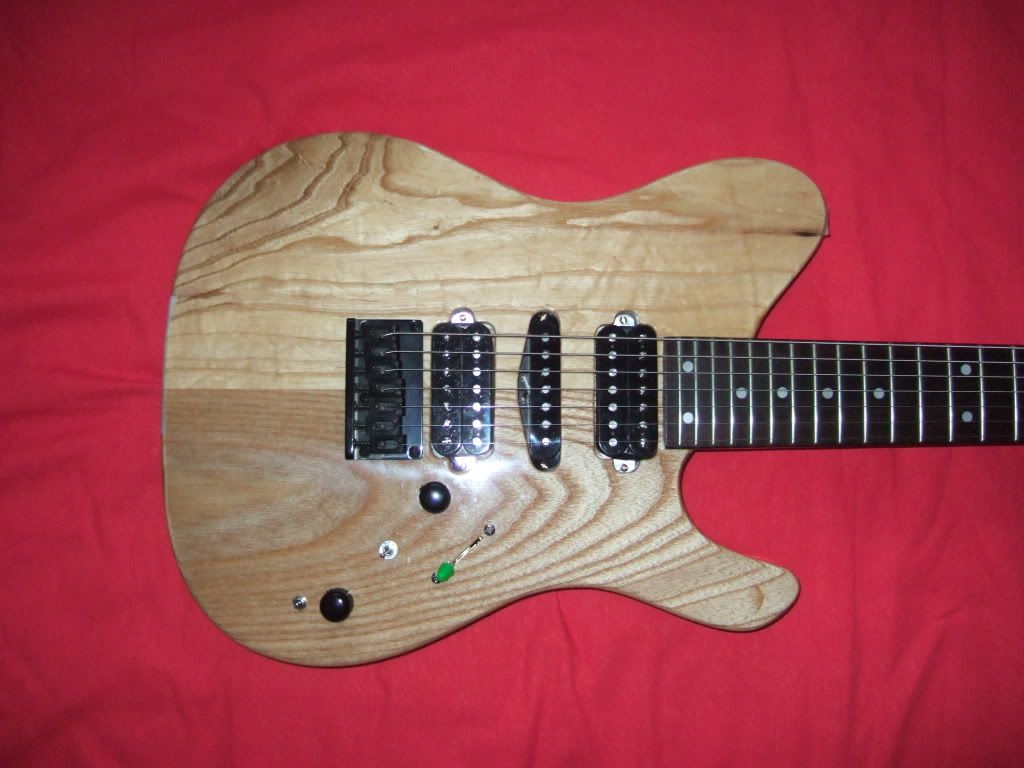 And since I had the green switch tip on there and the green knobs still kicking around from my old RG7321:
Frooty?
I'll post some better pics once I've got a black switch tip, fitted the strap buttons and set it up.