Thought you guys might be interested in some guitar porn.
I am having a custom 7-string built by Dylan at Dæmoness guitars (
Dæmoness Guitars - Lutherie Infernus
). He is very local to me, and I get the pleasure of being able to drop in and check out how things are going regularly. He's been taking pictures as he works, and I have just got the first batch so I thought I'd start the thread.
His guitars always play, sound and feel incredible, I can't wait to get this thing in my hands!
Specs are as follows:
25.5" 7-string Cimmerian (superstrat) shape with extra contoured bevels
5A tubular quilted maple top on a korina body
Set-neck construction, with a 3pc flamed maple neck. Dæmoness "Flatbacker" neck profile.
Scarf jointed headstock (reversed Dæmoness standard) with quilted maple face
High-grade ebony fingerboard without front inlays (side-dots only). Neck and headstock bound in black
Bare Knuckle Ceramic Nailbomb bridge pickup, Painkiller neck
Hipshot bridge and locking tuners
Earvana nut (48mm)
Recessed Dunlop straplock mountings
Ibanez JPM-style control layout with 3-way toggle, CTS pots and NOS Russian cap
Finish is to be as close to this as possible (headstock matches body)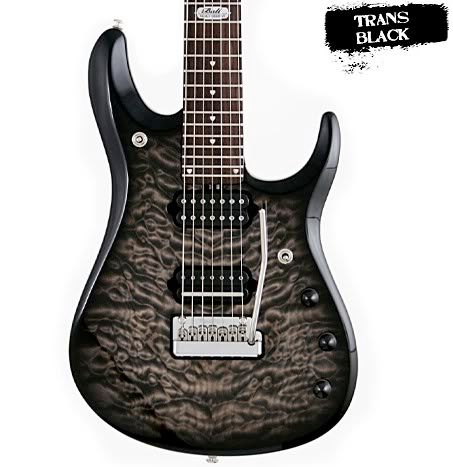 So, onto the buildstory!
This is the quilted maple top:
This is the flamed maple board that the neck is cut from:
The three pieces being cut out: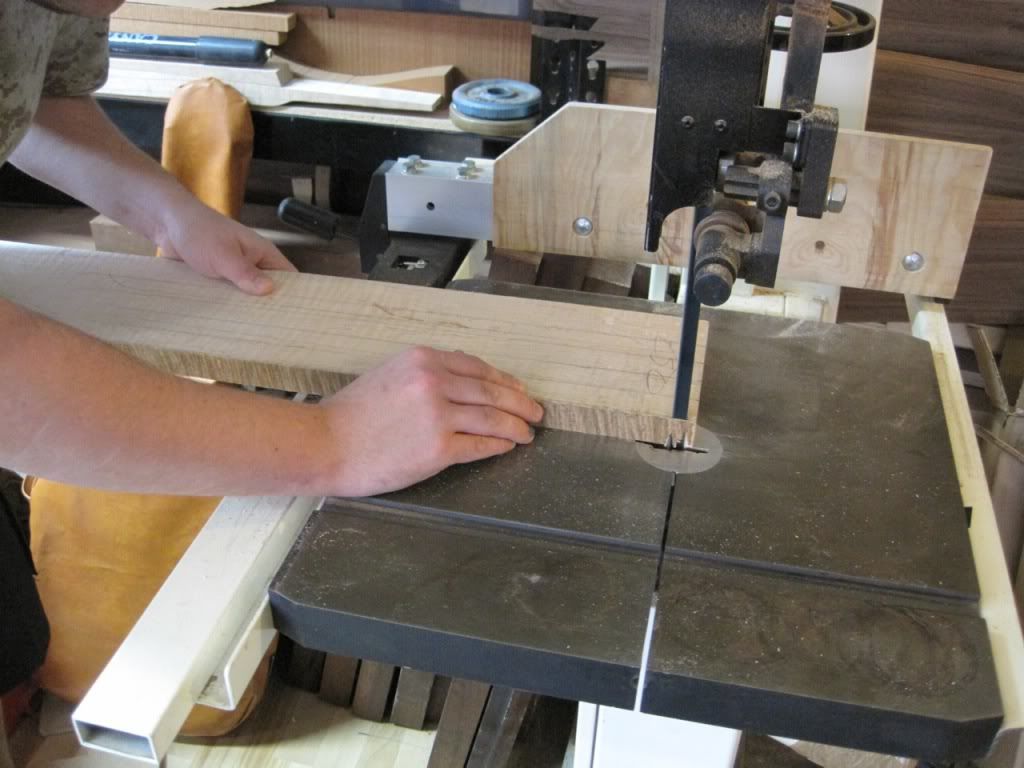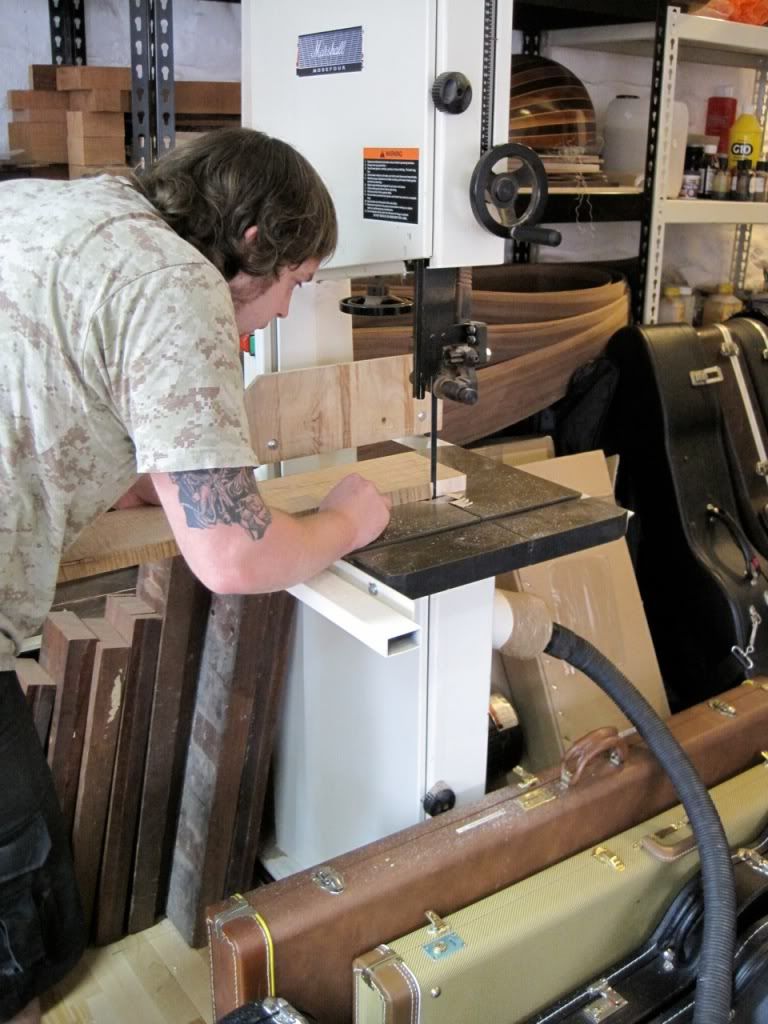 Being sanded flat: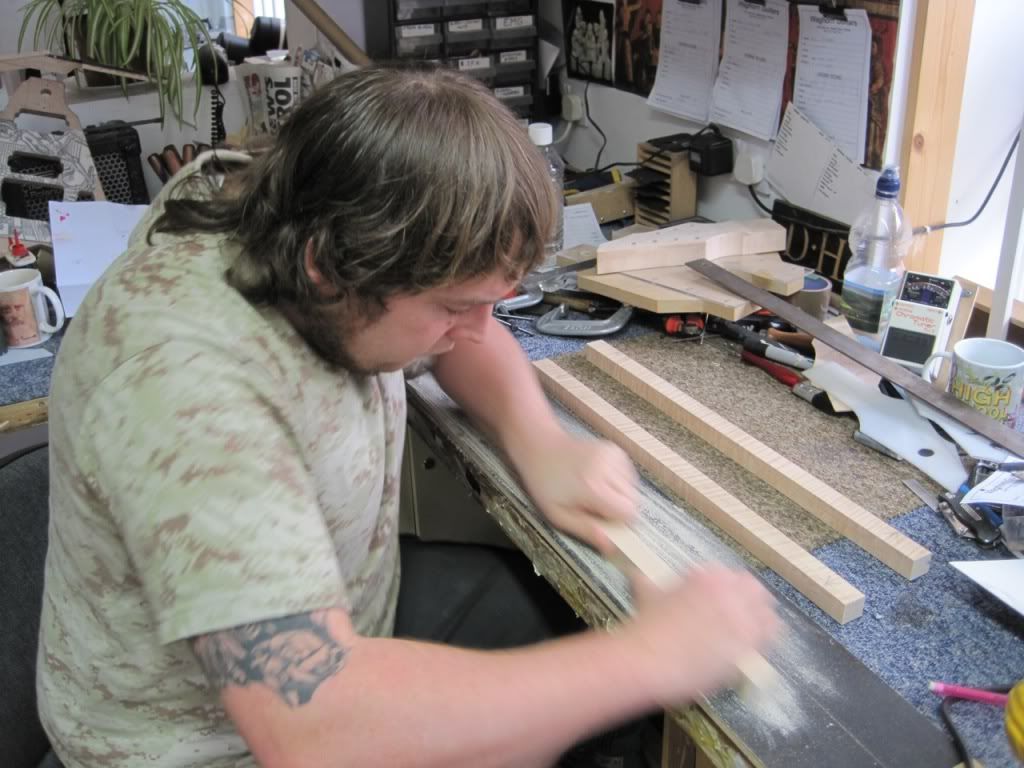 Being glued together: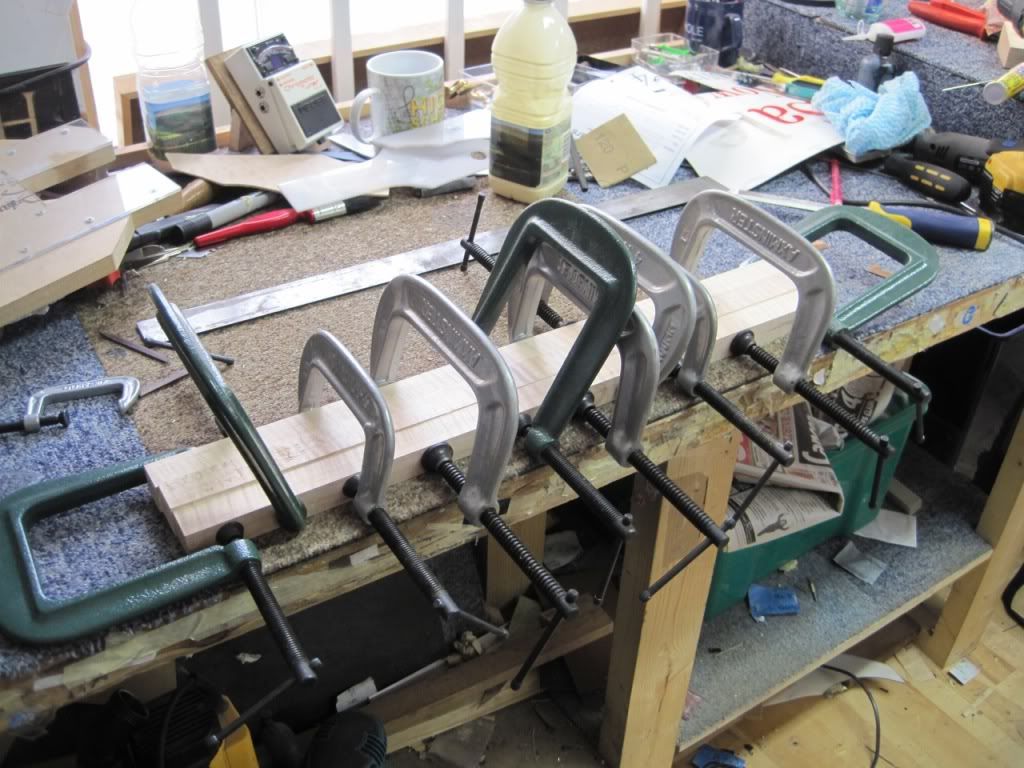 Next we have the piece that the headstock will be cut from: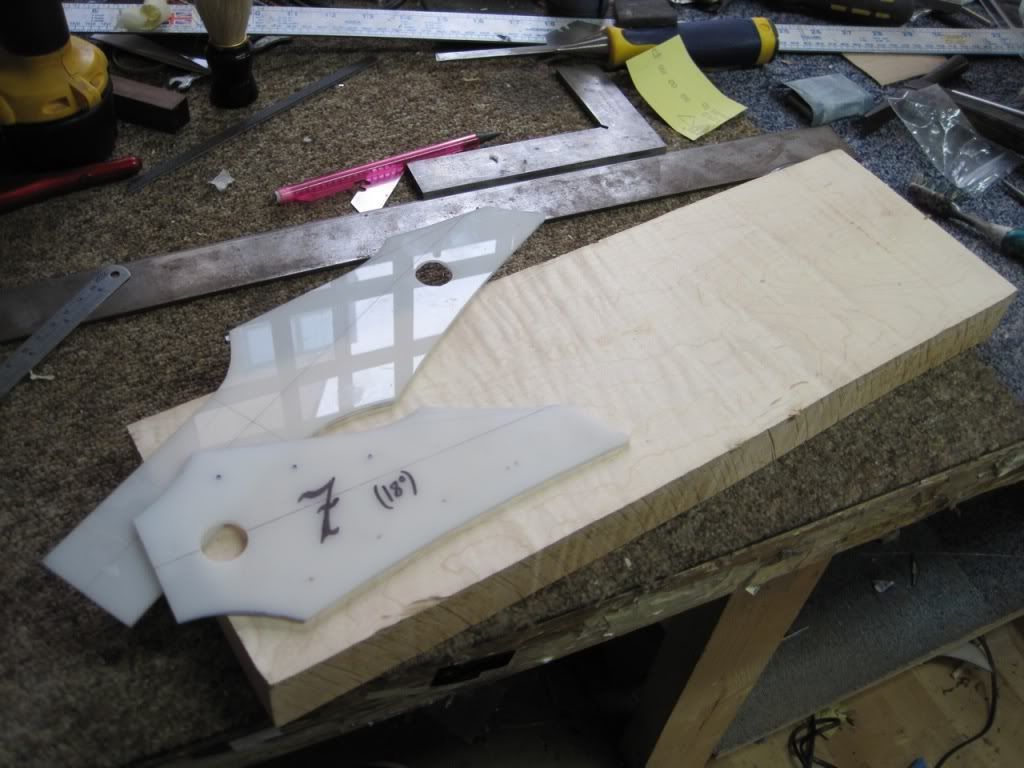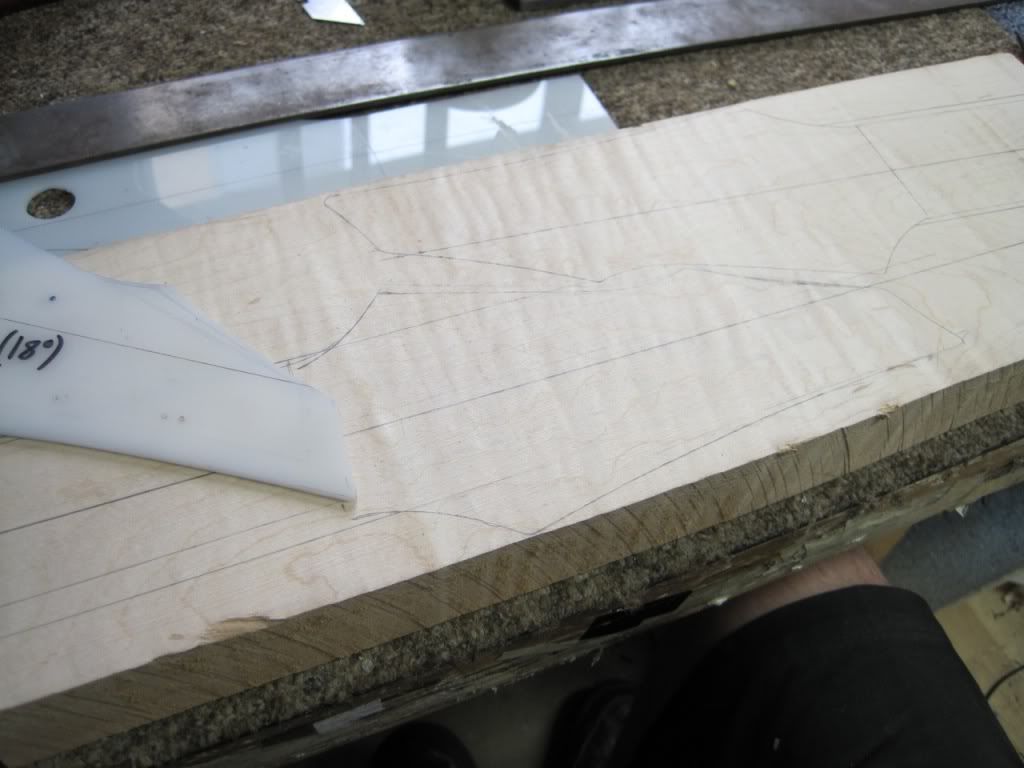 Having the maple headstock face glued in place:
Sanding headstock to final shape:
Pilot holes for the machineheads: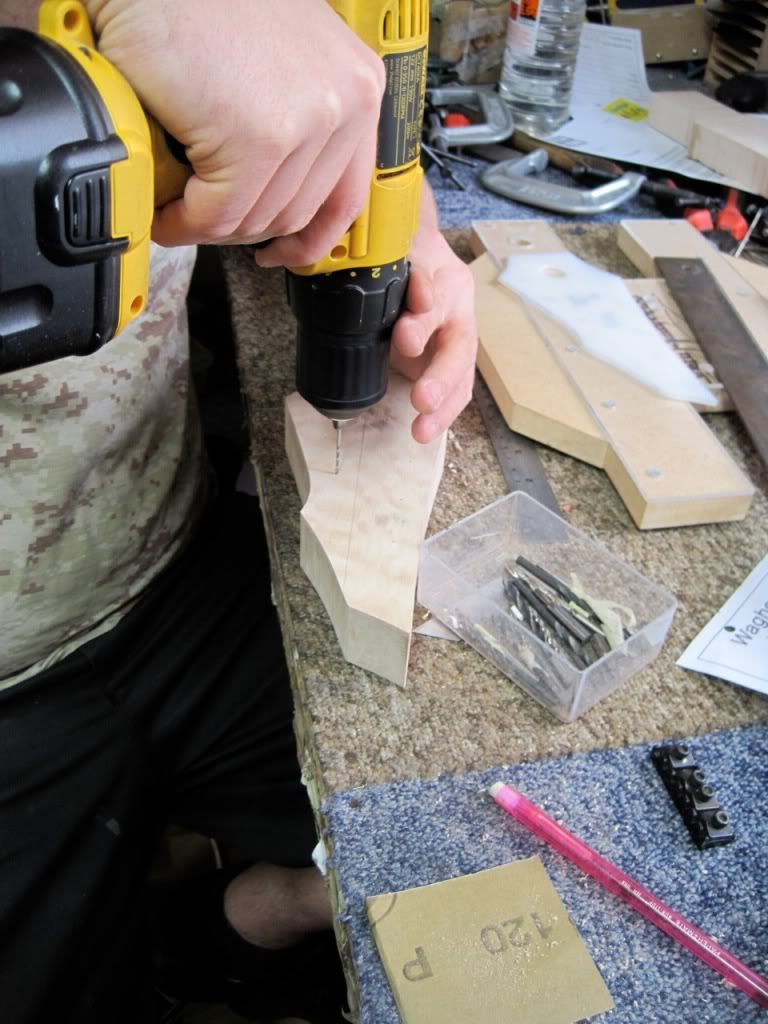 Headstock wet to show figure:
Machinehead holes drilled:
And that's all for now! Dylan is a bit further into the build now but I don't have pictures just yet.
Hope y'all dig