Sorry, but I've cross-posted this from everybody's favorite seven-string oriented site. I've basically lurked here because I haven't had the chops nor the gear to feel like I would fit in, but at least now I think I've got some decent gear
.
Pardon the originality, but here is the original thread verbatim:
I haven't found time to take pictures of these, and the weather has been less than conducive for it, but today it was sunny, although very cold and windy, so I decided to do it now rather than wait four months. I've been out of the countr for the last four months with nothing to play other than a Squier Classic Vibe Tele that I've actually grown really fond of, so I'd been looking around for the past few weeks for a Christmas present for myself. I've never really managed to save up enough (read: had the patience to save up) for what I would consider a high-end guitar. Seeing as I now have the funds, I was almost convinced that I wanted a custom BRJ or KXK or what-have-you, but I'm becoming less interested in pointy looking or metal guitars, so that limited most custom shops that are renowned around here. Since I wanted instant gratification, the wait for one would have killed me, and knowing that I might not like it made the decision even easier. Seeing as I can't get along with the shorter scale length Gibsons, and although a nice American Strat and Tele are in the near future for me (hopefully), PRS was the next obvious decision.
Up until now I thought I had to have 24 frets and a wide radius with a thin neck, but playing on some strats and my tele I've found that I enjoy fatter necks much more, and that I generally enjoy the neck pickup tones much more from a 22 fret guitar. Initially I thought I had my mind made up on a 25th Anniversary CU24 in the Angry Larry finish, but seeing as how the use d market is a buyer's dream right now it seemed to be a much better investment to start used. After looking around and becoming familiarized with all the PRS models, I realized that the ones with indian rosewood necks aren't that much more expensive, so that narrowed me down to either a custom 22 or a McCarty model (I don't recall seeing a DGT with an IRW neck, but they seem to be in higher demand at the moment). I've also enjoyed the wraparound bridge more than the trem, so I've basically been looking for a decent McCarty with a IRW neck. I've grown really fond of the Tortoise shell finish, but I don't see them too often. This particular one is a 20th anniversary model in Violin Amber finish. Sorry for the crappy pics - it's 22 degrees outside (7 including wind chill) and I was paranoid of bringing it outside for more than a minute or so.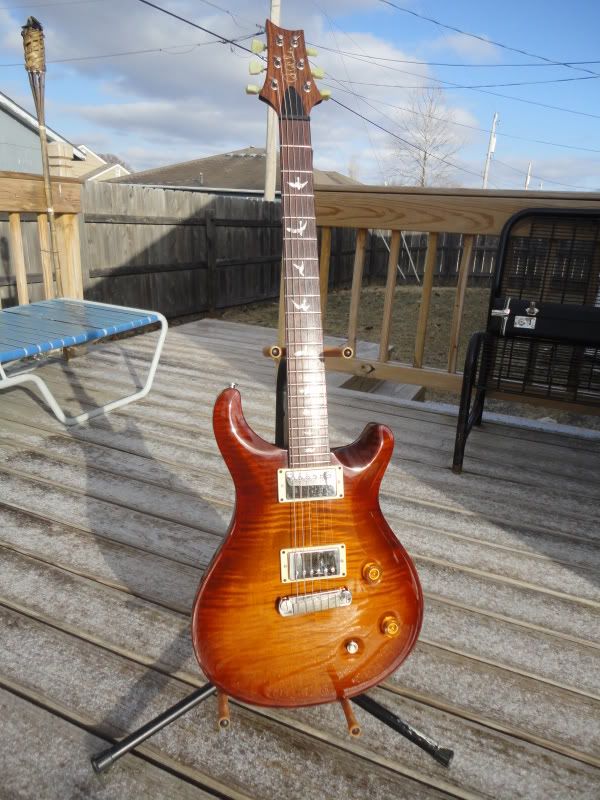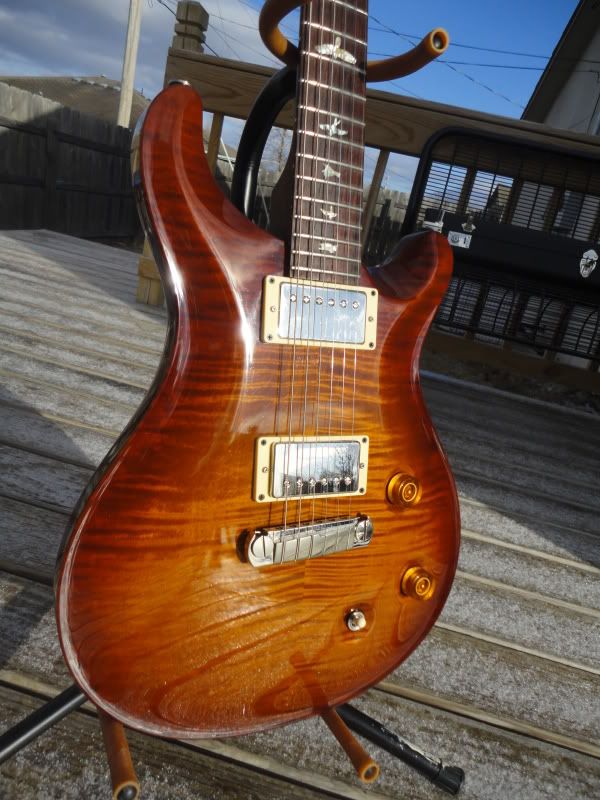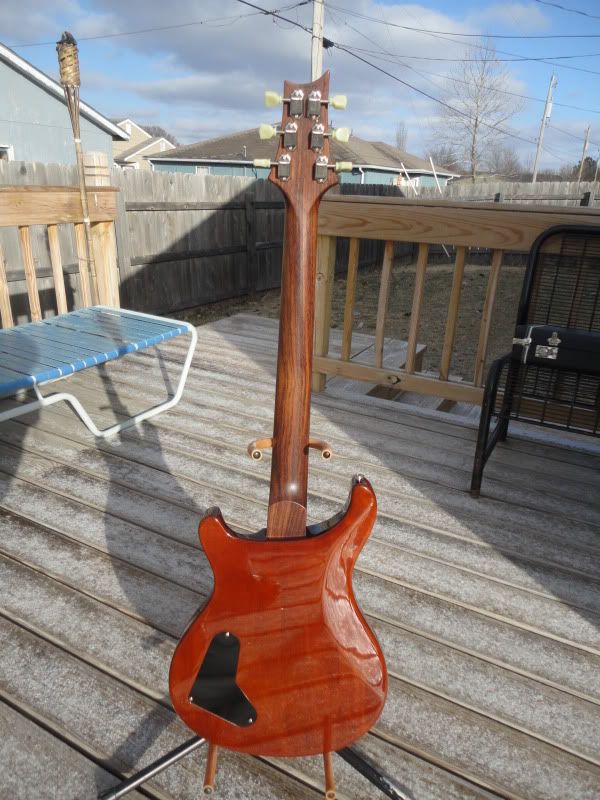 Some indoor pics to mix things up. I realized shortly after that the lack of lighting in my house makes pictures of guitars less than exciting. Yes, my couch is dirty because I have three Corgis running in and out of the house constantly and the couch is always the first stop.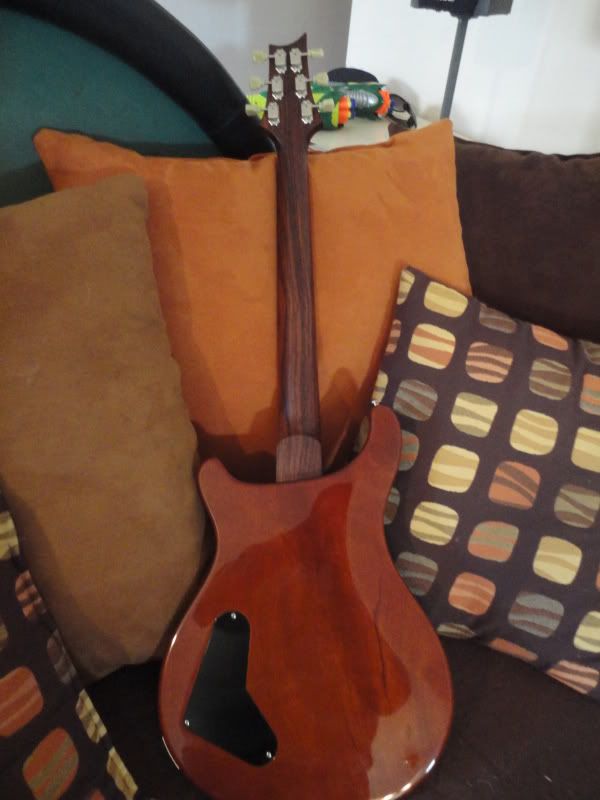 Literally a day after I bought the McCarty, I made the mistake of looking on ebay and happened upon a guitar that I'd been lusting for for a few years but couldn't quite justify spending custom shop prices for essentially a quilted top production guitar in a particular finish. It wasn't in mint finish, but it wasn't in player's condition either (for the most part), so it was pretty tempting. Aside from an indentation on the bass side near the second fret that the buyer failed to mention and picture even after I had specifically asked if those types of flaws existed, it is in excellent condition with only pick swirling that is very tempting to get buffed out, but I don't particularly trust anyone enough to do it
. Enough with the chatter, on with the pics: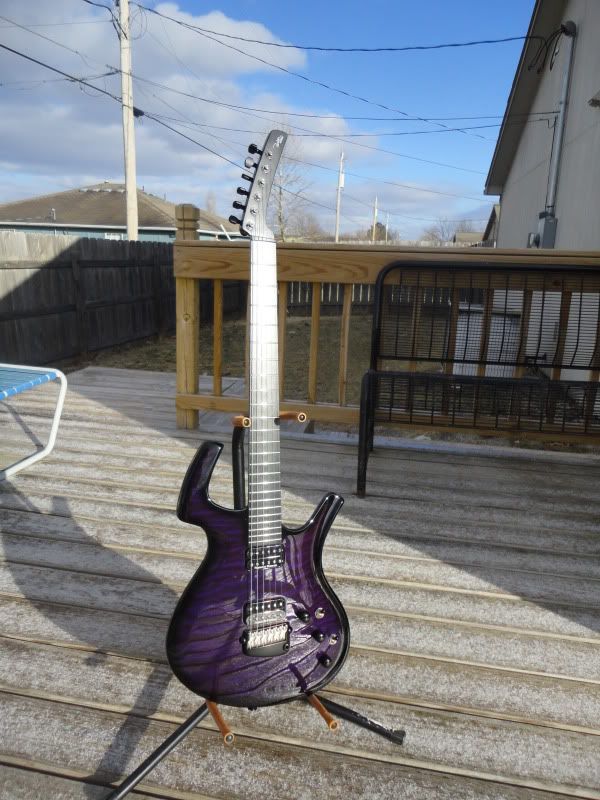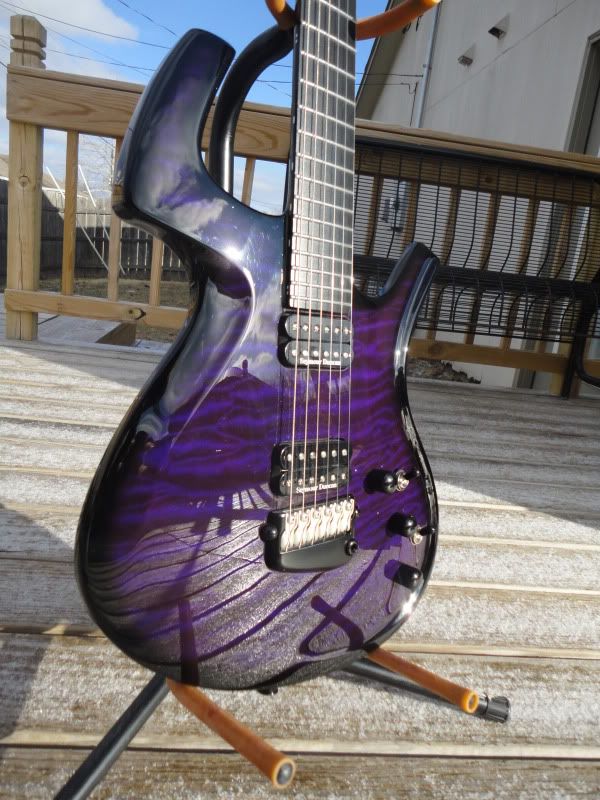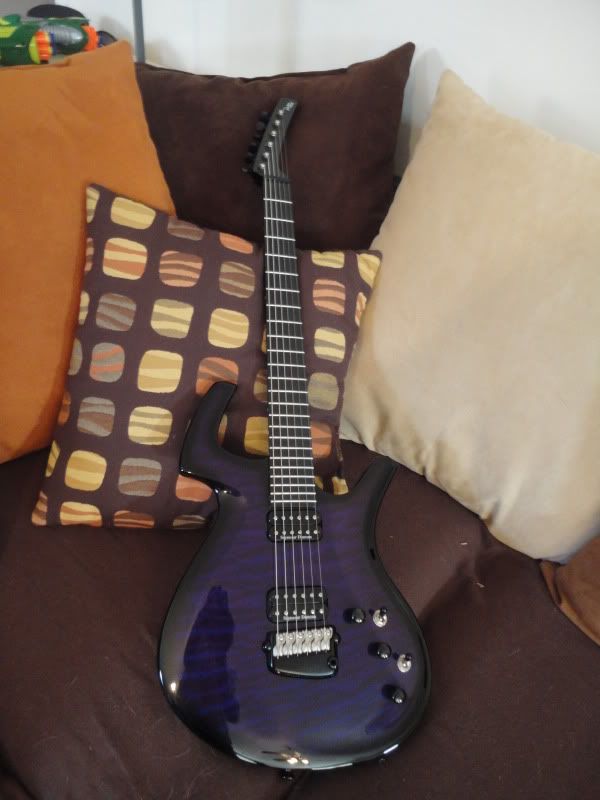 As a final note, Atomic needs to get more powered wedges in stock so I can properly test this out on something other than my Fender Blues Jr. It's the first thing I bought in this gear binge, and I don't want to run it through the power section of my Marshall as it might ruin my expectations.