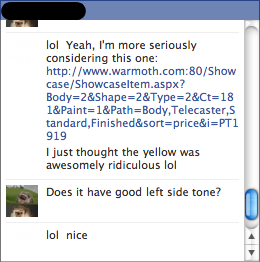 That's my drummer buddy
I was telling him about the epic thread, and he's caught on to what's important in guitar design now
At any rate, these were the bodies we were discussing:
Showcase Body
Showcase Body
I've got this Tele that I want to finish assembling, and the body I have (which started it all) still needs a
lot
of work. What I'm considering doing is buying a finished Warmoth body (that I know will fit the neck perfectly, since I bought it from them
) and saving the body I have now for a more ambitious project (baritone, maybe?) when the weather's nicer.