Just got this early '90s Steinberger GM2S today. I've been wanting one of these for awhile. Holdsworth frequently plays the "paddle-shaped" little GL4, but I like the strat-shaped ones a little better.
Sorry for the picture quality, but my wife has the decent camera with her today and I'm reduced to snapping pics with the iPhone.
And here is the "x2" part. I got this Carvin H2 in December but had to have some fretwork done on it. It's a helluva player, now. Also the first time I haven't been tempted to yank the stock Carvin pickups after five minutes. It's almost scary how "Holdsworthian" this guitar sounds.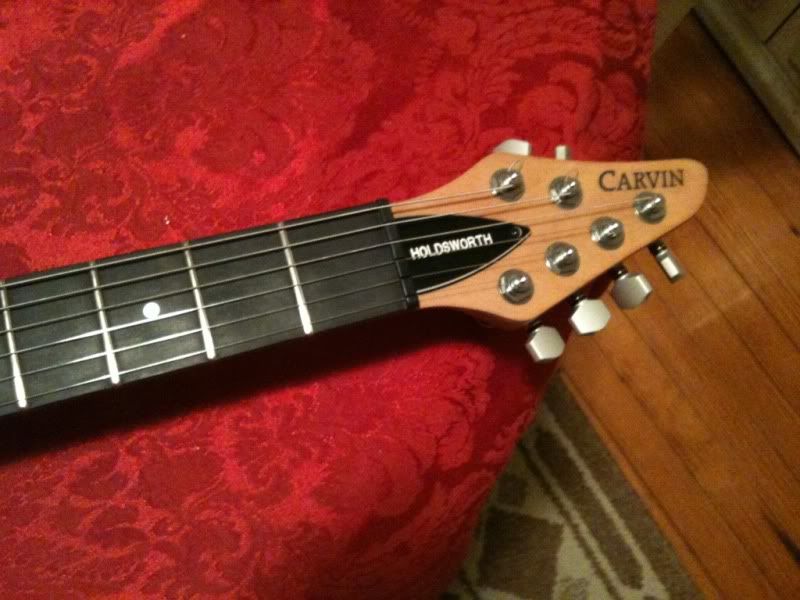 I really haven't had enough time on either guitar to give a detailed review. The trem on the Steinberger is fantastic, and the Wilkinson on the Carvin works pretty damned good, too.
For me, the Steinberger is a lot more comfortable to play. Even after moving the strap button to the upper horn, the Carvin sits much the way an SG does (reflecting what Holdsworth likes), but the neck on this guitar sticks out further than on an SG, so I'm always unconsciously pushing the body back away from me in order to have my center of gravity sitting closer to the middle of the fretboard. It's slightly neck-heavy, but not enough to cause a problem.
The necks on both guitars are fantastic; flat-ish fretboards and fairly thick profiles on both. Not for the Ibanez fan...
The Steinberger has dual EMG-85s, and they're sounding pretty good on this guitar with the maple body. If I do a swap, I'll probably keep it active and try the Duncan Vintage Live Wires, which are Alnico II-based.