I call her HermAphrodite, because "she" is the best of both worlds
[VIDEO]http://www.youtube.com/watch?v=YQiMuRd5AFA]YouTube - Stephen Lynch - HermAphrodite w/ intro (song only)[/VIDEO]
More info after 7,000 words: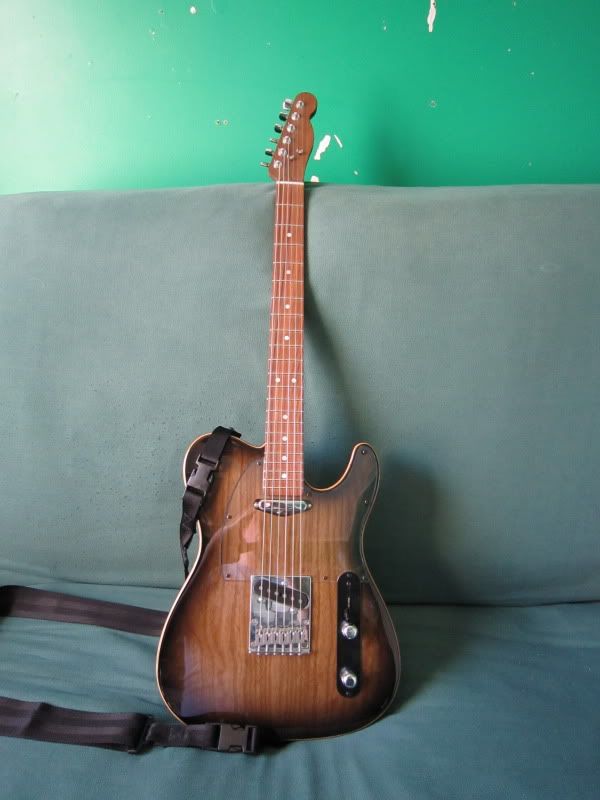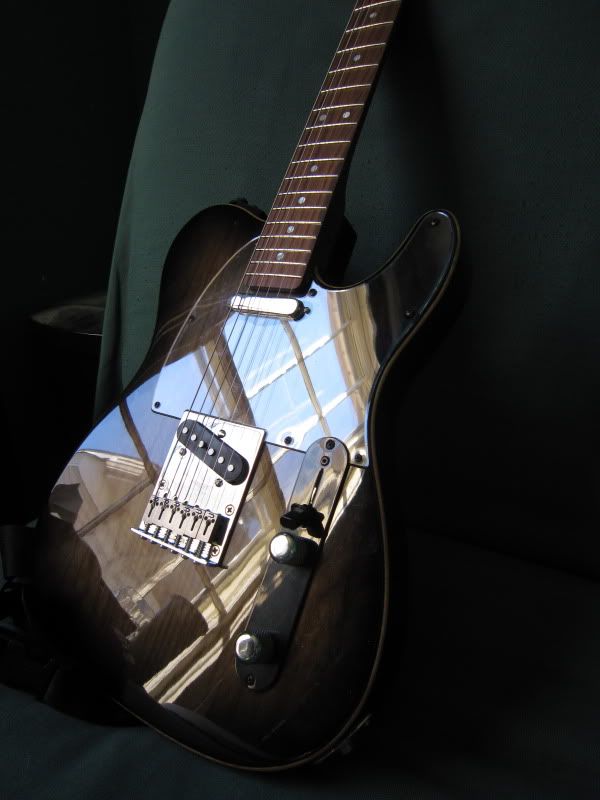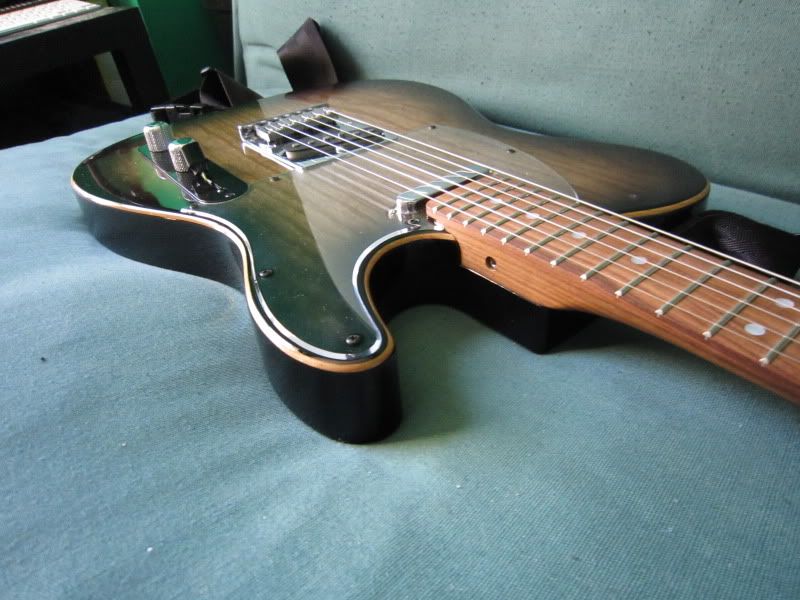 Specs:
Warmoth body and neck
Swamp ash body (chambered 1-piece with 1-piece swamp ash top)
Pau ferro neck (Fender size frets)
Schaller mini-locking tuners
Fishman VT Powerbridge
Fender Texas Special pickups
4-way wiring
This has been a fun project, with a lot of learning involved. We ended up making the pickguard ourselves from acrylic. The bridge plate needed to have the string holes re-drilled about 1/4" further back from where they were. The template on the Fishman website fits vintage-style Tele bridge routes, including the Warmoth bodies, but it doesn't match what actually came in the box for me. The template that came in the box matched the bridge, but not the website template. Not sure what happened, but since it seems no one in Canada stocks these bridges and it took 2 months to come in when ordered, I didn't want to deal with sending it back for a replacement.
That little hiccup aside, the Fishman bridge sounds great, and it's wired directly to the output jack, no controls or pre-amps in the guitar itself. Plugged directly into my interface, it sounds basically like any other piezo acoustic I've heard. Plugged into the Fishman Aura Spectrum, it sounds beautiful (I'll have clips up eventually, the neck's still settling).
This guitar even sounds great unplugged, thanks to the chambered body. And plugged in magnetic, it sounds exactly how a Tele should, maybe slightly mellowed out by the chambered body, but still plenty of snarl and twang. The 4-way switching should be standard on all Teles, as all 4 positions sound great.
Overall, I doubt this will be my last Warmoth build, and I officially have the piezo bug
(for those who made it this far and are still wondering, PIHB in the thread title is "Piezo In Her Bridge"
)
Edit
: Bumping this over from the 3rd page:
Alright, a quick demo. What you're hearing, in order:
-piezo direct in, dry
-piezo through Fishman Aura Spectrum (no EQ or compression used on the pedal, a little low end rolled off in the mix)
-neck and bridge, parallel, clean
-bridge, clean
-neck, clean
-neck and bridge, series, clean
-neck and bridge, series, distorted
-neck, distorted
-neck and bridge, parallel, distorted
-bridge, distorted
-piezo+bridge clean
-piezo+neck clean
-piezo+neck clean w/ rotary effect
-piezo+both pickups, parallel, clean w/ rotary effect (PT riff)
-piezo+bridge distorted (PT riff)
-piezo+bridge distorted w/ slide (Maylene-ish riff)
There's a lot of fret buzz still, and the neck pickup's sitting really high, so it's a little hotter than I'd like at the moment, but it gives you an idea of the sounds, especially the piezos
This was using one of the Jumbo models on the Aura, couldn't tell you which guitar/mic combination it's specifically modelling, but there's so many models built into this thing, plus even more in the software that can be put into the user spaces, I'll never run out of options to find the right sound for a part.