Hey guys,
I have a Dæmoness build coming up - Dylan has agreed to build me a Les Paul-based guitar (it will be the exact outline and dimensions of the original). I know the majority of the specs I want, but I'm tied up on a couple of aesthetic details!
First off, here's a mockup:
The headstock will have the Dæmoness "d" inlaid centrally in MOP as the logo.
Specs are:
Honduras mahogany body and neck (managed to source some real nice old and seasoned lightweight stuff
)
Maple cap
Ebony board w/matching headstock overlay
High gloss black finish on the top, natural wax/oiled back, sides and neck
MOP Trapezoid inlays (might have the year in Roman numerals within the 12th fret inlay)
Tonepros bridge, Gotoh 510 tuners w/ebony keys
Bare Knuckle Riff Raff bridge/unpotted Mule neck, BKP pots and caps
Shaved heel and belly contour
So the things I'm struggling to decide on are:
Binding:
- PRS-style faux binding around the body, (if so, do I choose to have figured top hidden underneath the opaque top so that the revealed portion has a nice flame pattern?). I want the neck/headstock bound too, so one of the following would also need to be chosen to match.
-White plastic binding. This would probably give the guitar the most "monochrome" look, which would be cool. My worry is that it won't age well, and might just look a bit tacky. On one of the "Skull series" Hadians Dylan did, he put a layer of black binding beneath the white, which looked pretty sweet. If I choose white, I will probably ask him to do this.
-Ivoroid. This is the stuff I have on my Blackmachines. I love the textured look, which prevents it from looking boring. I think some older Jacksons also have ivoroid binding instead of creme too. My worry is the colour might look out of place on the otherwise sharply contrasted two/tone look of the guitar.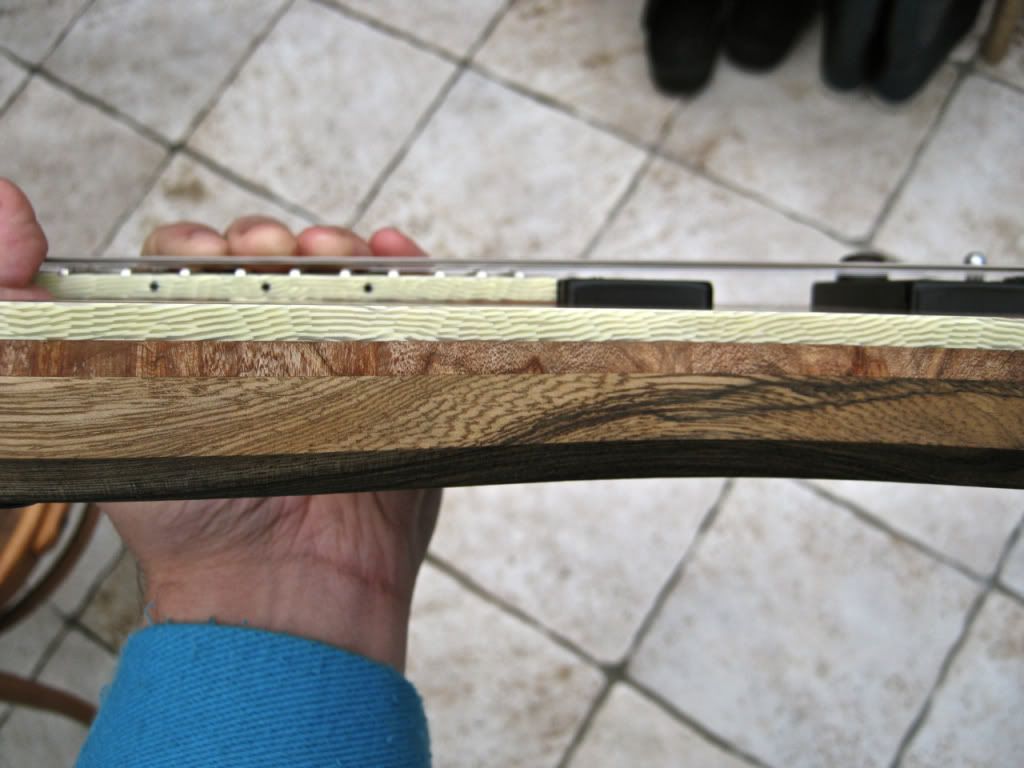 The other thing I'm contemplating is the pickup rings. I definitely want them to be black, but I don't want a glossy black look. I'm thinking either brushed black aluminium or ebony. Small distinction in terms of the overall look I know, but these decisions need to be made!
Thanks to anyone who wades through that! These are fairly small details, but with a fairly stripped down look like this the details are the make-or-break of the overall aesthetic!