So, the Death Warrior has gone. Itís now residing with E Lucevan Le Stelle. As part of the deal, Iíve now become the owner of Nickís black KXK, a Peavey 60/60 poweramp and a nice pile of banknotes. Iím really pleased with the KXK, itís definitely much more my thing than the Jackson ever was. Still a really, really great guitar, but not ďmeĒ.
Specs wise itís a maple neck with mahogany wings, 27Ē scale and a maple board, Bareknuckle pickups (a ceramic Warpig/Nailbomb combo I think) and a reversed inline 7 headstock. Eyeing up the necks, the profile on this actually seems slightly thinner than my orange KXK, which is razor thin in itself. Itís definitely a nice neck, and Iím not noticing any issueís switching between the different scales. Then again, this is the 3rd 27Ē scale guitar Iíve owned, plus Iíve played many others, so Iím not new to the bigger stretches. The biggest difference between them is the weight, the Kahler makes my original nearly twice as heavy as the new one.
Anyway, a couple of quick, crappy pics.
Quick group shot Thursday night before I went to Nickís. Left to right my KXK, the DW, my RG Mutt and my newly acquired free acoustic: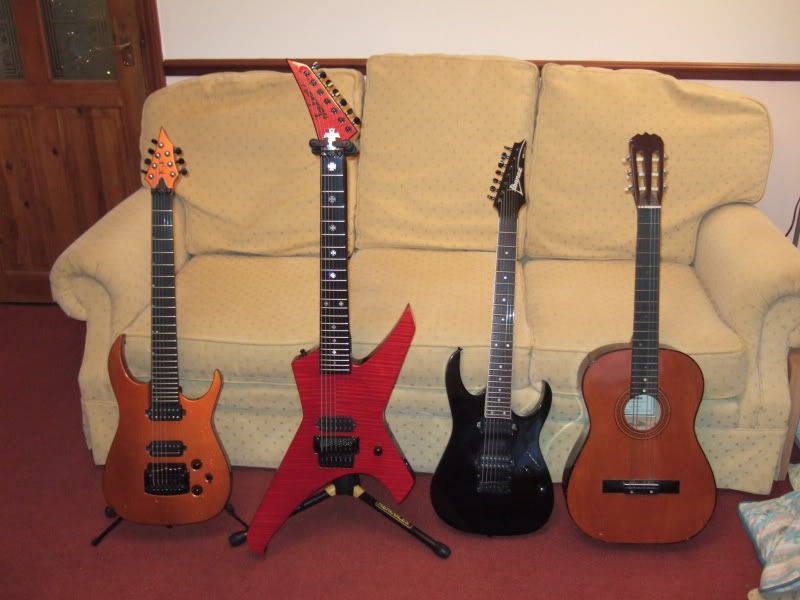 Quick shot this evening of both KXKís together. You can see how much longer my new one is to my original: