so I've been tring to be a good boy and stop the whoring but apparently I have an incurable affliction.
Mesh had been looking for a USA soloist and we came across this one in the GC in ohio.
I've always loved this graphic and the one on this guitar is a particularly good
one so I grabbed it.
Early 2002 USA Sl1 "Lighning sky'. It's pretty much in mint condition a couple of surface swirls on it but that's it , no dings, frets are huge , neck is nice and straight. I'm undecided on whether of not I'm going to keep it as it's not much different from the recent Model 6 I picked up in terms of 'feel'.
I do like the graphic though and I have 30 days to decide so I'm going to play the shit out of both of them and pick one and sell the other.
Next up
I've had an RG7CT for about a year now and it's a beautiful guitar but ever since my BRJ showed up it hasn't gotten a lot of play time. I was going to sell it and have a CS 7 with a maple board built for me but Tim suggested that maybe I just get another neck for it.
GREAT CALL! as I like everything about the guitar but the rosewood board was kind of boring to me.
so I got in touch with ET guitars in Aussie and had Ernie build me a replacement neck for it.
Well he did a fine job, my tech installed it for me this week and I picked it up yesterday. I had him make the fret board just a touch wider and he did , and the heel fit into the neck pocket of the CT perfectly. I also had him put on real 6100 fret wire.
The profile on this is based on his new "Tomohawk" series of 7's, it's based on the old UV necks but just a hair fuller (and I mean a hair)
Well it feels great, the neck has a ton of birseye to it and a mineral stain running thru it. When I first saw it I almost had him make me another one but when I have it in my hands it actually looks really cool (as he said it did).
He oiled it for me and it feels very much like an Old Charvel San Dimas neck
I'm pretty impressed with his work, so much so that I may buy one of his Tomahawk 7's and check one out. This neck is really comfy, it's given this guitar a new lease on life with me. Plus I still have the other neck so I can swap them back and forth if I like.
So on to the pics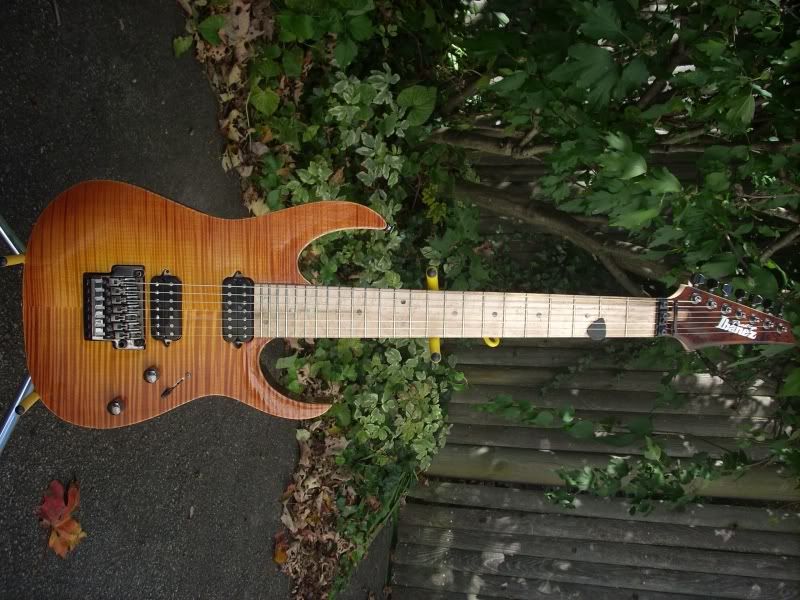 look at birdseye on this HS