Alright, so here's the story all about how my life got flipped, turned upside down...or something.
I'm building myself a parts RG and unfortunately I slacked too hard on buying the matching body for my neck off ebay during the christmas stupidity and it sold shorty after new years, so now I need to look for a new body.
Because you guys love pics so much i took a pic of what I've got for it, which is everything but a body, more or less.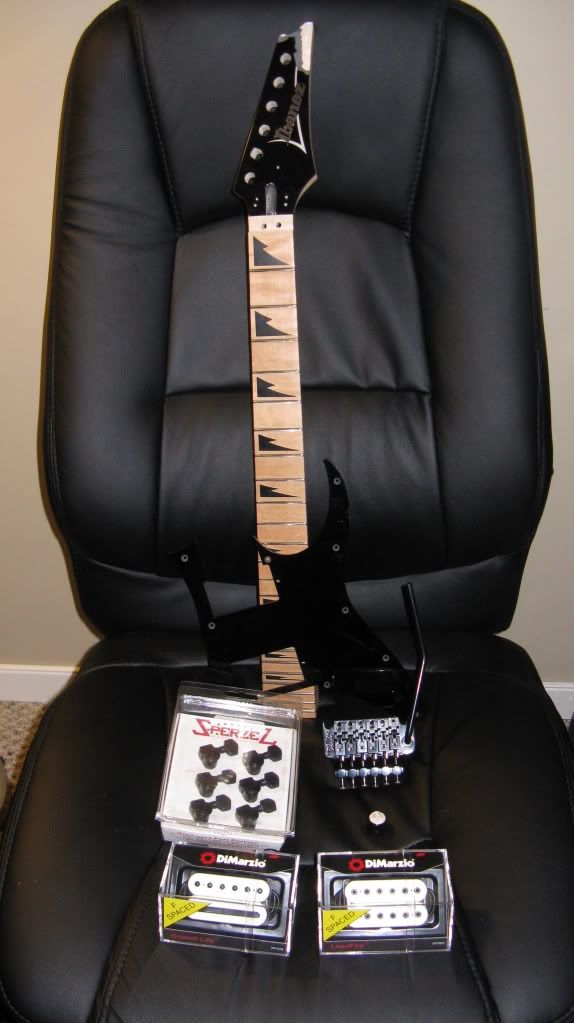 The issue I'm having is this: I bought a body before, one from an RG320 that had been spray-bombed by some hackjob and had to be returned, and what's throwing me off is that the RG350MDX neck I have was WAY too small for the neck pocket on this RG320 body. I was under the impression that all Wizard II necks had the exact same neck joint.
So now I'm on ebay and looking at a few RG350 bodies (really doesn't matter about the unused middle pup space due to custom pickguard) and there's a guy here that's got measurements up for all the neck pockets for these bodies and the pockets on the two RG350's are (apparently) 2.280" (white) and 2.265" (black). With the help of a calculator I have determined the widest point on my neck is 2.218 or 2-7/32".
Is my neck 1/32 too small, and the these neck pockets 1/32 too big? If I try to put them together, am I gonna have severe problems trying to get my neck to sit straight? is that 0.04 of an inch that big a deal? This is all measured with a shitty tape, to maybe it's off, I don't know.
Could the size difference just be shrinking wood from the dryness of winter, or am I looking at a serious problem here? Like I said, I tried to fit this neck to an RG320 body and the neck didn't fit at all. The screw holes didn't even line up, and I had been lead to believe that all AANJ necks and bodies are interchangeable. If someone could offer some insight into what's going on here, I'd be extremely grateful. This project is pretty well doomed if I can't get my neck to fit onto a body, and the body it came off of got sold before I could nab it.