The Strypoverse is back from it's vacation in Vancouver. Tomas is a great guy and everything went smoothly. This all started simply enough. The neck on my Hellraiser was just too fat. Ibanez had spoiled me. Mahogany baritone I thought. That is until I figured out Ibanez baritone necks don't grow on trees. Maybe I could just settle for mahogany Ibanez. Cue GAS, guess who had seen a used K7 last time they were at GC
Day before I was going to jump in the car to go get it I suddenly came to my fucking senses and bought this instead.
I really started to worry about this guitar making a trip across the country. And then I began to wonder if I was somehow involved in the death of The Strypoverse that the Server Overlord might be compelled to dispatch armed drones. Tomas had a spiffy flight case he gave me a great deal on. Problem solved.
Cat and I inspecting our prize.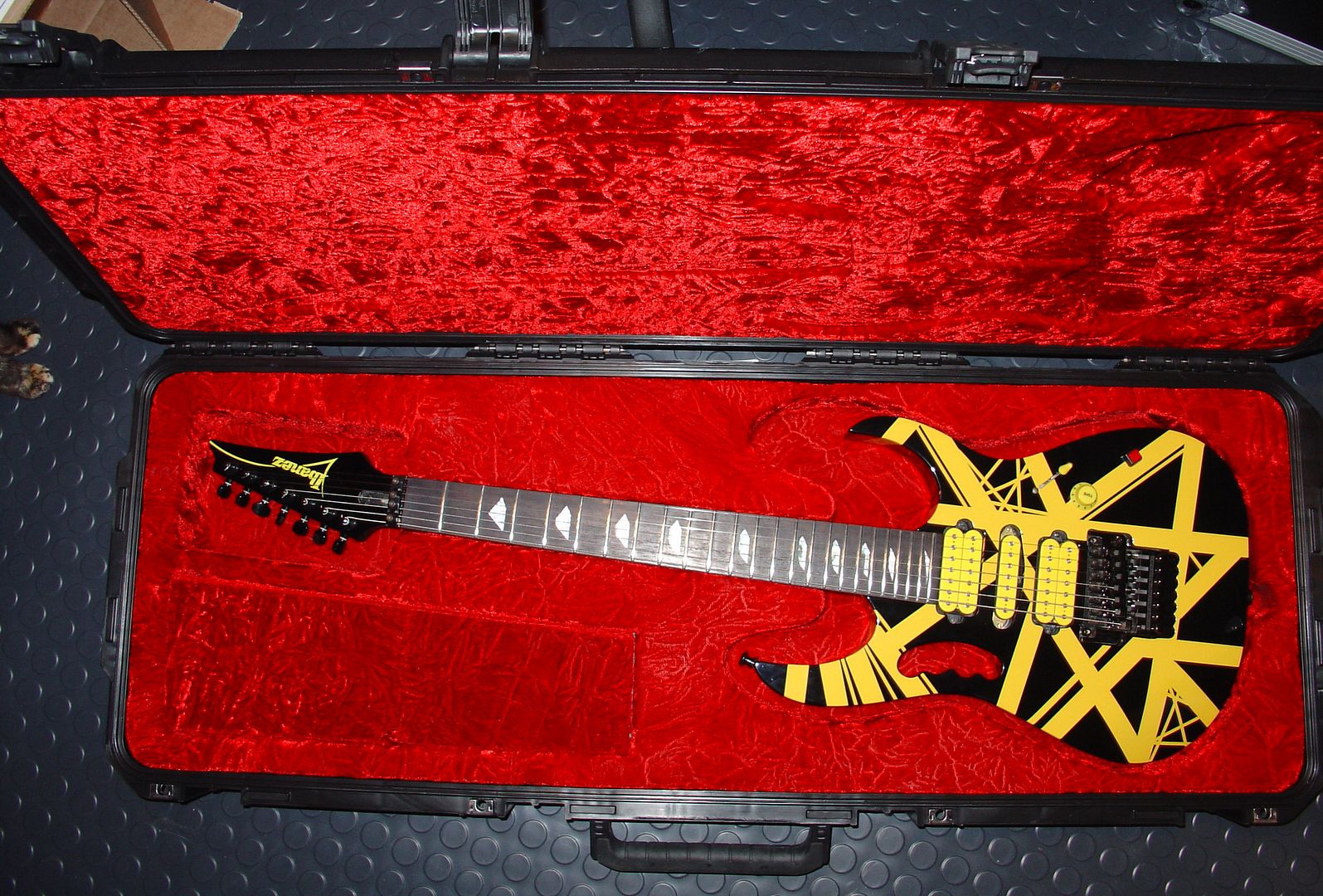 Really gorgeous guitar in person.
Gratuitous rear end shot.

Donnie's handiwork
More pics here.
Pics by Tomas in the FS thread
After it got here I was having trouble keeping the low B in tune even after it had time to acclimate. So I took a look at the setup and the action on the low B was sky high and the trem was tilted at quite an angle. After dropping the action back down everything fell into place and it seemed to tune itself.
The first thing that struck me was how resonant the guitar is. Unplugged it sounds fantastic and is quite loud. Plugged in it's an angry monster. Never tried an Evo before and in mahogany it is killer. Warm and round sounding with teeth.
Neck is fantastic. Donnie without a doubt builds a badass guitar. I love this thing. I will take good care of it and if I ever decide to sell, it will happen here. Just don't hold your breath. Because the Strypoverse is straight up fucking awesome.
Questions for Donnie and Shannon:
1. What should I be doing for upkeep on the neck. Does it need to be oiled every so often? Any tips?
2. What were you guys using on the fretboard, like the feel of it.