Tally ho chaps!
Okay so I've had this guitar for over two years now. But having just joined this forum recently I couldn't really help but want to post it out of both continued excitement for Dylan's excellent work and also for my own somewhat self-centred feeling of "LOOK AT THIS AWESOME THING THAT I TOTALLY OWN"
Coincidentally this guitar is also how I came to meet my bru Adam (Nolly) as the week after I had set down the deposit and specs on this, Adam put the deposit on his. Dyl told me about it as the two guitars have some similar specs and some of the woods are cut from the same piece. So essentially our guitars are sort of sisters.
Dylan names his guitars in epicly metal ways, and most fittingly this one is called:
MASTER OF TRIDENTS
Original Specs:
-Spalted Maple Body with Quilt Maple Top
-3 piece flamed maple neck with quilt top headstock
-Ebony Fretboard
-Sperzel Trim Lok Tuners
-Earvana Intonation compensating nut with wide string spacing for my massive fingers!
-White Bound neck and headstock
-Fat Neck!
-Custom Ripple Inlay
-Bareknuckle Crawler (Bridge) and VHII (Neck)
-3 way switching with push pull coil tap
-16 position Mid preserving EQ tone styler
-Piezo Acoustiphonic Bridge pickups
-Mid/dark acoustic switch
-Hipshot bridge plate with graphtech string savers
-Thumb groove on heal joint for access
-Angled Jack socket
Here are a few of the pictures Dyl took upon completion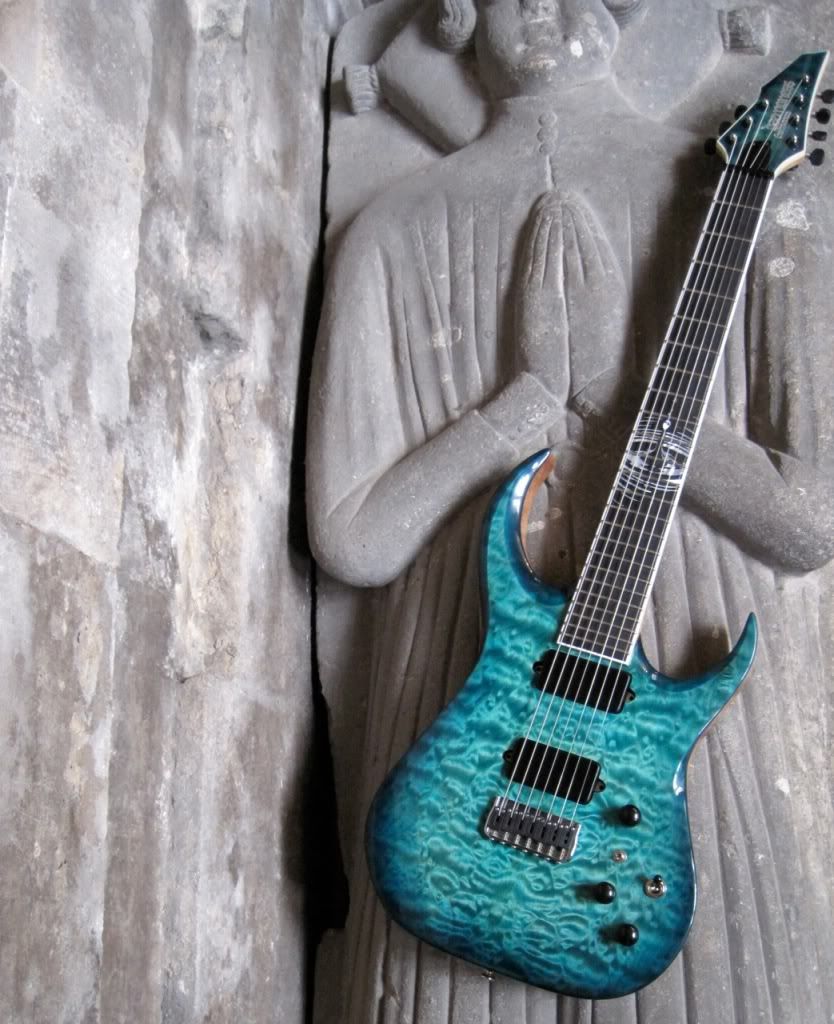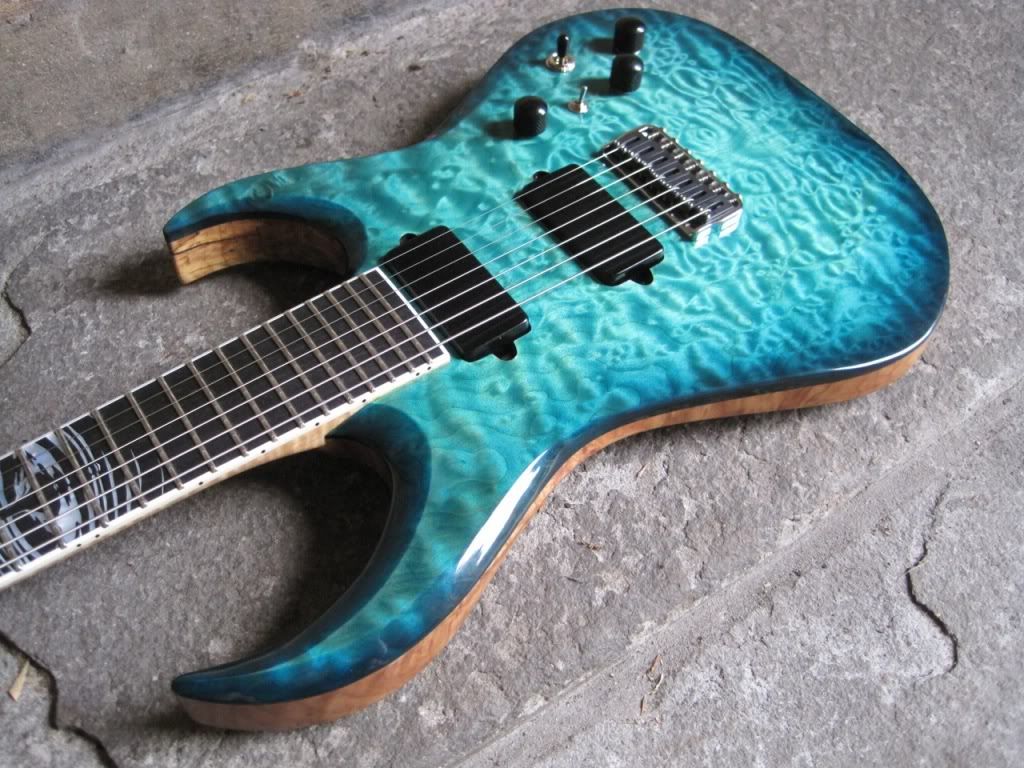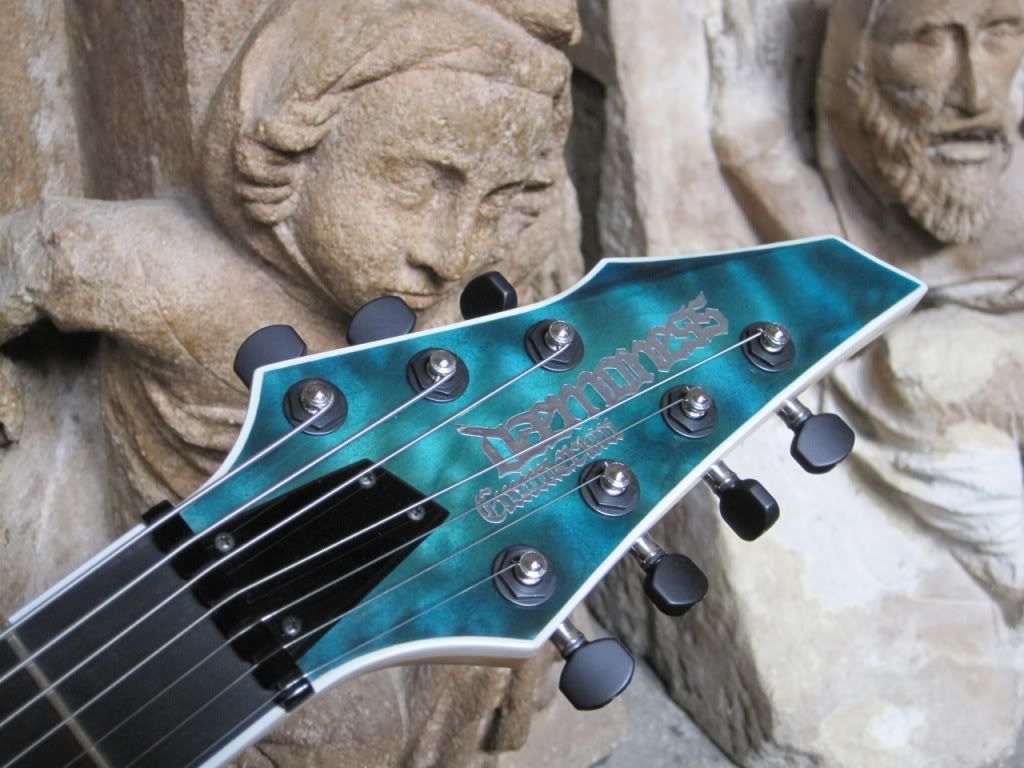 Obligatory "That Inlay" picture. Stuns me everytime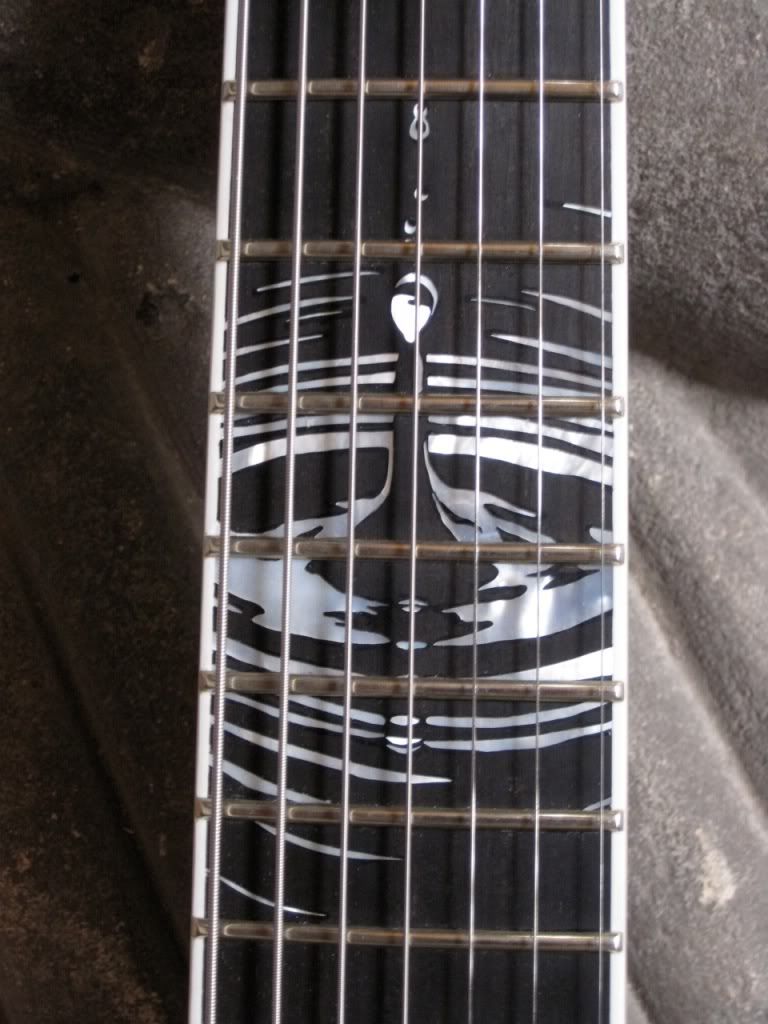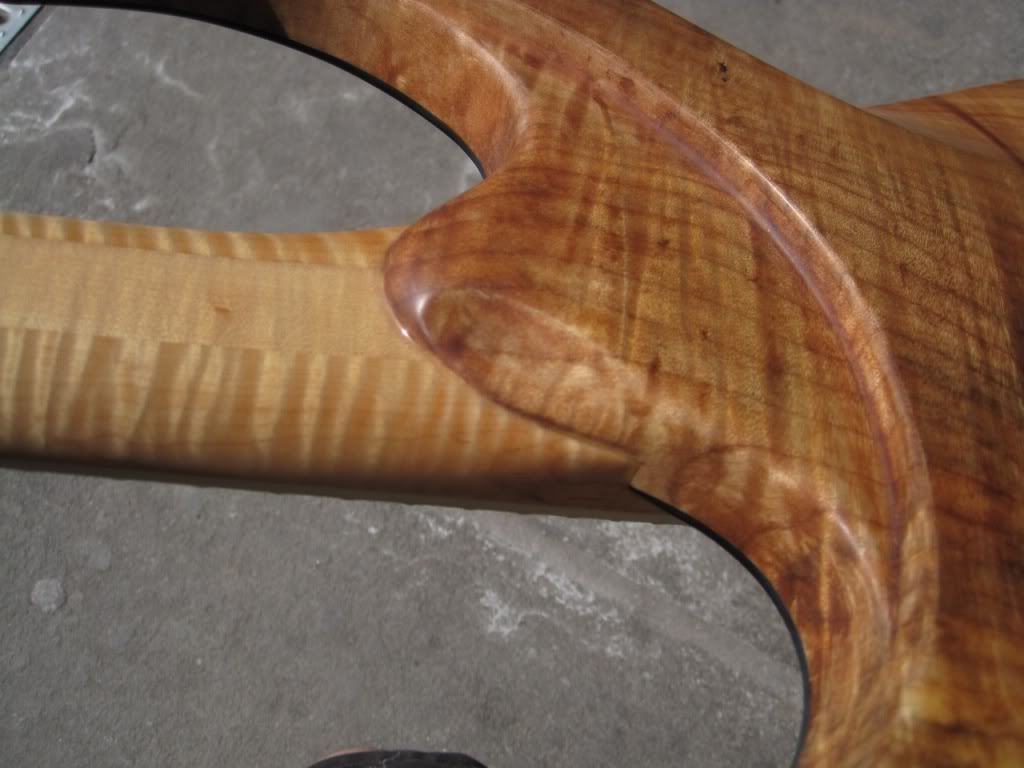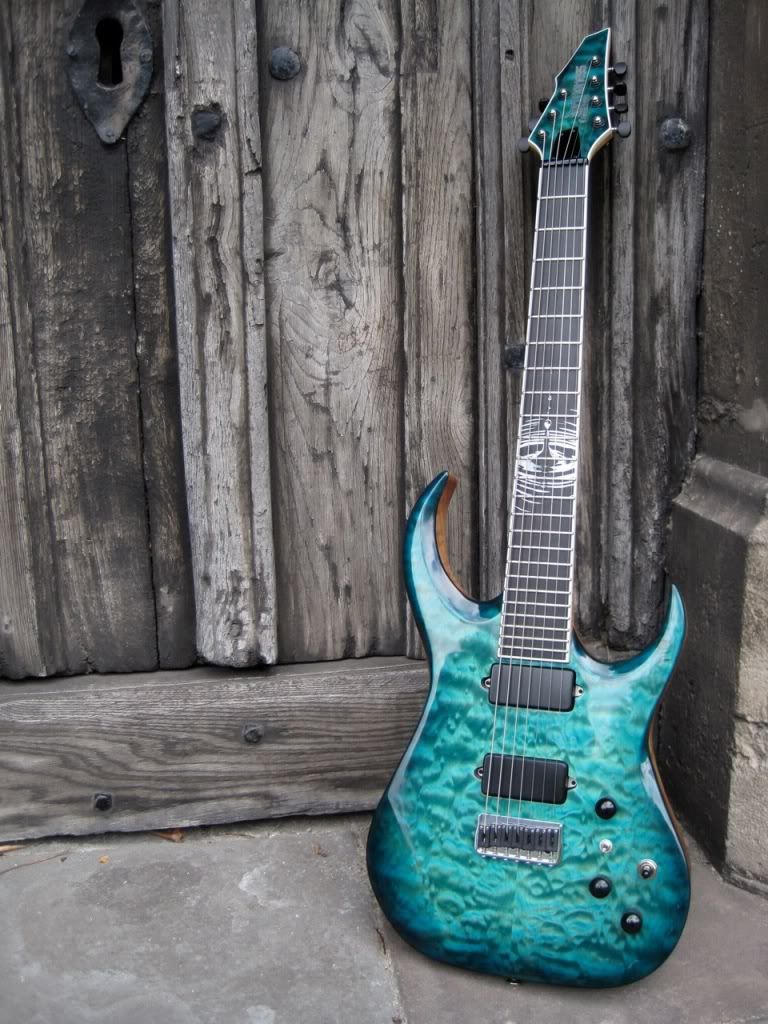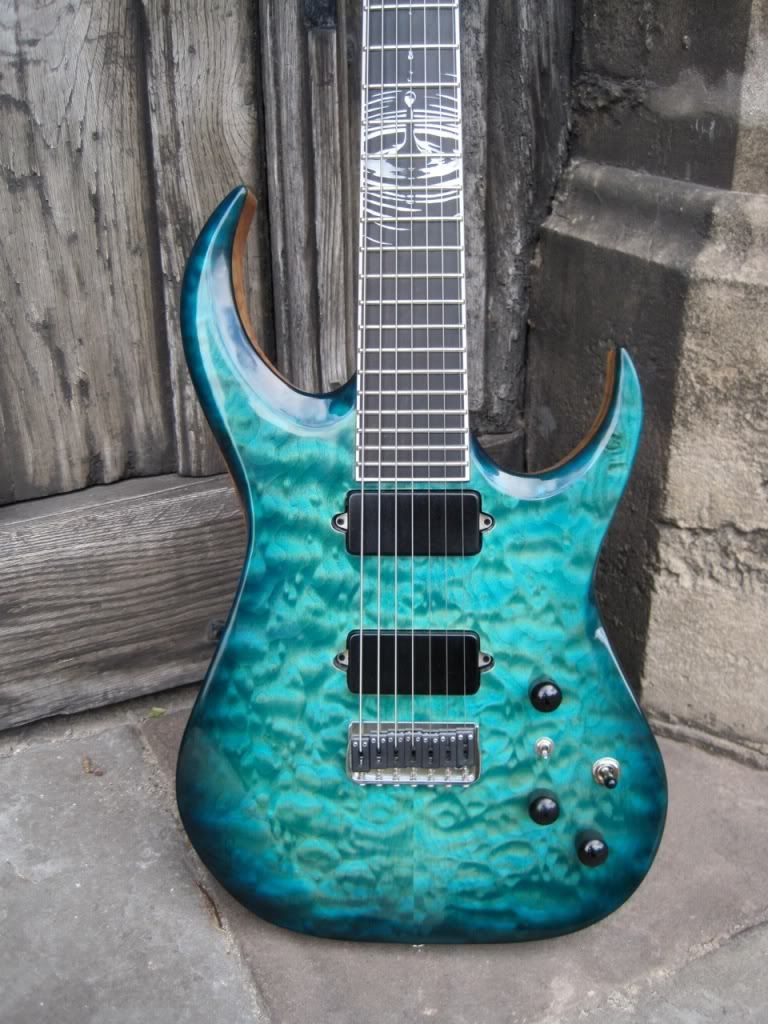 For a short while I was rolling with some Abalone topped pot knobs, but I thought they were just a little excessive considering the quilt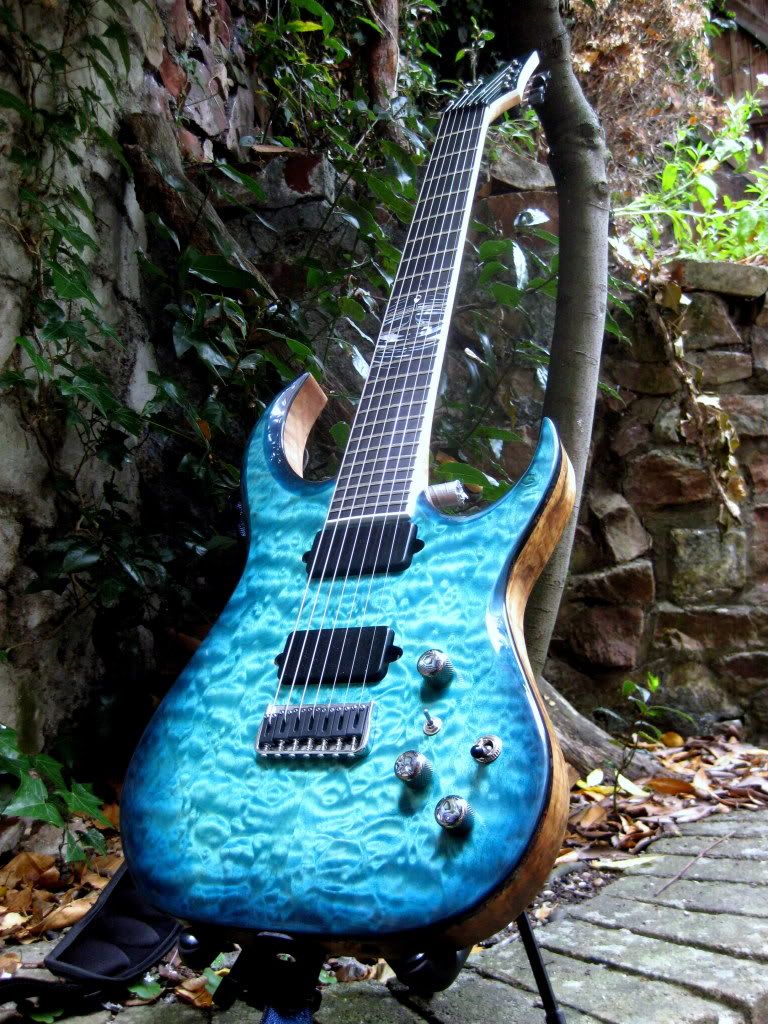 I had a couple of issues with the Graphtech system as it is a little tricky to set right, but Dylan had it set right for me. I've also changed out the pickups to a calibrated, uncovered Miracle Man set as seen here: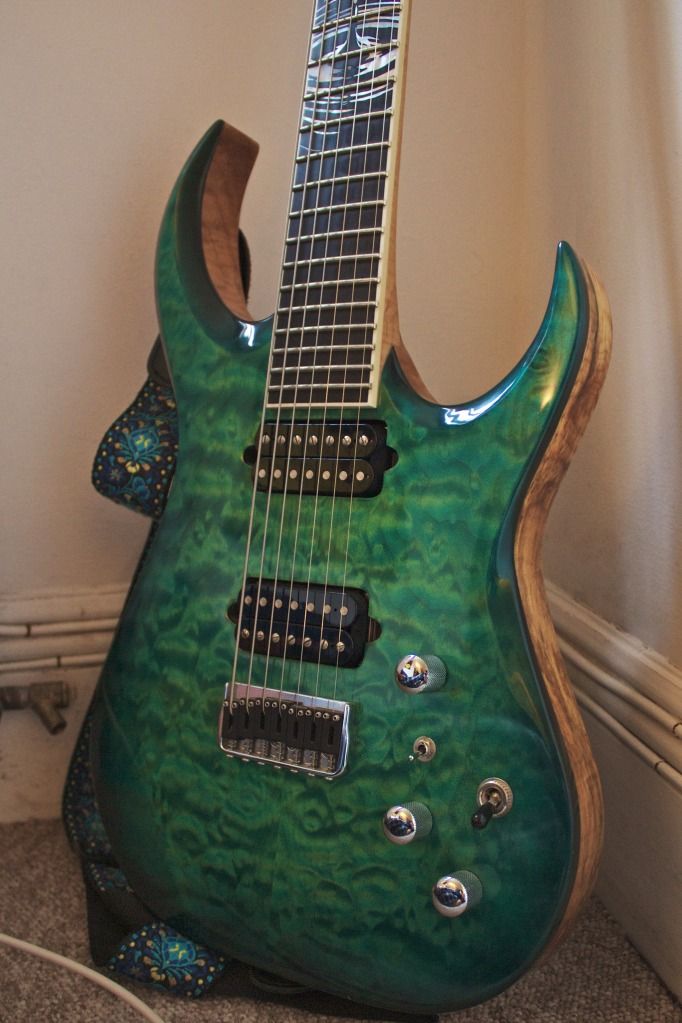 Safe to say a guitar of this quality has only one downside, which is that I have all these old 6 strings that I play that just do not cut it. Owning such a well crafted axe has shown me what good solid build quality is, and I cannot help but notice all the numerous imperfections of my mid range 6 strings, even with all the numerous upgrades.
Safe to say I may have something in the works for a six string to solve this issue. Watch this space