In my never-ending quest for string tension I can live with while tuned to E Standard, I've ended up back in the world of the Charvel 750xl/Jackson Soloist Archtop Pro: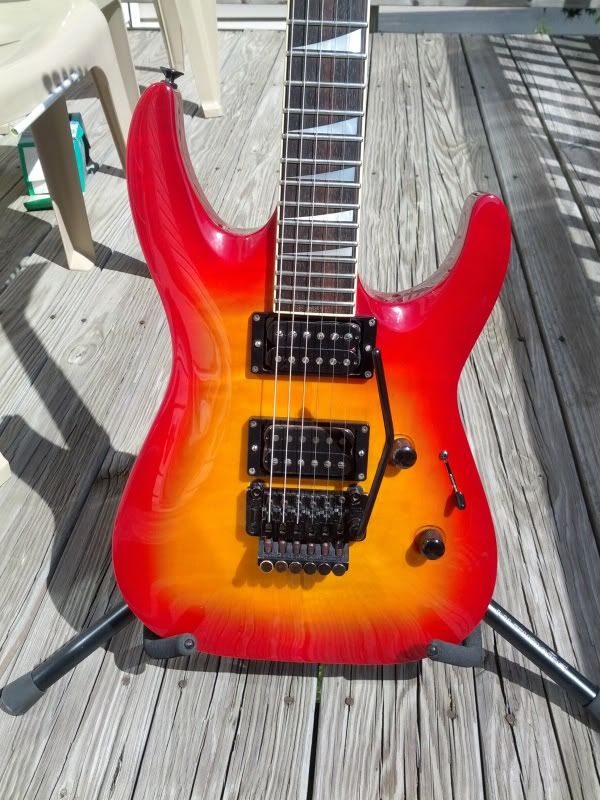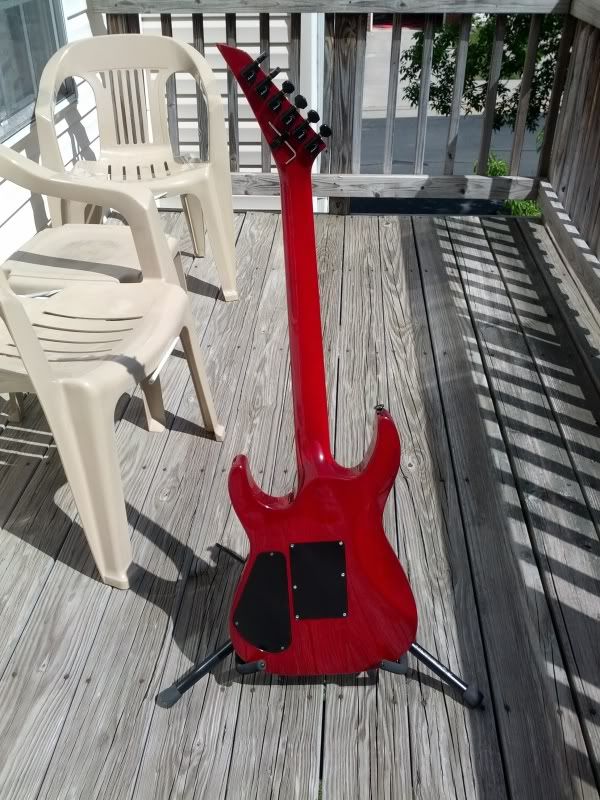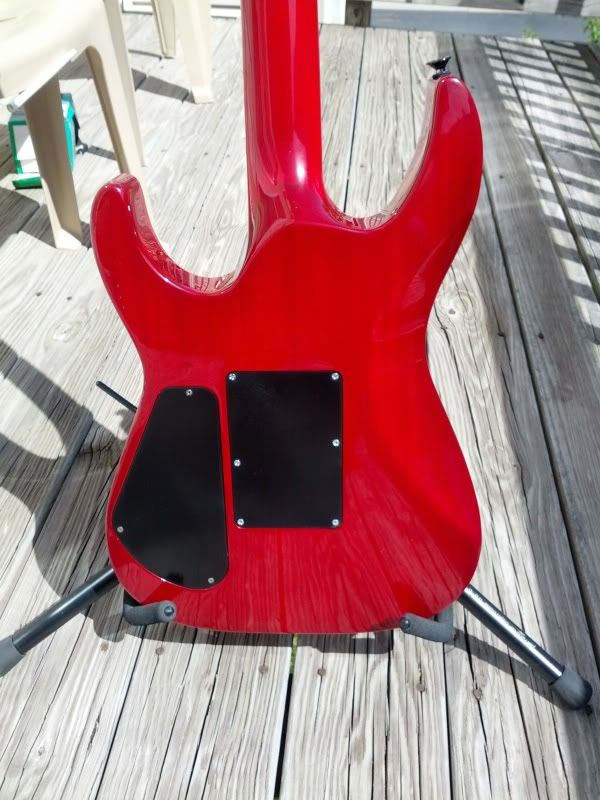 For those who don't know, it's basically a 24.75" scale Soloist that's constructed much like a Les Paul, with a thick mahogany body, thick maple cap, and maple set neck. The Jackson Archtop Pro that Crooks owns about a zillion of is basically the same thing but with a thinner body and ebony board.
This is now the fourth 750xl/AT Pro that I've owned (Crooks has two of 'em), but I think I've finally come to terms with them. They can be bright sounding, but this one seems a little warmer.
It's basically stock except for the pickups. These originally came with Jackson J80 pickups (sort of a ceramic JB), but a previous owner swapped them for a Jackson J90C in the bridge and a J50BC in the neck. I'm actually liking J90C in this guitar a lot. It's the hottest pickup Jackson ever made, and tonally it's a cross between a Duncan Custom and Duncan Distortion, but with the nasty high end of those rolled off a bit. Very nice for legato. Jackson pickups aren't quite as "hi-fi" as Duncans, but it's working in this guitar.
I don't know what the fuck the guy was thinking by putting a J50BC in the neck. It's basically like a Duncan 59 with a ceramic magnet, and it's way too bright and hot for the neck position. That's coming out, but the J90C will probably stay.
These pictures in bright sunlight make it look like more of a clownburst than it really is. The red on this one is more of a maroon, so it's a dark burst that is nice. In fact, it's the same maroon as on all the 750s/ATs that didn't have the trans blue. Basically there were three variations of this--you had this finish, trans-red all over, or trans red on the back with a honey-yellow top (like on Crooks' main AT that I idiotically traded to him...)
Oh, and Crooks and Garrett...it's not for sale.
I probably should have bought Garrett's AT Pro that Crooks has now, but I hadn't made up my mind to go for 24.75 shredders yet. I'm using 8's on this one and the looser Fender black oxide trem springs, and the string tension is good--loose enough that it doesn't kill my hands, but tight enough that I still get punch and picking speed.