Wirelessly posted (
)
So, I believe one or two of you have owned similar basses in the past and should know a bit about this.
Story goes like this: my buddy runs a studio and is recording my band's EP, and he's been collecting some unique instruments and gear for the studio (for example, a Danelectro Baritone). He picked up this bass from his roommate, along with a Pignose bass combo, for $150. The dude was going to pawn it for some quick cash, and so my buddy talked him into selling it to him and buying it back when he has the cash. Dude replied with "Nah, I never use it, you can keep it."
The bass is a Vantage VS600b fretless, made in Japan in (as far as we know) the 80s. This thing is in insanely good condition. It's got some dings and scuffs from being owned and played, but it's ridiculously clean, and the fretboard hardly shows any wear at all. I don't know if it's been restored ever, but the hardware looks practically new. No rust or anything anywhere. I didn't get a chance to plug it in, but it's very resonant acoustically and really fun to play. Only issue is the g-string "frets out" as it's too low right now.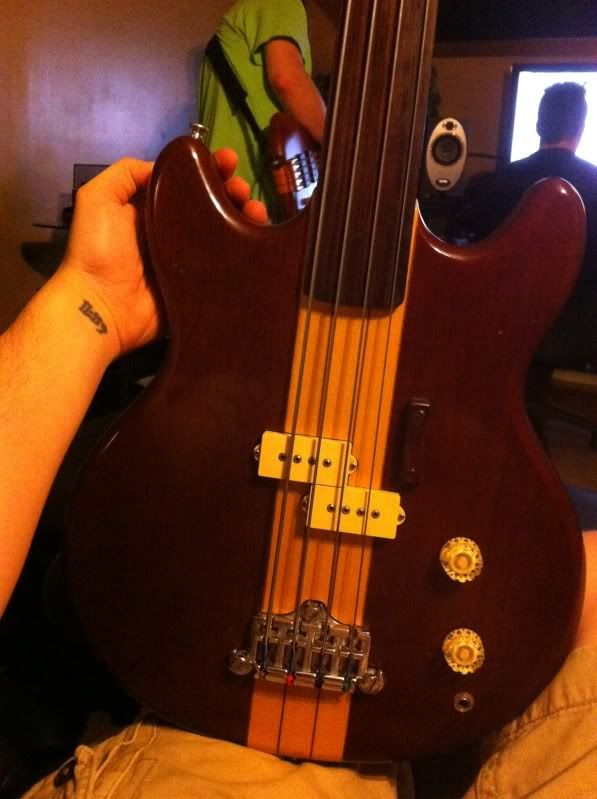 What do you think, did he get a good deal?