This is the one I'm talking about.
Well, it's had some work done:
First, a picture showing the actual colour of the guitar - the last set leached all the colour out:
Schaller M6 mini locking tuners, USA PRS nut and eBay special truss rod cover: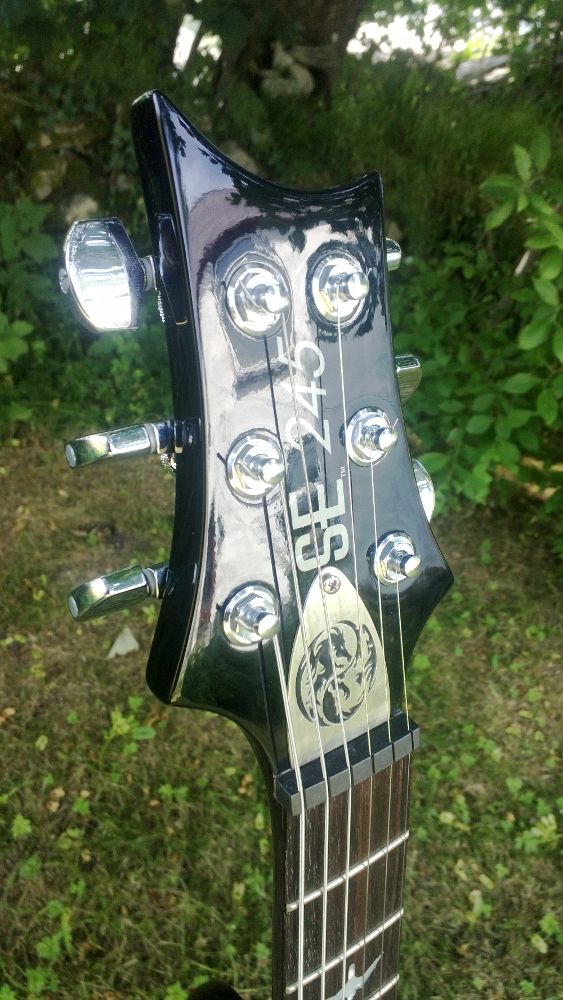 Schroeder adjustable stoptail bridge, TonePros locking studs and Seymour Duncan JB/Jazz set:
I actually changed this over about 6 months ago, but it's only now I've got a new-ish phone that I've actually got a working camera. Kinda sad that a Nokia 820 has a better camera in it than my old Olympus compact was....
The Schroeder bridge is awesome. It feels like a tune-o-matic, has completely independent saddles in the same way and is still adjustable with the 2 screws, same as the original stoptail. The TonePros studs were a must with me - all my other guitars bar one have them, and since I somehow manage to drop the bridge every time I change the strings with that one, I thought I'd preserve what's left of my sanity and get some for the SE.
Chris's thread
convinced me on the Schallers. The headstock on the 245s is a bit thicker than on the Cu24s, so the strings end up angled down more, but work just as well.
The USA nut was a drop-in replacement, bar a tiny bit of sanding to get the glue from the original off. The original SE ones are cut for 9s, and actually hollow. Yes, HOLLOW. If you've got an SE, take the nut off and replace it with either a USA one or a Tusk/Graphtech one, they're worth the difference. I've also seen a couple of examples of the original nuts caving in. Cheap parts for the sake of, what, $6?
I'm actually not 100% sure about the pickups. They're lower gain then the Duncan Designed ones in my Schecter, and I've been leaning more and more towards the BKP C-Bomb in my Dean these days. Still, they're more than good enough for now.
I've got it set up with Dunlop Heavycore 11-50s in Drop-C and with these mods, it's the best playing out of all my guitars - lowest action and least fret-rattle, although the truss rod seems a bit sensitive to temperature/humidity changes compared to my Schecters. Definitely a thumbs-up overall.