Hey guys, I recently bought a Wilkinson trem on e-bay to retrofit the 2-point trem on a Squier Strat I bought recently (NGD here this weekend once the bridge arrives) and after doing a little research I'm pretty stumped on what model it could possibly be. Here's an image of what it looks like: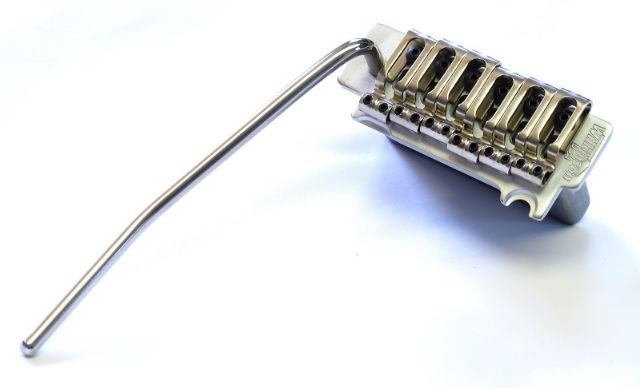 From the looks of it, the trem is very similar to a VG300 which is similar to a VS100 with bent saddles instead of block saddles. What gets me, however, is that the one I ordered does not have the knurled trem-arm collar that comes on the VG300, and through research I've only found one instance of the trem I ordered actually being on a fiddle:
From the article
The Guitar Column: Wilkinson WVS 50 II K Bridge
I gather that the trem I'm getting is probably older than the early 2000's, however I can't be sure since I don't know when Wilkinson started putting bent saddles on their bridges (or licensees for that matter). From the e-bay description the bridge is supposed to be NOS, which supports the bridge being from sub-2000, though I feel the bridge could also be a knockoff or copy for how cheap I got it for.
So basically what I want to know is what particular model this trem might be and if any of you have had experience with it, and whether or not if it is a cheaper knockoff. Also, if it happens to be a knockoff would it still possibly be an okay replacement for a 2-point Squier bridge? Main reason I'm upgrading the bridge is because I can't stand screw-in trem bars and would rather have the pop-in assembly, otherwise the unit is okay and stays in tune pretty well.