Well curiosity got the better of me and I decided to order the Dean RC7E in the tiger eye finish... 7 months ago.
I ordered this from Gearhounds knowing it was a pre-order but they never gave an actual date of when this would be available and were pretty bad with the replies. I would have been happy if they just gave a rough estimate of the month it was expected to be in but to not give updates on the site or via email is pretty bad IMO. Shitty customer service for the loss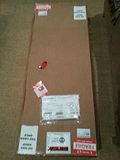 On the other hand they did a epic job of packing this thing.
And the reveal!!!!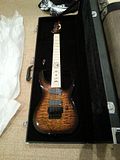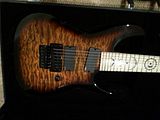 Got some goodies with it (not that I'll be wearing it too much though
).
Specs
• Quilt Maple Top
• Alder Body
• 25-1/2" Scale
• 1-7/8" Nut
• Cooley Spec. 24 Fret Bolt-On Maple Neck
• Maple Fingerboard
• Black Cooley Custom Inlays
• Grover Tuners
• Black Hardware
• Floyd Rose FRTS2000 7-String Bridge
• EMG 707 Pickups
• Hardshell Case Included
• Finishes: Tiger Eye,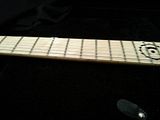 The neck is different to what I was expecting. I was expecting the most paper-thin neck there is out there (fell for the hype!) but it's a bit slimmer than an Ibanez. One thing that I didn't expect was how flat the neck would be. I haven't been playing much at all since I started my shitty day job, but my hand got tired very quickly but I think I have to get used to it as I'm coming from a Loomis. Plus, I need to stop being a wimpy girly-man and just play more guitar.
Sound-wise it's much smoother than the Loomis but still has nice bite. Legato and leads sounds way better on this but riffs sound better on the Loomis due to the hard ash giving it that grunt.
I fucking love the cutaway. It's amazing and there are no problems with my hand getting in the way unlike when I play the Loomis. Fretwork is pretty good as well. I'm still fighting it a bit to have it be completely comfortable but the whole guitar needs to be setup properly and have 10's on there.
Even though Dean is a pretty questionable brand, this guitar is pretty damn good and I'm glad I've got one. Plus...
dat quilt!