Full album:
http://s75.photobucket.com/user/thaz...?sort=3&page=1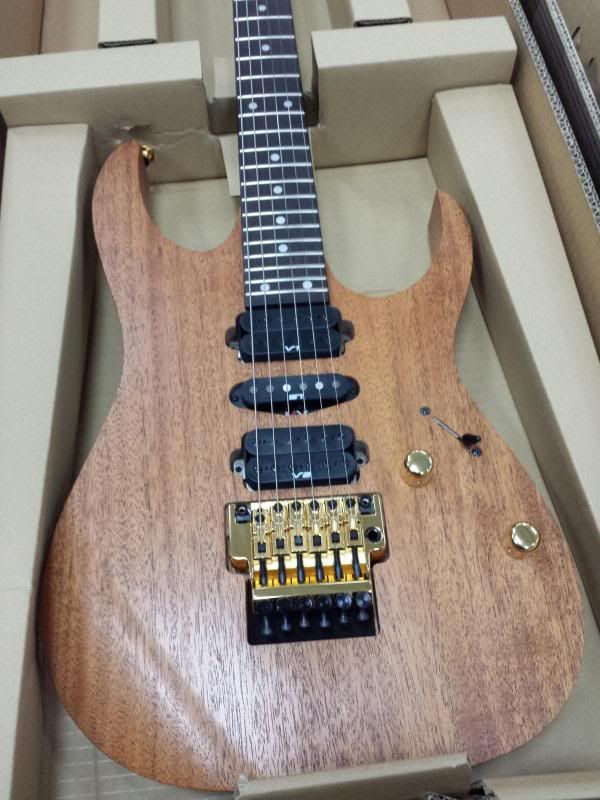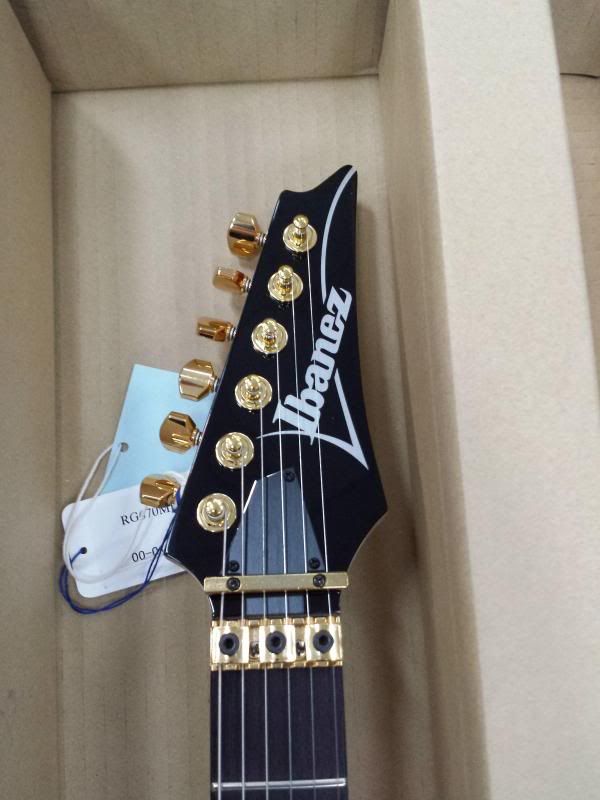 Ok review time!
I'll start from the headstock and work down,
Gotoh tuners: They're sturdy, accurate and don't seem to have any play in them. Plus they're so sparkly!
Fretboard: This is the single nicest fretboard I have ever owned on an RG, it's so consistant, the grain is really uniform
and the colour almost makes me wonder if it's been dyed.
Frets: the fret ends are super tidy and smooth, the wire has been nipped back and the fretboard has been puttied up with
colour matched filler to conceal everything. You can see this in my pictures, it's been done really nicely and
is a really classy touch.
Neck joint (Square joint w/tilt): The pocket is super tight,I can't even get a sliver of paper down the sides.
The square joint is a little more obtrusive than an AANJ but it's still pretty comfy, access is good.
Controls: The pots are noise free and turn super easily, they feel way better than any of the pots on my other guitars.
Trem: This edge trem is spectacular, I put it through so much abuse last night and it returned back to pitch
perfectly every time. This also has the locking studs so many like to mod onto their Ibbies. The trem arm bushes
created such a tight fit that I thought I might have the wrong trem arm, just took some careful patience and force...
I'm not sure if the forearm contour is different on these, but I feel that it's more comfortable than I'm used to.
Maybe I'm just still in the honeymoon phase too much and starting to imagine things.
I've saved the pickups till last, they're versatile and great for medium gain tones. For high gain metal they're adequate
but not awesome. I'm thinking about grabbing a gold covered d-activator set to pimp this badboy out.
As far as playing goes, I lowered the action a little when I got the guitar. Neck and trem setup were perfect though.
This thing blows me away. I've owned lots of Ibanez guitars from Korea, Indonesia and Japan (including a 1990
RG550 rfr) and this outplays them all. It's so effortless that I'm finding myself playing with less tension in my arms
and hands. This is making me try to outplay my abilities and I'm really starting to see my limitations more clearly.
This guitar is definitely going to force me to play better! ;p
It came with a soft case, I'll probably end up buying a moulded Ibanez case for it.
The trem arm is also black, I want a gold one for the pimpage.
If you have any questions just let me know!
I tried to cover everything I could think of and be as un-biased as possible during my honeymoon stage,
but I'm definitely new to reviewing so feel free to critique away!
Oh and expect sound samples at some point over the weekend.