Well, my first Carvin has arrived!
I ordered this DC800 back in very early Janaury. Estimated completed was Feb 28, and it arrived Wednesday afternoon.
My build spec:
Swamp Ash body
Maple neck with Koa strips
Streakless Ebony fretboard
Signature abalone inlays
black hardware
abalone controls knobs
Gunmetal Grey
Satin Matte finish
black Carvin logo
Jumbo frets
straplocks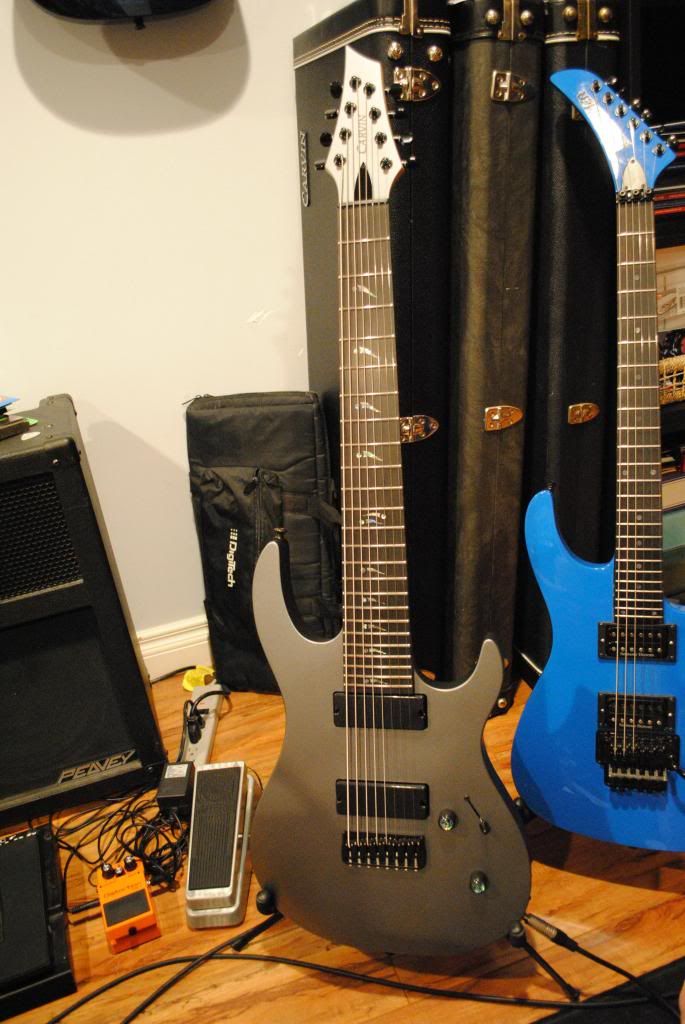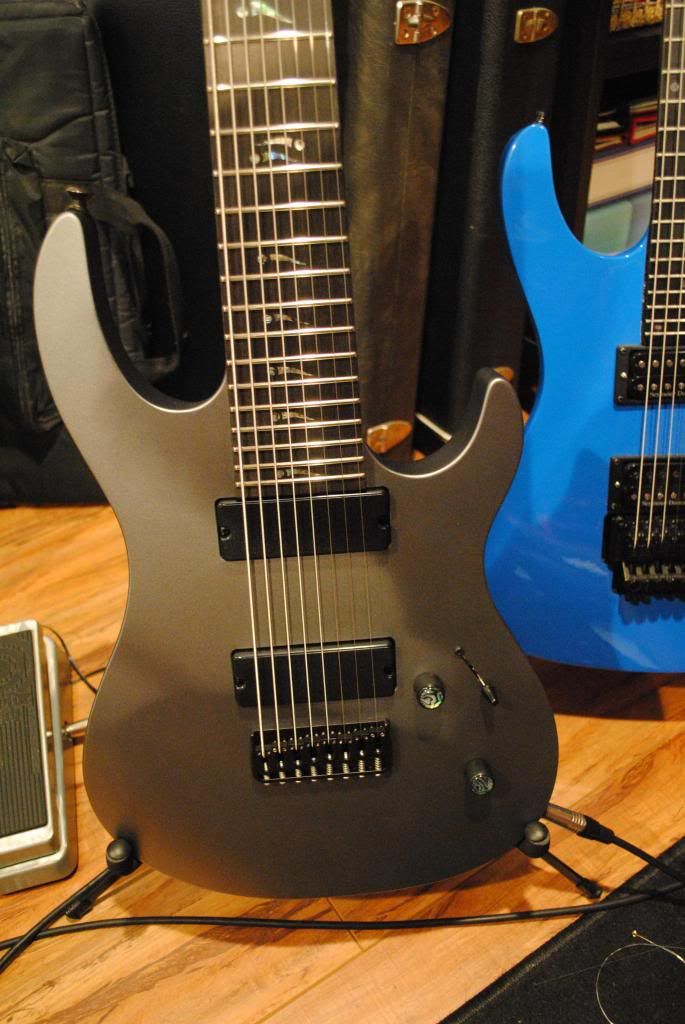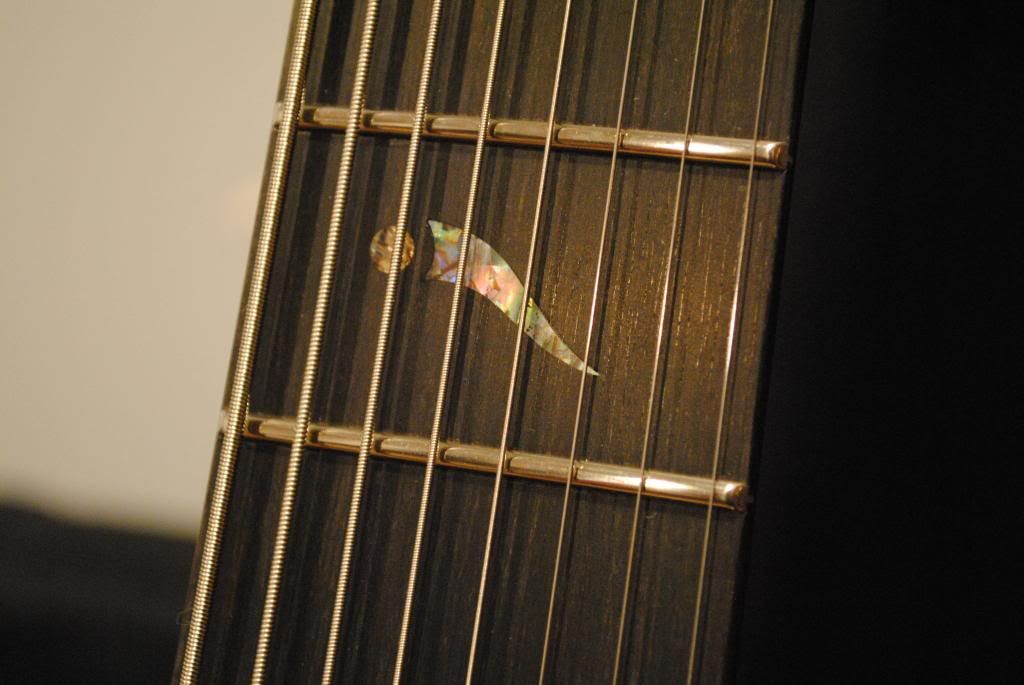 The specs are perfect. Exactly what I ordered, exactly what I expected.
Build quality is almost perfect. I say almost perfect because there was one flaw. One of my control knobs has a burr or rough edge. Rough enough that it scratched me. Already called Carvin, and they've already shipped out a replacement.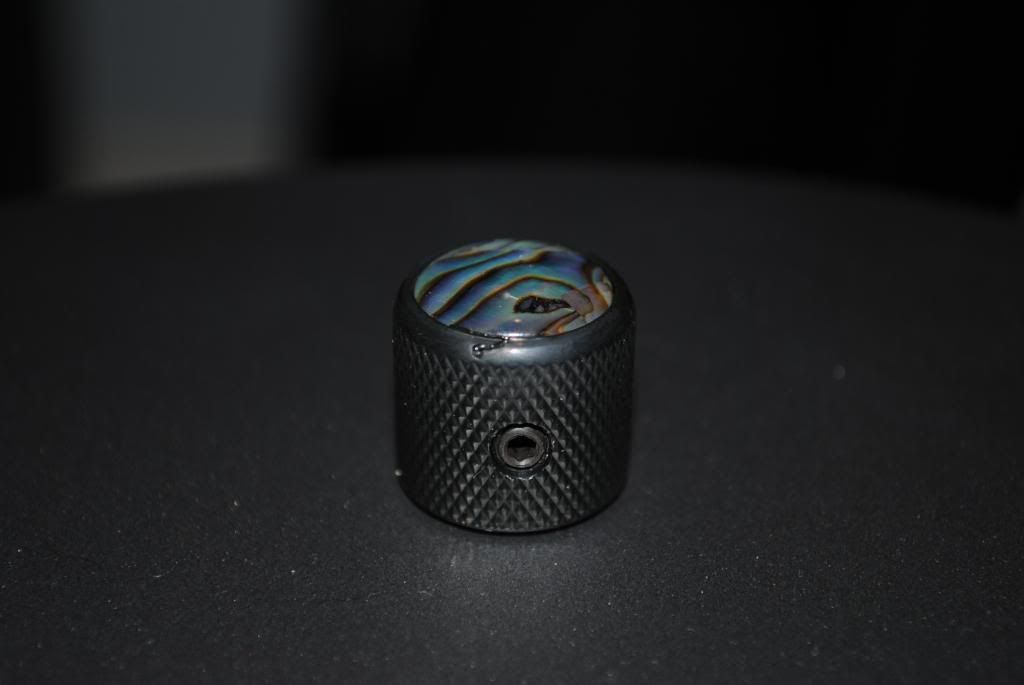 So the first thing I did after unpacking it was try to tune it up. That didn't work. As soon as I started tuning the first string, the string literally fell off the tuner. WTF?!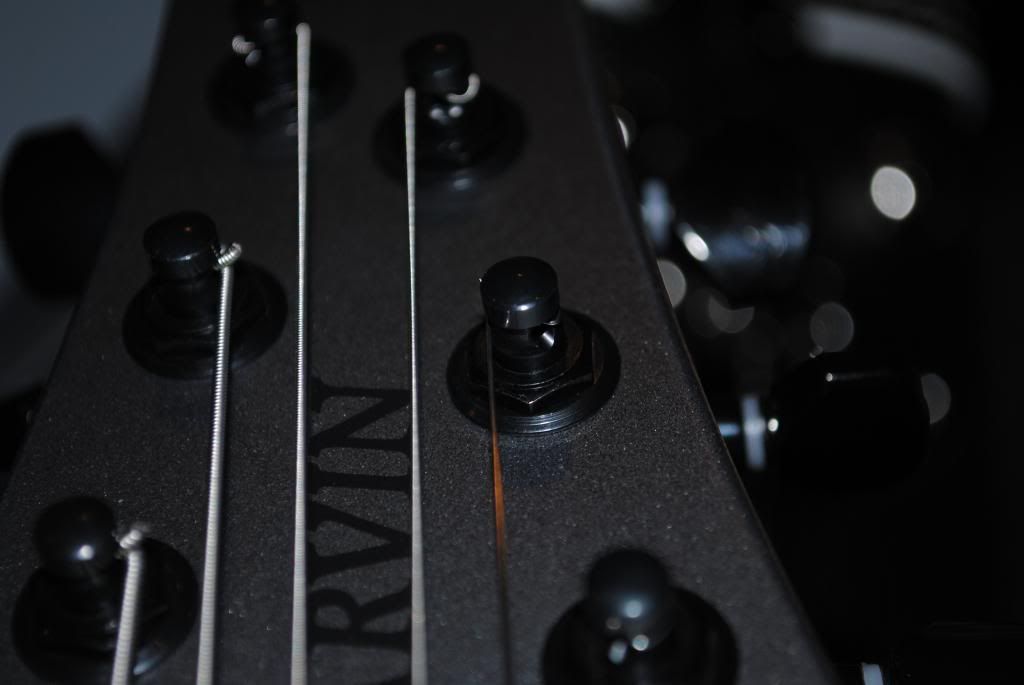 I had a closer look, and each string is wrapped barely halfway around the tuner post. Now I understand that it has locking tuners, but should the locking tuner be unlocked (as it was in this case) and I go to tune a slightly flat string, my string should not come off the post.
So the first thing I did was restring the guitar. Not exactly what I wanted to be doing, but whatever. Luckily, I thought ahead and brought in a box of D'Addario EXL140-8 strings. I've always used D'Addarios, so would eventually have switched anyway.
Strings changed, tuned up, ready to go.
Wow. Simply wow.
The neck on this thing is like butter. So smooth, so comfortable. It's the first time I've ever played an 8 string, and it instantly felt natural. Everything is just set up perfectly. Even stretching down to the 7th and 8th strings isn't uncomfortable in any way. I have big hands, so that may be part of it, but still. THe most natural feeling I've had when picking up a guitar for the first time.
Tone is interesting, and I see I'm going to have to tweak my amp settings and effects setup for this one. I have a Digitech GNX3000 that I use at home. Even though it has a couple of hundred presets available, I basically use two; a clean one and a dirty one. The clean one is crystal clear on all of my 6 strings. Warm, a hint of delay, very nice and happy. With the DC800, it's slightly distorted. It's still a very warm sound, but there's a hint of disortion. I like it, but it's not the crystal clear ringing I get with the other guitars. Not sure if that's because of the active pickups or what, but I can see needing to make some tweaks to the setup.
When I hit the ugly switch and get my thrash on, it is really distorted. I had to immediately go and tweak the preset on that to get a decent sound. Turning down the gain solved that issue. Further tweaking will still be required to get me 100% happy with it.
Overall, more experimentation will be required, but I am so happy with this purchase. I can see this one becoming my go to guitar quite quickly.
Better pics coming soon. On Saturday, I'll be home in daylight and will get some decent shots of it.