Ok, guys... I'm stumped.
On Monday, I got some parts for my PRS SE Custom 24 and installed them.
Hipshot Locking Tuners
Rockinger Black Box Tremolo Stabilizer (similar to the Ibanez Backstop and ESP Arming Adjuster)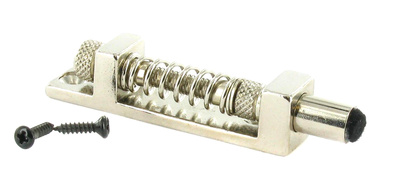 Anyway, installation of everything went fine. But now I'm having a weird tuning issue...
When I do a dive bomb or when I'm pulling up/back on the arm, every single string stays in perfect tune when it's back to its normal position except for the G string.
The G string will either go flat or sharp. It differs every time, whether I dive or pull.
I can say it's not the Rockinger causing the problem because I pulled it out, thinking it might be the cause, but the issue was still there. But I can't say whether or not it was there prior to the installation of the Rockinger, because I never used the whammy bar until after it was installed.
Also, I put Elixir 9-.042 strings (same gauge as from factory).
Any info is greatly appreciated! This shit is driving me nuts!