Hey folks, thought I'd share my two latest acquisitions with you all and get a bit more active over on this forum.
I've been especially gear-whorey as of late and over the last little while I've acquired these two beauties.
An RG721RW and a RG3XXV CAR.
Honestly for the longest time I just couldn't jive with Ibanez but I bought the RG721rw locally on a whim for pretty darn cheap and I fell in love. The RG721rw isn't nearly as 'new' of a guitar as the RG3XXV is but I figured I'd add it in for delicious double NGD pics.
Review then pictures
RG721RW:
Basswood Body
Rosewood Top
Rosewood Fretboard
'Tightend' fixed bridge
CAP-VM N/B Pickups
5p Maple/Walnut Neck
I got the RG721rw locally for a pretty good bargin because it had some uneven frets, after filing them to level and giving it a proper setup its been an absolute dream to play. This has been my go-2 D standard axe for the last few weeks and I've definitely been giving it the full workhorse treatment. I can understand why people dig this model so much. It's also nice that it doesn't have a tremolo. It may sound a bit hypocritical because I have a guitar in this post that has an edge tremolo but usually I REALLY hate floating tremolos which leads me to staying away from most ibanez guitars. The pickups are alright, they're decently versatile for stock ibby pups but I've got a set of BKP Blackhawks en route to replace them. Also, normally I hate rosewood fretboards but the rosewood top is just so juicy with the fretboard.
Also I'm a huge Rick Graham whore and his playthroughs gave me horrible RG721rw gas
RG3XXV
Basswood Body
Maple Fretboard
'Candy Apple Red' finish
Dimarzio Air Norton (S)/D-activator(H) pickups
3pc Maple Neck
Edge-Zero II Tremolo w/ZPS3Fe
I also bought the 3XXV on a whim, I've been meaning to give Tremolos another go and the aesthetics of the 3xxv series just get me everytime. Originally I was looking into getting an rg550 or an rg565 but I saw this one on the sweetwater website for 350$ and pulled the trigger. My only complaint is that sweetwater mailed it out missing pieces to the locking nut and sans of the trembar. Luckily my friend who is more trem friendly had some pieces laying around for me to borrow while sweetwater sends me replacements. For the price Im totally blown away by this guitar, the pickups are fantastic and the neck plays fantastically. Aside from the missing parts and the nut not being 100% secure when it arrived I'm extremely pleased with this purchase (And I haven't been totally annoyed by the tremolo yet.) Would definitely recommend this model to anyone looking into a non premium/prestige ibanez.
Pictures!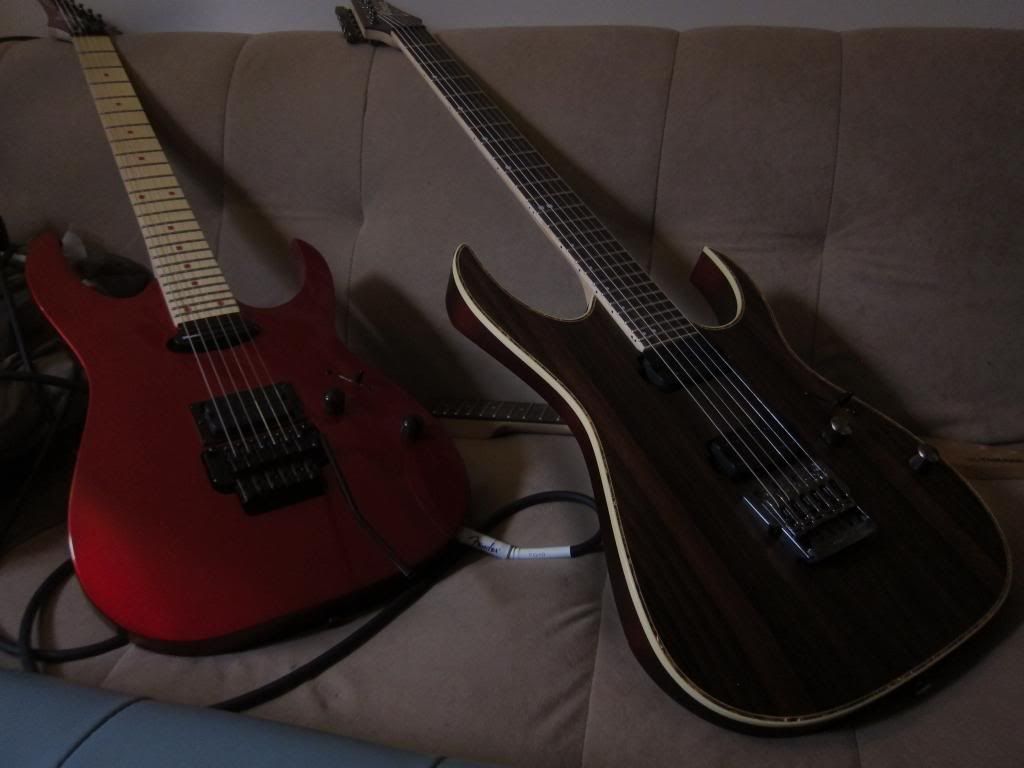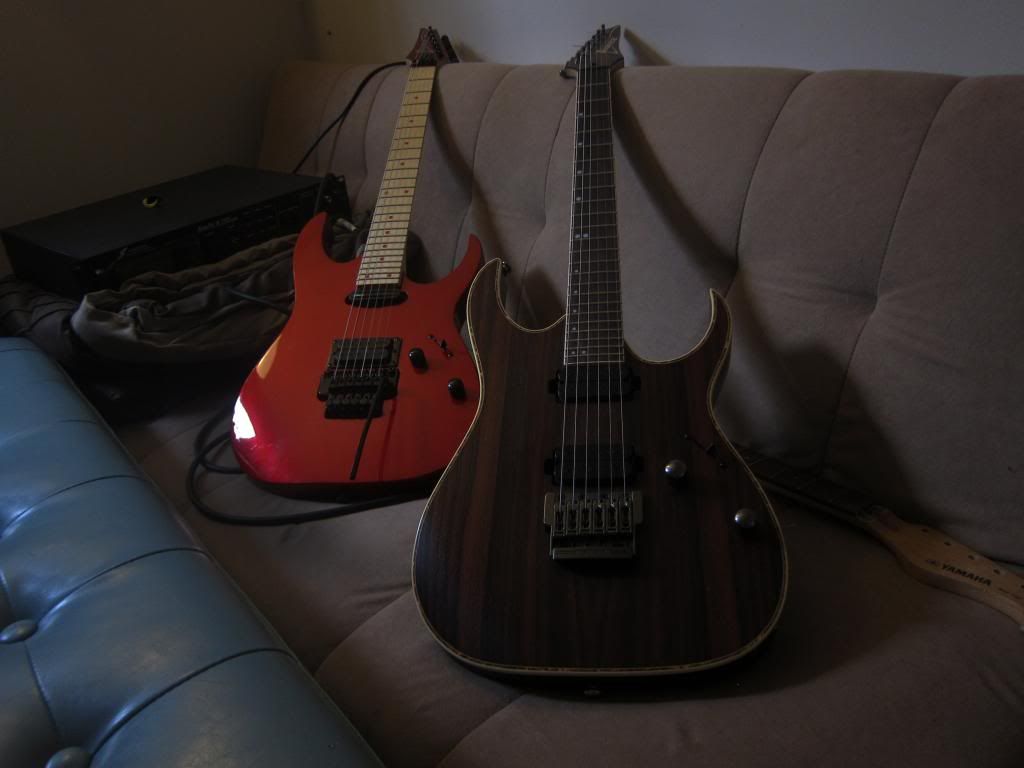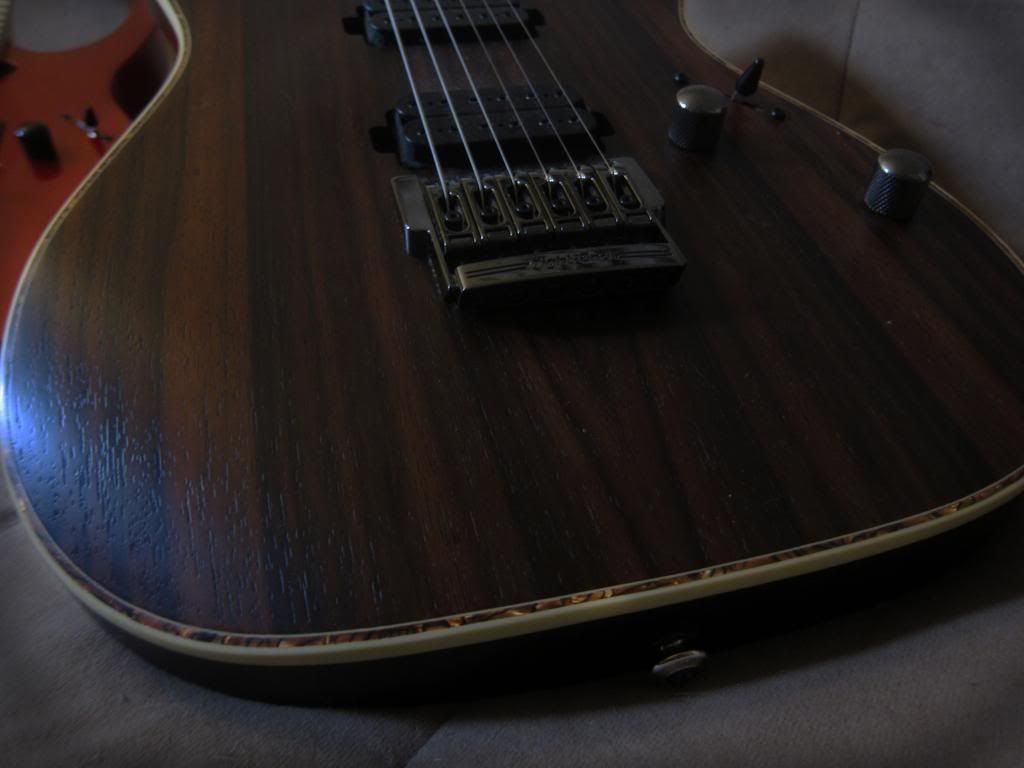 As you can see I'm using a third party chrome piece for the nut here