Sorry for the crappy cellphone shots, I live in Pennsylvania which means the sun doesn't like to come out.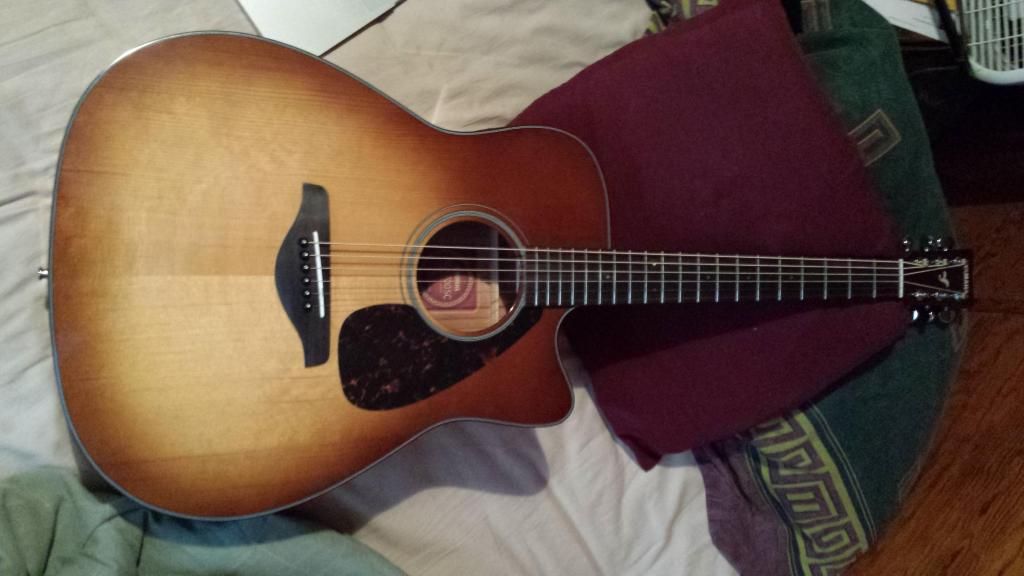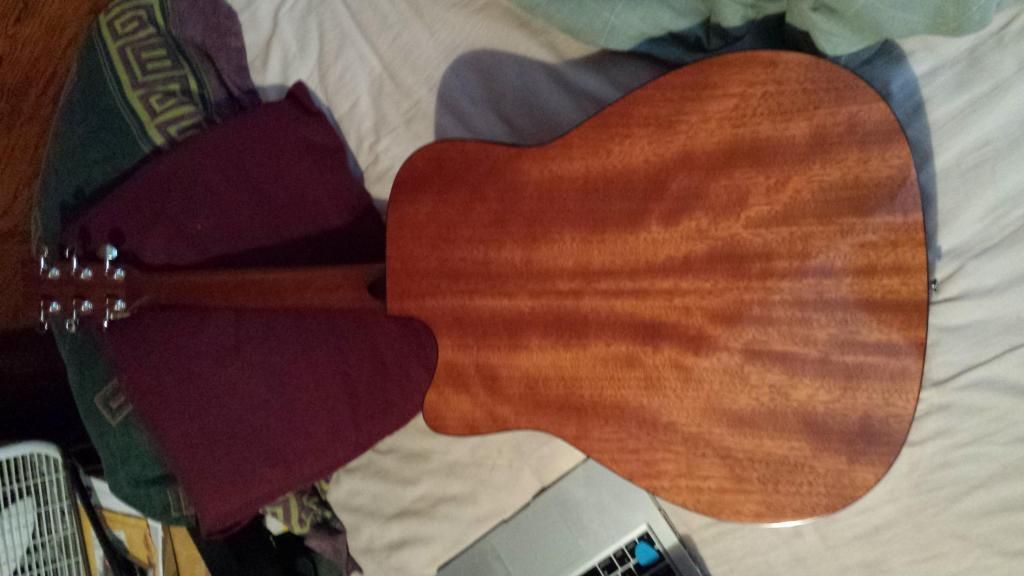 So I'm been heading to the GuitarCenter next to my friend's house a lot lately. We've been going into their acoustic room and jamming for hours together on everything we could get our hands on. So I've tried a TON of acoustics lately. Been enjoying playing a ton of high end Taylors and Martins and mid-range Seagulls and Breedloves. I even got to try a Rainsong that was made completely out of Carbon Fiber! (Really unique voice to the Carbon Fiber that is really "open" sounding to me.)
I noticed a couple of Yamaha's the one time we are there and I remembered how much Shannon really liked the one he got. I picked one up and it was a bad idea for my wallet. I don't know Yamaha is doing it but their stuff is just mind-blowing for the price range. The only other company that had guitars as good as them in the sub-400 price range has been Breedlove. So lately I've been trying ever Yamaha I can. Yesterday I went to GC with my buddy and we try everything we could as usual. After playing some hi-end Taylors and Martins I noticed the new Yamaha's that came in and picked up the one I got.
I played one chord on it and immediately knew I was walking out with it (I've been trying to save
). The low end on it is perfect. It gives a ton of power to strummed chords but also doesn't let any lead work sound thin. This is honestly my favorite acoustic guitar that I have ever played for balancing lead and rhythm work. The quality on these things are astonishing. The fretwork is extremely smooth, the finish work on the burst and neck are fantastic, the grain on both the front and back are actually appealing. It even has a built-in tuner and preamp (which I haven't tried yet). All of that for $300.
One of the new GC employees was tired of hearing shitty drummers all day and decided to jam with us and the Yamaha was just so perfect placed in the mix of them playing.
I suggest anyone looking into an budget acoustic to immediately pickup every Yamaha, Breedlove, and Seagull that they can. The consistency is just unrealistic for the price points.
P.S. The only Yamaha I have tried that I didn't like at all was their super short scale (23in) Yamaha JR2. It was nowhere near the quality of any of their normal sized stuff and I'm guessing the price point of $150 had to do with it. With that said I REALLY want a Baby Taylor after trying one. The sweetest sounding guitar for single note player ever. Would tune to up a 4th of E standard to A standard since the rhythm stuff wasn't that great that low.