Nothing too spectacular, but I scored 3 decent playing guitars this week off gear trades. I felt the need to clear out some cabs and pedals.
1: 2012 Epiphone Les Paul Standard Plain Top (as plain and standard as they come I guess). Great playing guitar, very solid feeling. I fell in love with playing this one actually. After a set up it was every bit Les Paul as far as I'm concerned. The stock pickups sucked, I took off the pickgaurd and put EMG's in it for fun.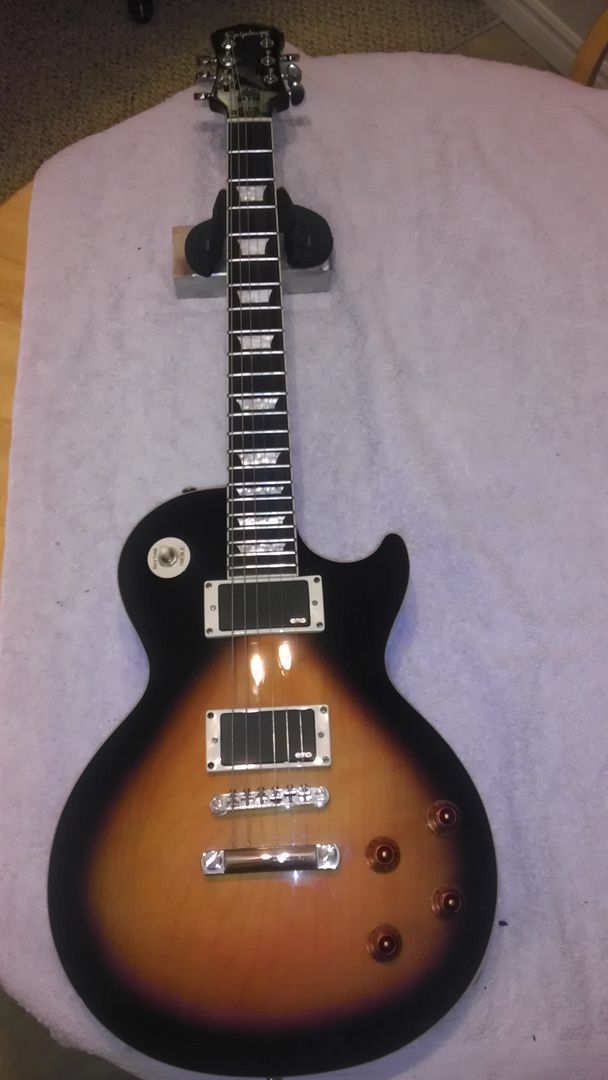 2: 2012 LTD KH-25. This one was in a pawn shop. The story was that it was played hard, used and abused. Probably needed work because the pickups sounded horrible. I don't know much about LTD's or the KH guitar series, but it turned out this was a factory distressed guitar that really really wanted someone to put a 9v battery in it for it's active pickups, but that never happened. Who buys these things and pawns them before learning how to use them? This guitar is mint (minus the stickers the original owner peeled off). Plays amazing and feels like a carbine version of my DK2, the ESP active pickups are pretty shitty, but do the trick. Lots of output and sustain. The fretboard is super dark, very nice! One thing that I learned is that I don't really like stringing up a floyd rose guitar with a headstock string retainer bar. The Floyd Rose Special bridge on this guitar is new and clean, but doesn't feel like it will last. Tightening up the bridge hardware doesn't seem as solid as a floyd rose original.
3: 1992ish Jackson DinkyXL Professional. What an awesome bridge on this guitar. Another example of how far the quality has fallen on export guitars. Real MOP inlays glow just as nice as the ones on my USA KV2 and the fingerboard is a very dark piece of rosewood. Dead sexy. The neck is played right out, every fret is just about carved down to the wood. It's still playable, but needs a refret sometime for sure. Bonus, this one had a Duncan Invader in the bridge.