I'm not here to complain about this, I've read a couple of threads where people are all but begging for a solution to this problem. So I'm going to have a go at it.
I just got this LTD KH-25. It might as well be any crappy guitar, nothing spectacular about it. It is a nice playing guitar, so I want the floyd to operate correctly.
When you dump the bar or pull up, a loud 'pop' noise comes from the nut. Something is obviously moving. I've checked everything and can't see any signs of movement in the nut. The string tree also looks fine. Machine heads are tight as well. The bridge sits nice and level, and all bridge hardware is tight. This guitar is barley used (despite the factor relic job). Fret locks look great, no signs of marring from the strings. The lock bolts aren't too long either. I tried varying the tightness of the fret locks from loose to uncomfortably tight and the click is still there. The bridge posts (pivots) are nice and clean, no marring or the dreaded 'spiral grooves of the hasty'. I don't get it.
Time to take it apart I guess.
Ah hah!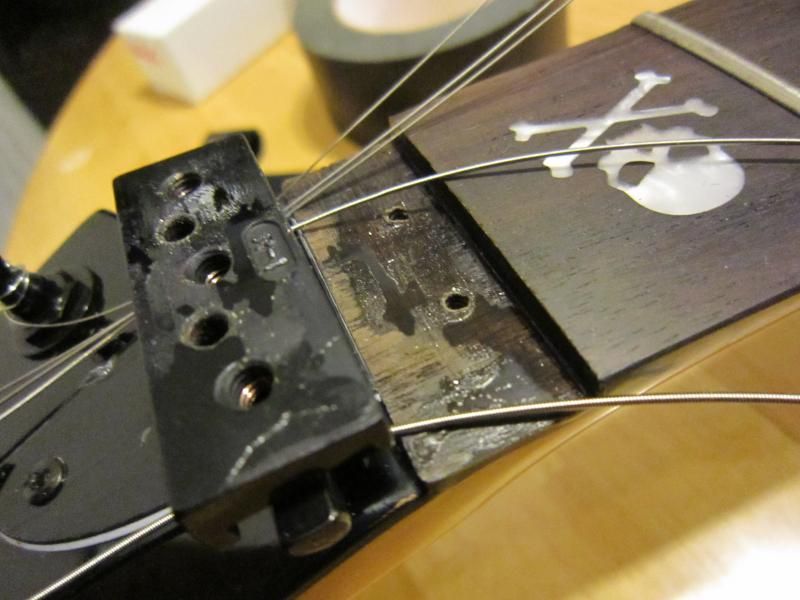 Wow. Cohesive failure of the glue! Possibly this is the issue? Kind of looks thicker on one side of the nut than the other. Maybe the glue used here was a little on the gobby side, not thin enough. End of the bottle? Maybe the tech was interupted right after the glue was applied and before the nut was set. Whatever. I'll clean it up and try re-installing the nut with some thin "crazy glue".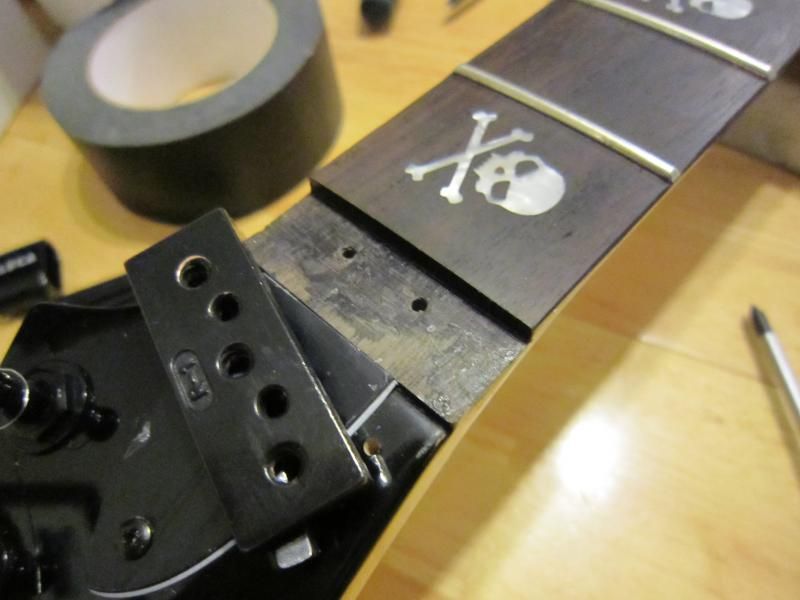 0000 Steel wool works great to clean under my nuts. I scraped the glue down on the fretoard, careful not to scratch the wood. I just 'took it down' a little. I'll finish cleaning the glue off the wood with a rigid sanding tool of some sort. Just got to find one and some glue now. Loctite 401 perhaps.
So, I plan on laying an even but very thin film of adhesive down and then quickly re-set the nut. If this doesn't fix it I'll be moving on to the truss rod, ugh...
I have a friend that owns an LTD with the same issue. I didn't care until it happened to me haha. If this works I'll try it on his as well.