So I was talking to the guy I got my San Dimas Jackson Dinky from the other day and I told him that I was looking for a H/s to use with this blues gig I'm involved in. the other band members don't want me to use any pointy head stocks so my Jacksons are all out. He had this mutt he put together (and was currently gigging it) but being the gear whore that he is asked me if I wanted to take a look at it.. I did and it came home with me.
80's Woodburn Jackson neck
2005 USA charvel Body, late 80's floyd, 80's dimarzio PAF (man I am not used to playing with such low output pickups, but it sounds cool). Late San Dimas/Ontario neck plate.
It rocks, sounds very much like a souped up "strat", I would have a hard time using this for anything metal , but that's not what it's for.
He had it painted this color (it's a Fender blue, I forgot which one)
The Woodburn neck is thinner than I had expected more like the Jackson "speed profile" but it's working well for this type of stuff. I was working through some Yngwie a little earlier tonight, it's going to take me a little while to get used to these low output pickups.
So as of now it looks like I'll be gigging this,maybe my charvel Model 1A(that headstock though) and my blue GMW with this band.
I just can't get a good blues sound out of that white Charvel San Dimas I bought so it's up on reverb.com Bummer too because it plays great, it's just got this very scooped metal sound to it (even with the AT-1 in there) and it sounds terrible for this type of stuff I'm playing now
GMW(hands down the best bolt on guitar I've ever owned, 1 3/4" nut I love it!)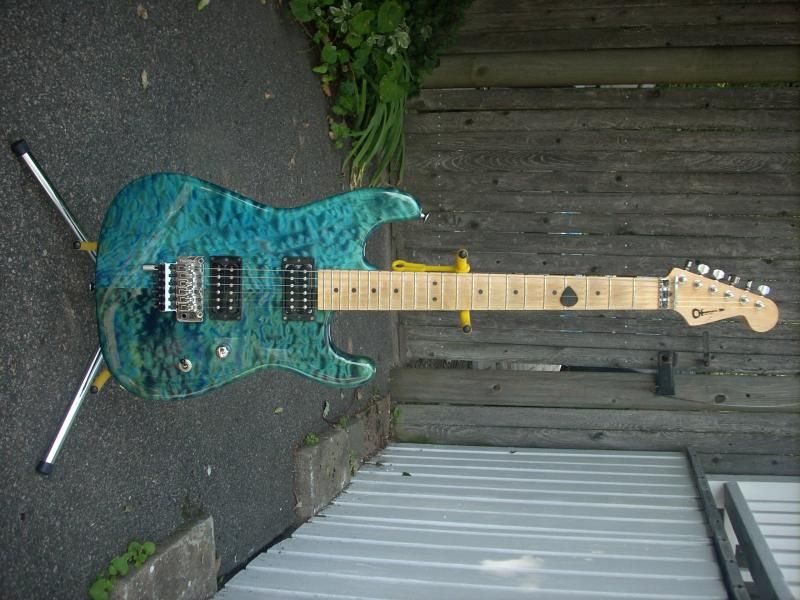 Model 1A (I'm thinking about loading it with Dimrzio virtuals you guys have any experience with those?)