The story of this JEM starts in October of '96 at the G3 show in Boston. I wanted to see EJ, didn't really care about Vai or Satch until I actually saw Vai play....and I was fucking HOOKED. Skipped school the next day and dug out every guitar mag I could with Vai in it and started drooling over the 7VWH. I would stare at the catalog for fucking HOURS just dreaming of this guitar....I honestly don't think I've ever wanted something so badly in my life.
Fast forward a few months, my dad meets a woman online who lives in NYC, while we were in Nashua, NH at the time. I had just moved there from Maine, just started making friends when they decide they wanted to live together in NYC...try as they might, I wouldn't budge, for months....and then one of them got smart- "If you move to NYC we'll buy you the JEM."
Done. We were there in about 3 days after they bribed me.
I had to wait about 3-4 weeks before we were settled in before we could go get it. My dad called Manny's Music, they had 2 in stock, one on the floor and one still wrapped in foam that hadn't been touched. I choose the latter before even leaving the house.
I was 15 at the time....I thought I was the coolest fucking kid on AOL.
I don't have any great pics of the guitar back then, but this is one from maybe 6 months after I got it-
It stayed in mint condition for the first year. Once it got it's first dent...it was all over with. I didn't care anymore. Maybe it was because I was such a Vai freak and the way he treated EVO, I dunno, but over the next 16 years, this guitar took some shit.
First I swapped out the bridge for an original Edge because that's what Vai had on EVO. This was actually a dead mint Edge when I got it in the late 90's.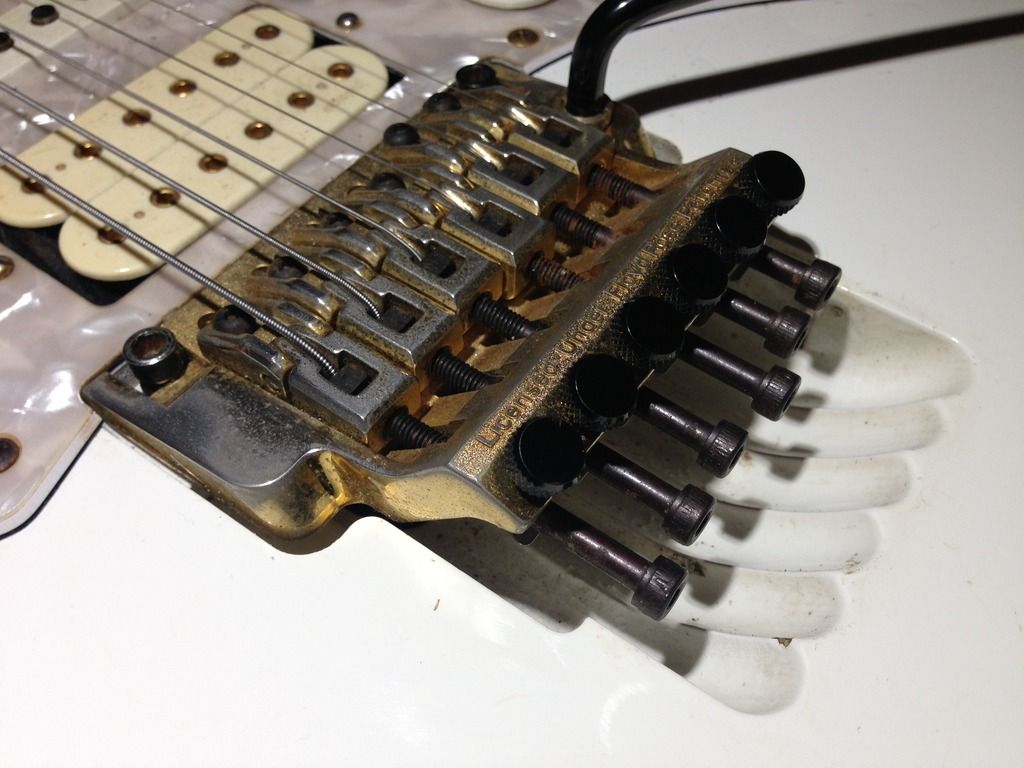 I've thought of changing it back to a Lo-Pro, maybe I will some day but it's good as is for now. Knife edges are a bit fucked.
This was the first real chip in the guitar. Parents had a party at the house, guitar got passed around a bit by their friends....I was pretty pissed.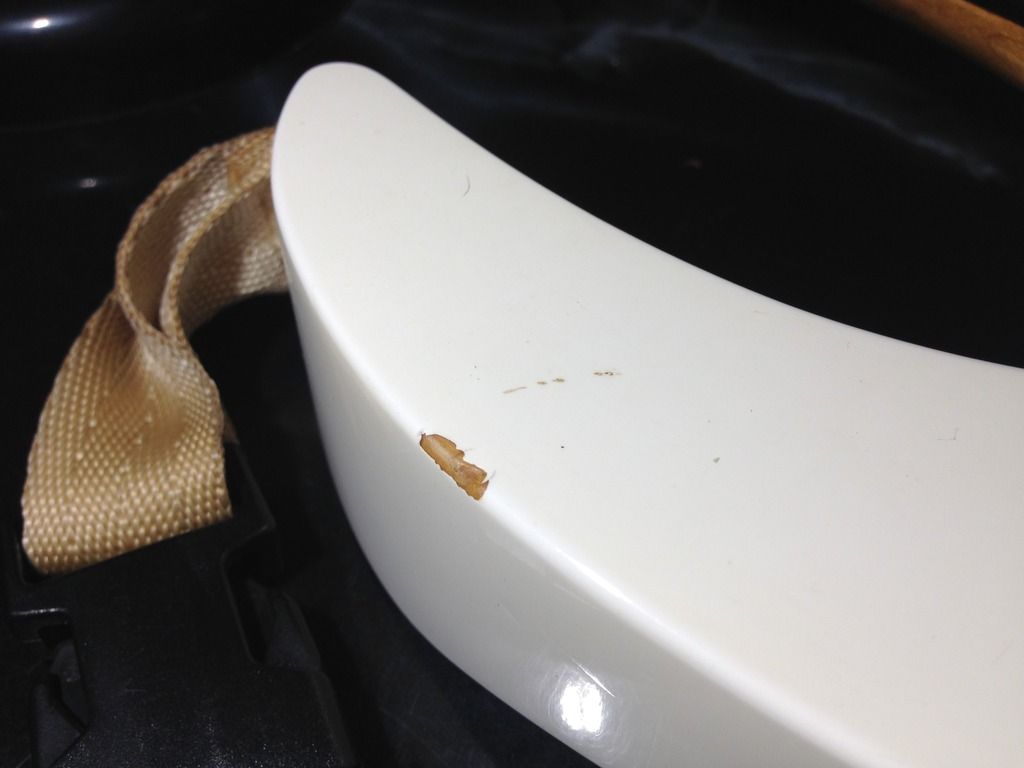 I had this roommate who had a fucking evil streak that I've yet to see anyone compare to. I got into an argument with her while playing one day and threw it down into it's case. When I went to grab it later, I the two giant cracks behind the nut, leading to the fingerboard. I honestly cried over this. Tears.
I did what any genius would and repaired it myself. It actually held for about 5 years before the Massachusetts weather fucked it all up, at which point I brought it to the Guitar Dr in Bridgewater who brought it back to health...but I'm getting ahead of myself.
Wood filler I shoved in to fill the gap left by the wood chipping when it cracked originally.
When I first moved to Florida, that's when I really started playing shows and when the guitar started to really take some abuse.
But when I moved up to Massachusetts (Rockland)....that's when my 5 year bender started it's course. The neck was so fucked coming out of that first Summer up there that I thought it was DONE. I stopped playing it, I literally tried shooting arrows with it as a joke in the backyard once. I did a LOT of dumb shit during that 5 years...some of it occurred with a Dremel tool.
No one can ever claim it's NOT my guitar!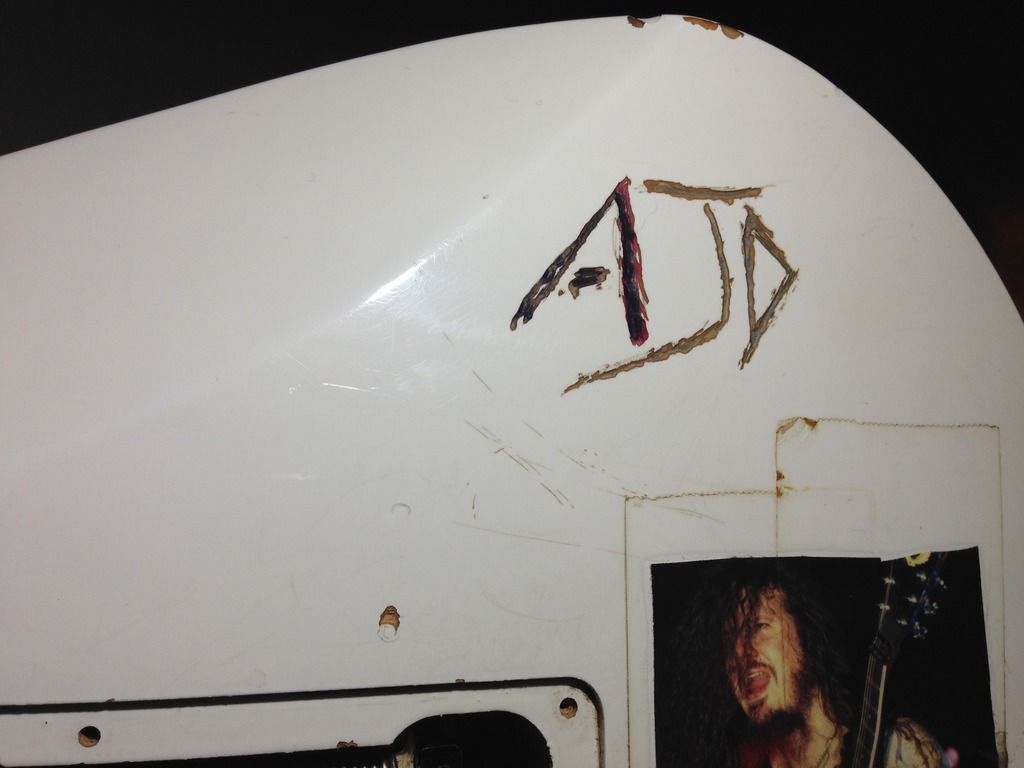 The rest of the dents/chips happened during actual use. Believe it or not, the guitar was always in it's case when not played, or hanging on a wall. There was a brief time it was on a guitar rack but after someone dropped a floor vent lid on it, I put it back away.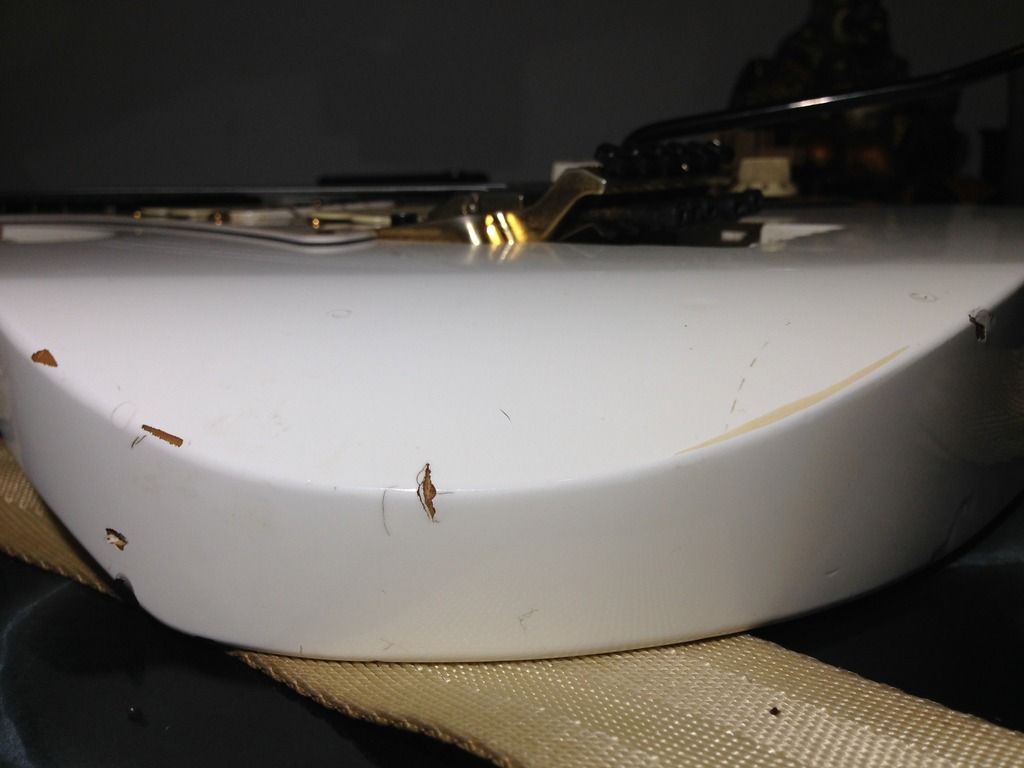 Oh....and the smoke burns...these actually happened before I started smoking cigarettes.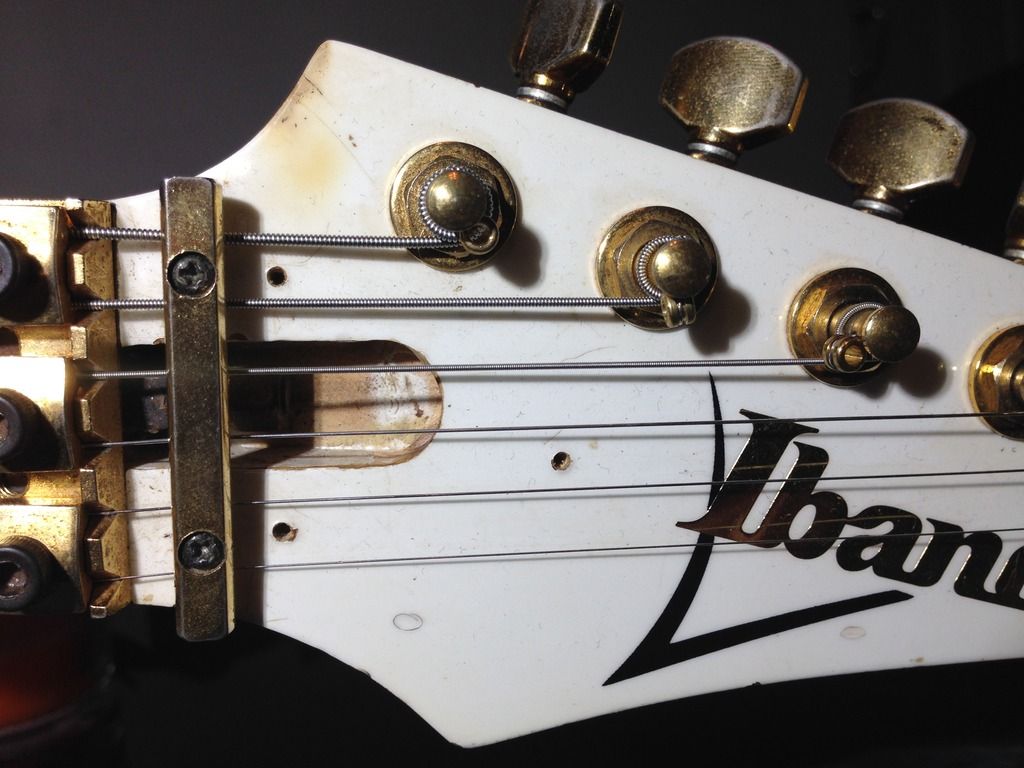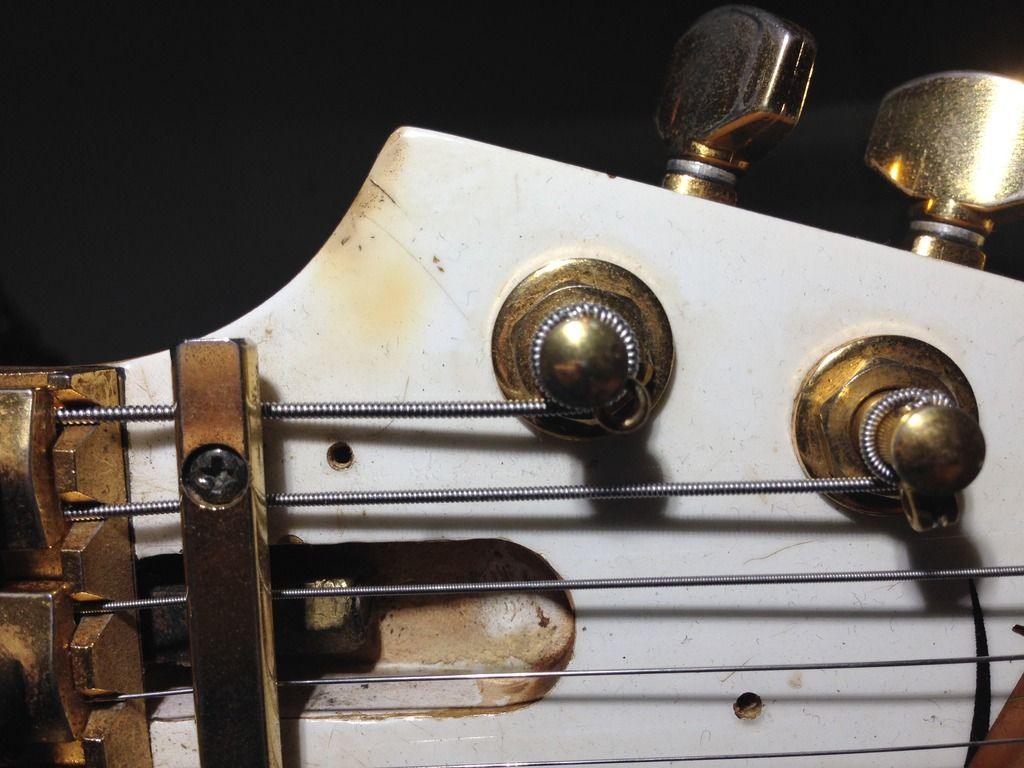 Random bits: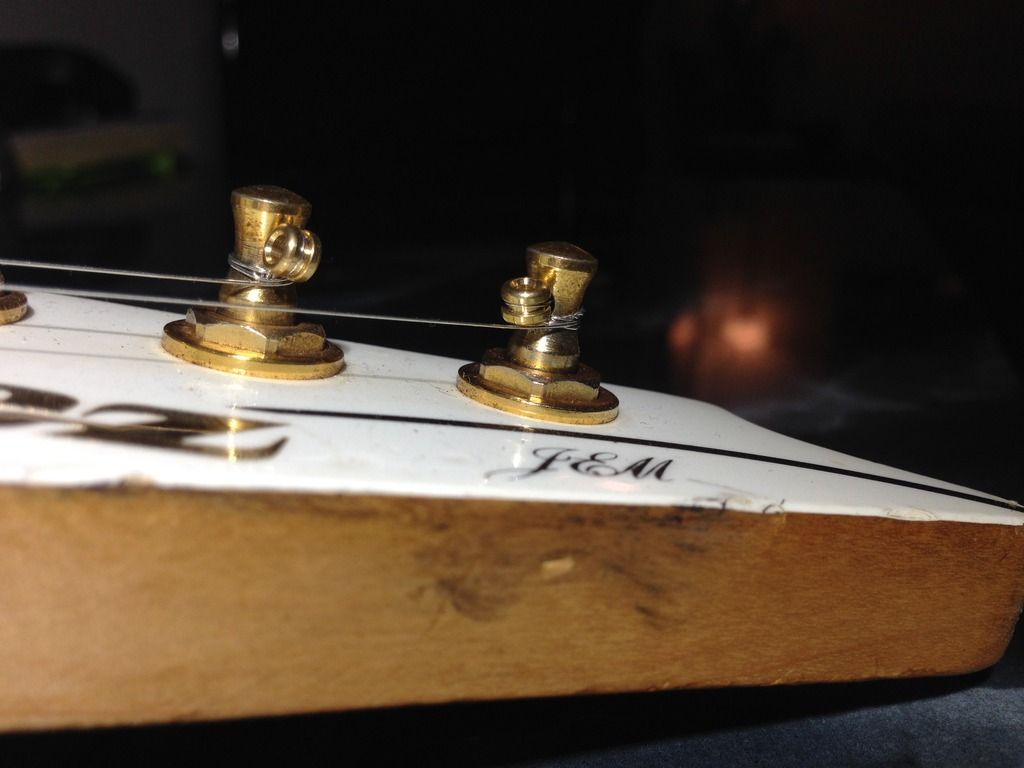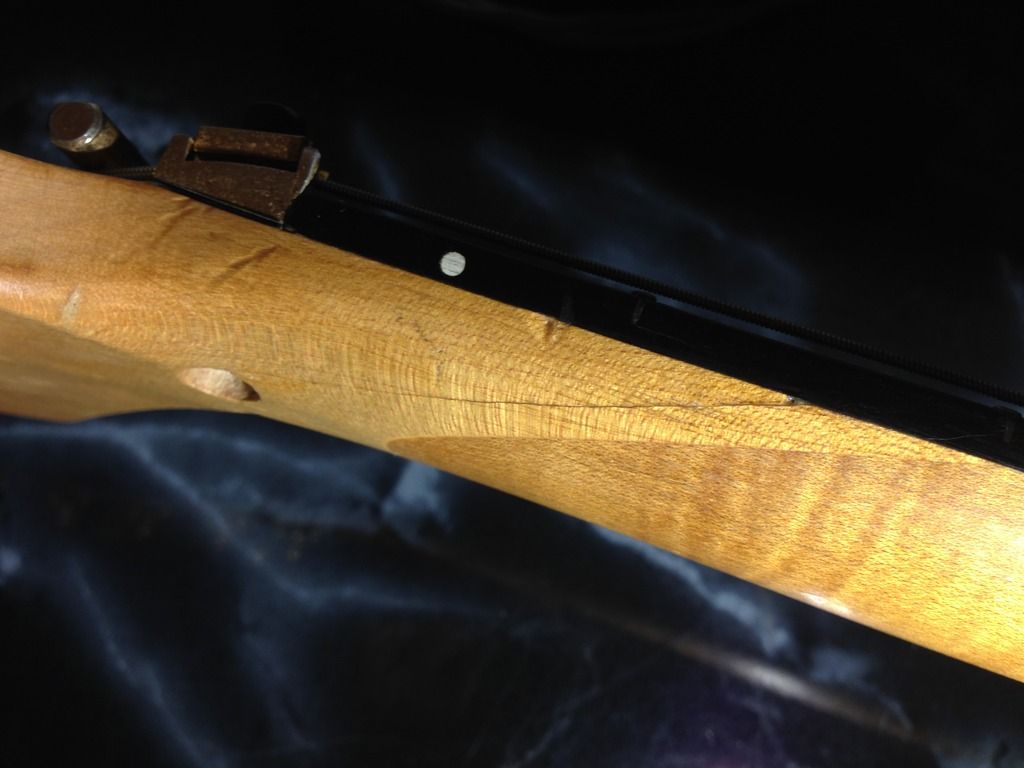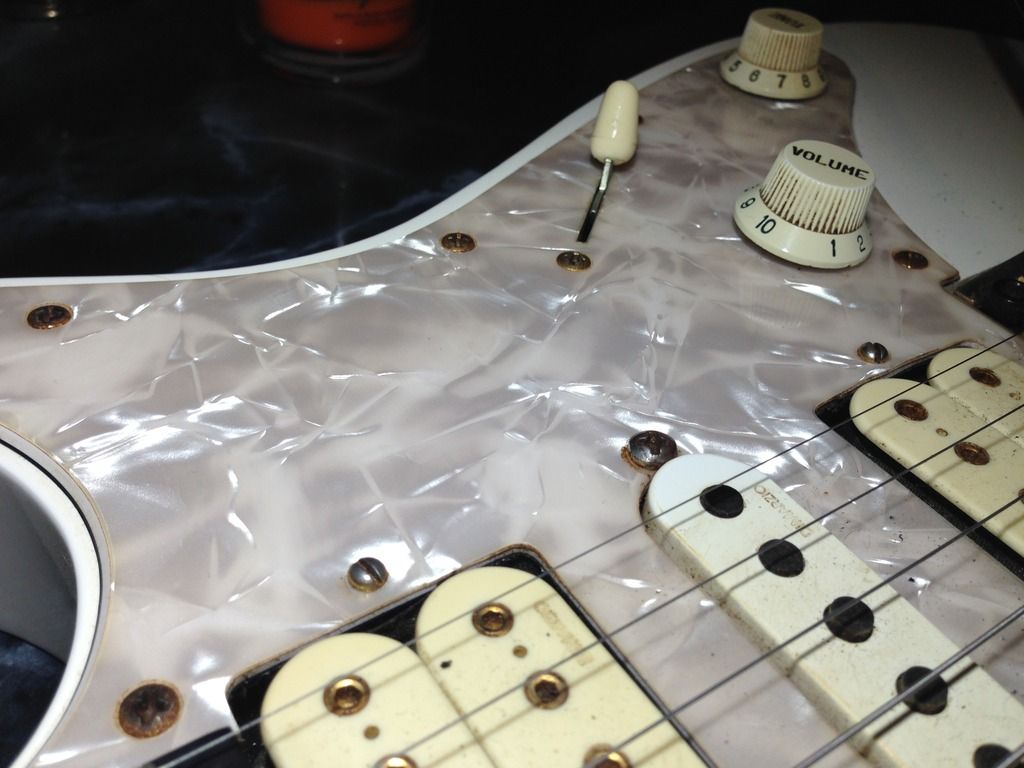 It's time to bring it back in for some work. Definitely time for a re-fret and those knife-edges might be bad enough to seek a replacement trem. Had to swap out the selector switch and the volume pot about a year ago because they finally shit out after all the sweat and booze spilled in there.
I still sit on my couch and stare at it, just like I used to stare at the Ibanez catalog when I was a kid....only difference is, after my foreplay, I can pick it up and play it.
Oh yeah, that's Clint Lowery's (Sevendust) sig on the back. He's been a big influence on me and helped me through a bit of a time and with him being a big Vai fan I thought it'd be cool to have him sign it. Eventually I'll get Vai to sign it somewhere, but I'm not really interested in autographs all that much. I keep the Dime pic on there because....it's Dime. I got a couple prayer cards from some friends/family's funerals that I stick over the backplate area, they secure in there pretty well on their own, always good to have reminders of great people when ya play!