As the title says!!!!!!!!!!!!!
Are there any that fits that EXACT premiss?
Why are there no factory guitars like this?
There are with
almost
like this
There some old ESP M-I
I could live with one of these, if painted white and plug that stupid miniswitch hole.
But the floyd is NOT recessed!
But the floyd is NOT recessed!
Ugly inlays and archtop body... Bah!
SOOOOOOOOOOOOOOOOO
1. Going custom will cost more than I can posibbly afford
2. And if I go custom, the builder MUST make Jackson headstock and M/Soloist body. No weird variations!
3. Buying a used Jackson Soloist or ESP M-II and plugging the neck hole...
4. Warmoth but that wont be neckthrough and I hate that fucking Arcade Headstock tumor!
That tumor ruins the whole deal!
I want a gloss finished neck, and I can't shave the outgrowth off without ruining the finish, which would have been tolerable on a non-reversed headstock because that wouldn't be visible from my playing view, but reversed would make it visible all the time, and I wont be able to make a good shave + cover because it WILL be visible.
And I wont be ordering a unfinished neck and do it myself because I want the luxury of a professionally painted body / neck... but that tumor ruins the whole deal as I just wrote
Does anybody know any guitars like this?
I know Jackson also have Dinkys almost like this: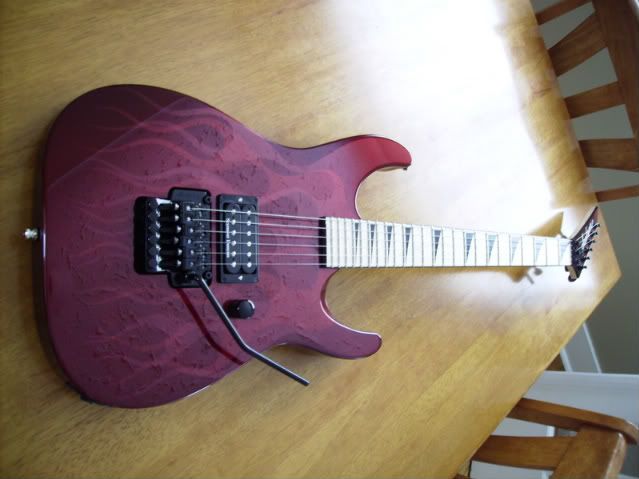 But I dont want a maple neck...
Are there any options? I search like mad and never find anything that's perfect
And custom will be very expensive even tho thats the best bet... But I will NOOOOOOOOOOOT go with ESP or Jackson, because ESP doesn't do 3-piece maple neck, and they dont do the old school Jackson headstock any more. And Jackson seems to be oneo f the worst custom shops of the big ones, with crap coming out all the time (like the 23 fret Kelly). I'm not risking 2 years of my life to be hugely dissapointed.
And if I go with some other custom shop, they HAVE to make headstock and body ackording to the Soloist or M-I, because I can't stand variations like this:
So far RAN Guitars seems like a good option. The Cruiser model and the Thor headstock is pretty close to Soloist body and actually, Kramer headstock. Fair enough.
They even make fretboards with RICHLITE! Thats just awesome. Fuck wood.
And to a decent price... For a custom that is! Still about $2500...
But I still look for options?!