Over on thefretboard.co.uk, one of the lads posted this image
in a thread entitled "Is there a colour/finish for guitar that you need to own one day?"
Is there a colour/finish for guitar that you need to own one day? - Guitar Discussions on theFretBoard
I was stricken! The ideal solution to the question of what to play with my thrash metal band! Something that would transform my dull stage image!
I'm trying to decide whether it looks better with a reverse headstock. Metal guitars often do, but the symmetry seems to suffer a little in this case. :headscratch: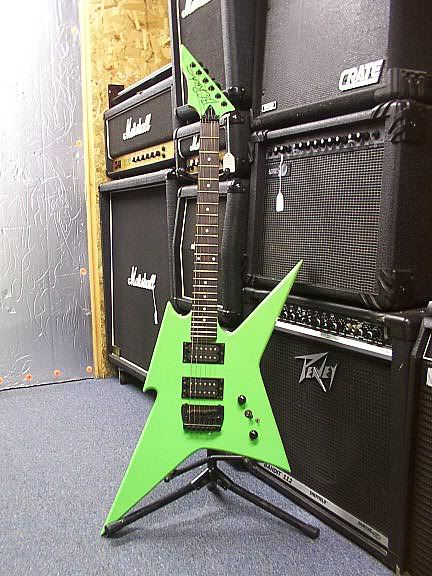 Either way, I'd certainly have to lose the Kahler-alike for a hardtail or a proper recessed Floyd and get the diamond inlays instead of dots, though.
There are more pictures of that first guitar on the dudewithstuff website (
Ironbird-Green
). That's a proper treasure trove of BC Rich pictures and information, but it's hard to navigate between all the different versions he's got online.
For loads of Ironbird pics, click here:
ironbirdpage
I reckon the first Ironbird I saw was Dave Mustaine's, as shown here:
Pretty sure I saw it accompanying a Spitz/Mustaine interview in an old Guitar for the Practicing Musician[1]. I remember marvelling at how anyone could possibly play something so pointy. Unfortunately, that probably applies to me, too. I've been spoiled by the comfort contours of Strats since I started playing. I even feel uncomfortable on carve-top Strat shapes. Still, I could get a mid-price one and use it a bit on stage, simply because it looks awesome.
Unfortunately, this probably isn't going to work out. Awesome though it would be. BC Rich doesn't even seem to be making Ironbirds anymore, according to their site.
Their Custom Shop page doesn't look very promising at all. So if I really wanted an Ironbird, I'd have to go secondhand, where there are precious few instruments to be had, or get a replica made by someone like RAN. They make quite a tidy copy:
I feel a kinship with Ced!
Except if I do invest all the time and money, I'll likely be left with something I don't really feel great playing. Bah.
Oh well, back to trying to find an appropriate superstrat. :|
[1] A metal special, with reprints of old articles.