I made this thread once:
Can I really trust Schallers measurement quality control?
Apparently I was RIGHT!!!!
So I ordered a FLOYD ROSE and I got THIS in my package;
Hows that for german precision?
So I ordered a bridge from Swedish parts supplier instead...
Schaller also claims that the Lockmeister is a "direct replacement" for the OFR... I thought so at first too, but after a while I discovered something is wrong with this bridge.
I tried the Lockmeister on TWO Warmoth OFR routed bodies. It made a weird "popping" sound like this (yes, with all 6 strings attached, too)
Both make that sound, like it has a different stud-to-stud spacing compared to bridge...
Also, I have double checked, and it makes NO contact with the rout walls, at all!
Currently, that Lockmeister is installed on my Jackson RR24, but it has weird tuning issues.
Aater a dive, the lower strings keeps getting tuned up, and the lower strings gets tuned down.
I never had any of these issues setting up my OFR, and that one still works like charm...
Here's ORIGINAL FLOYD ROSE which I have installed without any isses on my Warmoth:
74mm stud spacing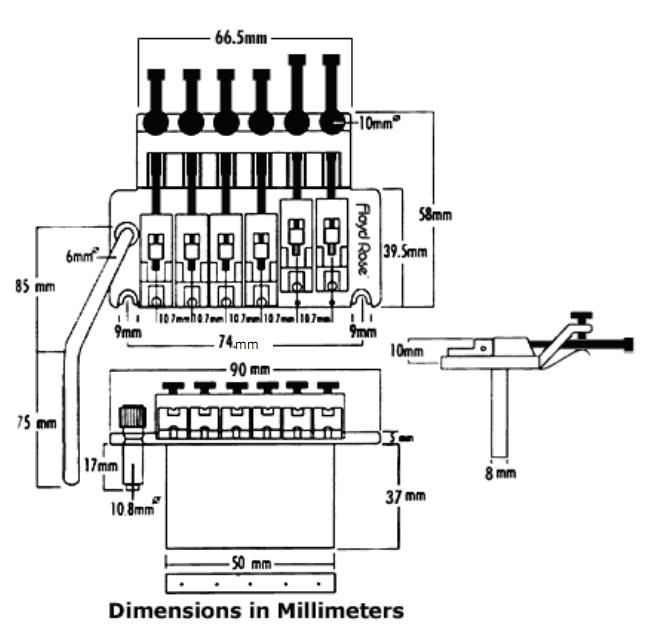 Here's the diagram for the Lockmeister...
Not only does it have the wrong picture (the picture shows an old scool Schaller trem)
74.3mm stud spacing
Warmoth makes 74mm stud spacing on their OFR bodies.
Weird, that my OFR works fine, but the Lockmeister does NOT work?
So, why do they say that they are direct replacements when they apparently are not?