Er yeah nah yeah nah, back in April or May last year I bought a Universe style Area 51 body off eBay while they were trying to get rid of all the stuff they made and I thought "aw hell yeah, I'm going to make a Domination themed Universe" but had a bit of trouble finding a neck for it. Considered buying a Perle neck but those are crazy expensive for a parts build and import taxes are annoying. I pretty much left the project on hold until I returned to college after the summer and one of the new lads in our group told me he had a 7 string he never played, which he would consider selling. Eventually he showed me pics and I bought it off him for almost nothing, considering it was a Prestige. However, there was a reason it was dirt cheap. Enter the 'Catch the spida' RG1527: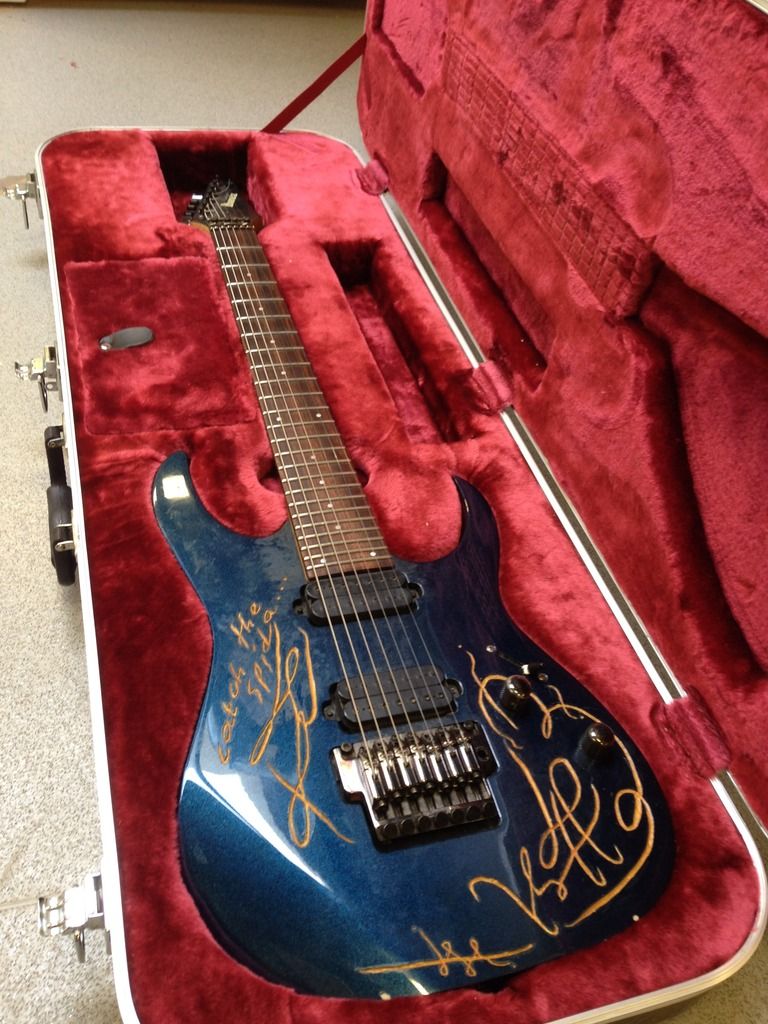 Told James what I was up to and he sold me his unused Lo Pro. (not only because I prefer Lo Pro, but because an Edge Pro wouldn't fit the UV body)
Then what did I do? Nothing for ages while I mulled over how on earth I was going to pull it off without violating my wallet for the paint job and if slime green would even work with a rosewood fretboard. Luckily, I messaged 7DT, sent him a picture of the RG and before I could ask what to do with the replacement body, he offered me a pre-finished body as well as the exact pickups I wanted, so yeah, waffle over- here's the finished result after neck pocket work, wiring, set up, etc.
Big up James, 7DT and Cassidy (who gave me the strings!) for the help, I think this has the title of being my MG guitar. Here it is with my collection of the album that inspired its creation.
Specs, if they're not obvious.
-Ash body
-Maple/wenge 5 piece neck with a rosewood fretboard
-Ibanez Lo Pro bridge
-Dimarzio Blazes
-JPM wiring
THEY CRAWL, THEY BREED, THEY HIDE BUT WE SEE!