And it sounds quite bad ass. I got a shielding kit from StewMac and used the downtime today to sit down with my dad (who's way better at wiring than me) and shield the boobs out of the cavities and totally rewire this thing.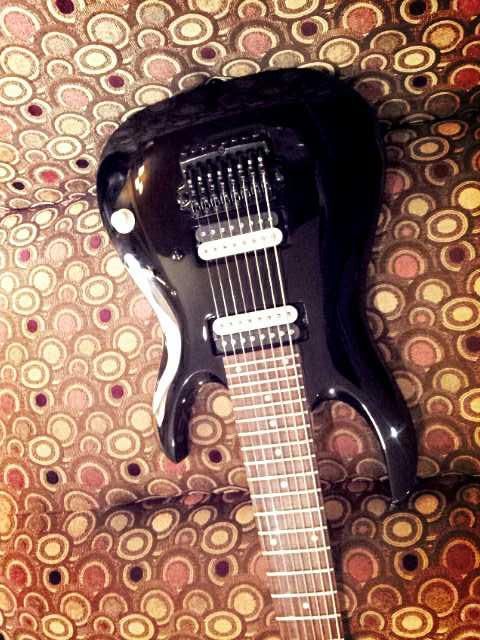 The D Activator in the bridge sound amazing for cleans. If I didn't need to do jazzy tones, I'd be totally happy with a bridge pup only guitar. It doesn't get quite as fat as a neck pickup, but it stays more defined, so there's some payoff. It works a bit better with more wet tones, too. I'm not sure how much the shorter scale and mahogany body are doing for that. The high gain's pretty standard, about as tight and defined as these pickups could get in this guitar. From what I remember, this sounds pretty close to my surprisingly polite C-Pig 8, just a bit more rude.
The PAF 8 in the neck is warmer than I was expecting. I prefer the DA8 in the bridge for leads (not that I can play them), and the clarity and mids from the bridge are beneficial to more wet tones, but the PAF does a mean jazzy clean. Breaks up pretty nicely, but no more than your typical LP.
The real surprise for me was the middle position (both series). I normally never use the middle position, but on this guitar it's become my go-to for a standard clean tone, and even some leads. It's brighter and punchier than the PAF 8, but fatter and sweeter than the DA8. It sounds exactly like I would have hoped and expected the neck DA8 to sound, so with the middle position the PAF8 basically got me two pickups in one.
The guitar has been giving me nothing but shit since I got it, but at least it sounds decent now, and will get me actually jamming and hopefully recording until I can afford something better. It's been a long half year or so, but when I can borrow a camera I'll post the official NGD.