So....
there isn't tons out there on the interwebs comparatively speaking by way of reviews for these pickups so I thought I'd offer my 2 cents as well as how one pickup led to the other.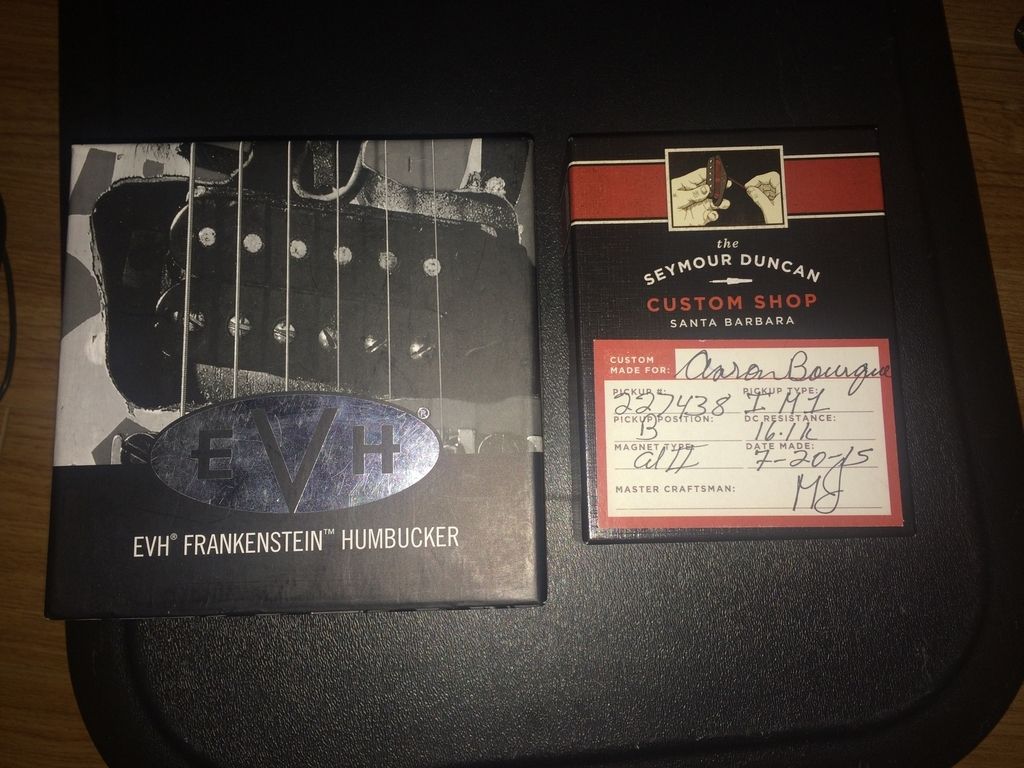 I was at Long and McQuade one day (local music store) and saw the EVH Frankenstein in it's ornate box and looked it up. Bought into the hype. One guy even said it was the best pickup he'd ever played.
The thing is $200 so I should almost hope so but still.....
My other guitars have things like EMG's, (81, 85), JB's, Blackouts, Gibson 500 t,.... that sort of thing.
I'm a solid rhythm player and a wanna be lead guy (shredder would be going too far)
Pickups that I've swapped out and not looked back include: Bill Lawrence L500, Di Marzio crunch lab, Di Marzio X2N, PAF Pro, Duncan Distortion, Chris Broderick custom (based off D activators from what I understand)
So anyway I get this EVH Frankenstein and I put it in my custom Swamp Ash / Maple Neck made by one of my good friends Darcy Bunio.
Darcy Bunio Guitars
[IMG]
[/IMG]
Holy man.... de gaused alnico 2 magnet so not high output by any means but WOW. This thing sounds amazing.
Very versatile.... it allows me to somewhat convincingly cop the 2 and a half Van Halen riffs I know before I break into my usual Carcass riffs that I play a million times a day seamlessly.
Totally smooth... no honkieness, It's kind of like getting your gain stage right before a hot amp. My experience with really hot pickups into a really high gain amp is that it somehow puts it over the top for me. This pick up is the perfect balance.
Anyway, I was under the understanding that although the Frankenstein is an EVH product it is actually made by Seymour Duncan.
I also have a Washburn N4.....
This originally had the Bill Lawrence in it, subsequently a variety of other pickups but I liked the Frankenstein so much in a guitar with similar qualities that I sent an email to the Seymour Duncan Custom Shop:
"Hi, it's my understanding that you folks actually manufacture the EVH Frankenstein pickup ( under aforementioned name)
I have this pick up in one of my guitars with a tune o matic bridge and love it. It's Gibson spaced obviously.
My question is, would you be able to make the same pick up ( or some facsimile thereof) in an F spaced version for a floating bridge so the strings line of with the poles?
Thank you."
I get that Eddie's was Gibson spaced with a Floyd but whatever. I wanted the poles to match up.
Less than 24 Hours later I get this in response:
Hi Aaron,
Yes, the pickup you are looking for is our 'IM1' model, which can be ordered as a Trembucker here:
http://customshop.seymourduncan.com/im1/
I order the IM1, (it was like $300 all in) and it arrives about a week later.
It goes in my N4.
Wow. (again). More or less the same specs as the EVH but trem spaced (as advertised) and I'm really happy.
I'm a big death metal guy that actually wants to be Van Halen and these pickups more that cover that spectrum.
Highly recommended.