A drummer friend of mine brought a guitar around yesterday, his kid is looking to start playing and his brother donated this Jackson to him a few years ago. It's been left neglected for a while now, the fretboard was really crummy and you can see the body has a lot of scrapes and dings. He asked if I could do anything with it. I know some of you are techs so do this kind stuff everyday but I've only tinkered a bit with my stuff before so I figured I'd make a thread with it.
He wants me to lock up the trem and give it a setup and clean so he can get his kid started. I think it's probably a DK2, my Jackson knowledge isn't what it was but I don't think it's a JS series because it has a trem and sharkfins, and the lack of a professional decal on the headstock makes me think it's a DK2. I could be wrong though? The pickups were swapped out, a friend of his took the duncans and left some duncan designed singles and an emh hz in it. I plugged it in and tested the electronics, everything works and nothing is noisy in it which is sweet because it hadn't been tested in a few years.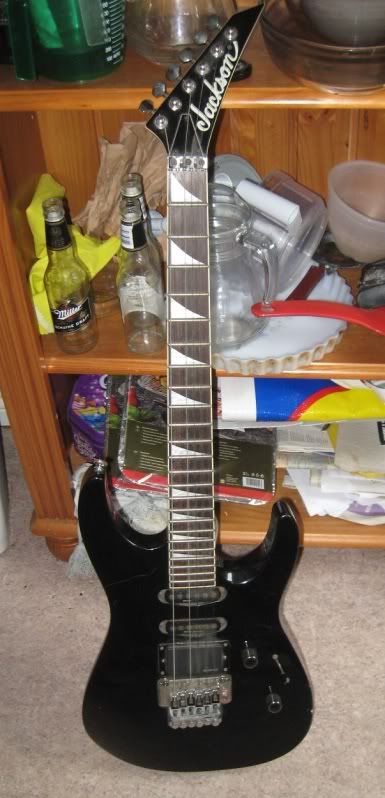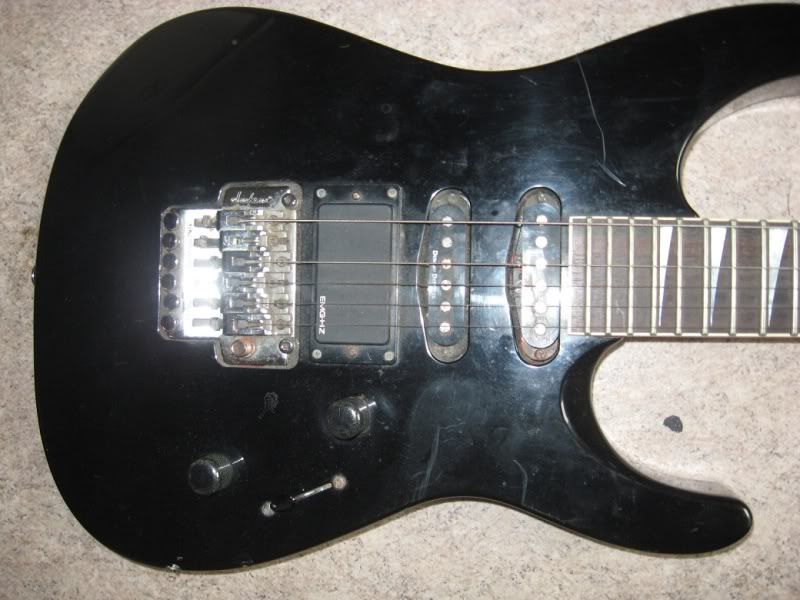 I grabbed my box of guitar stuff and started on it. This box is something I picked up a few months back and has proved invaluable for keeping all those little bits of guitar stuff together. I've got screwdrivers, allen keys, lemon oil, rags, strings, picks and loads of little spares in there. It's been really handy for a little projects like this one. As you can see in the pic, I had the axe hammer close by in case of emergency!
I took off the strings to get at the fretboard and bridge. I had some of those sheets for cleaning the frets so I gave them a nice going over, they are much nicer feeling and a bit cleaner looking now. The amount of crap that came off the frets was horrifying.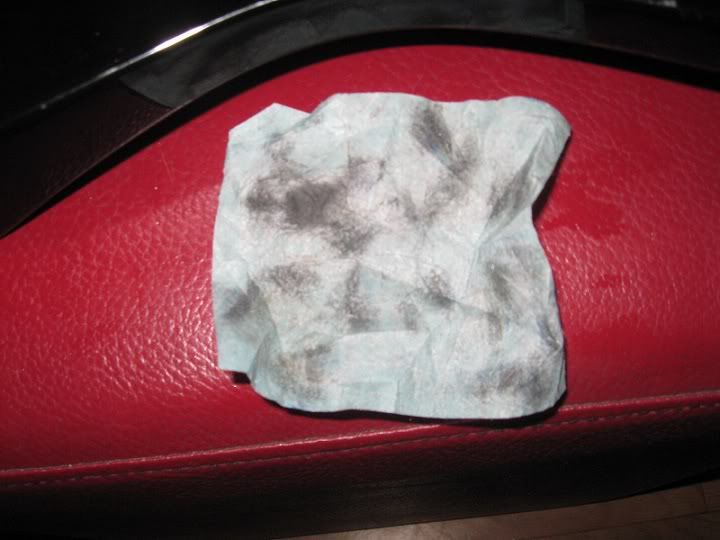 I oiled up the fretboard too, I gave it a quick scrub with an old toothbrush to clean it up a little. I wiped off the board and re-applied some lemon oil and let it sit while I worked on the bridge and body.
The bridge was pretty dirty, a few of the fine tuners had seized up and the grub screws for the string blocks were a little stiff so I took them all off, gave them a wipe of a cloth and applied some vaseline.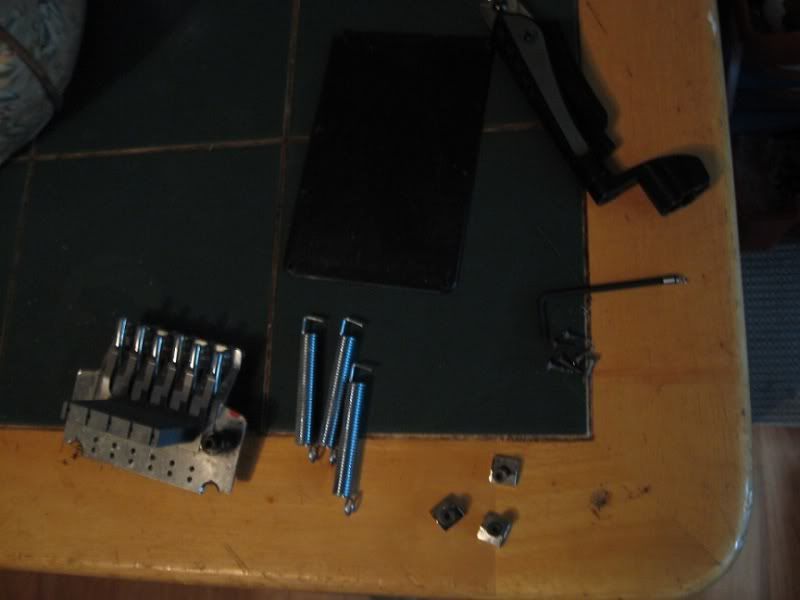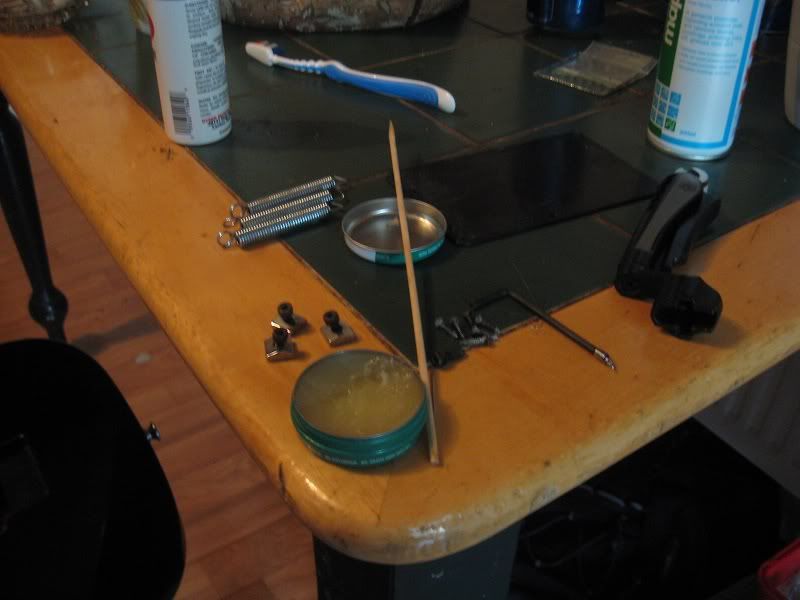 I also put some lube in the knife edges and inserts, even though the trem will be blocked.
One of the string lock blocks was missing, it must have fallen out of the bridge somewhere as that string was missing when he dropped the guitar over. I tried to use a small piece of metal, and some wood to hold the string in but anything I tried wouldn't hold the string down when I got near pitch with it. Here's the super quick wood attempt I did, beside one of the proper blocks.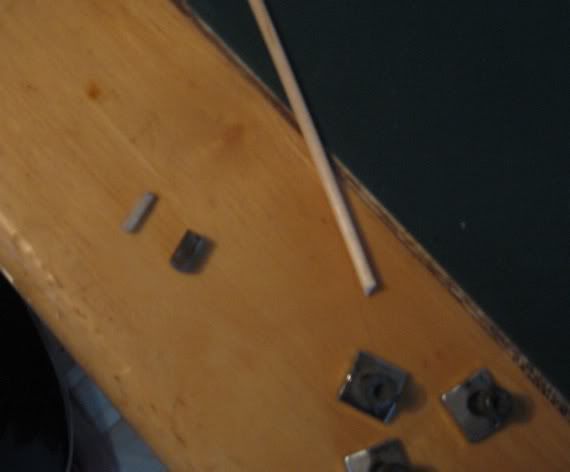 I have it tuned low with some wood holding the string in place for now. I'm going to head over to a shop tomorrow and see if they have any spares lying around. Any ideas for what I can use if they don't have one? I might order a saddle off thomann as I'll be doing an order soon.
Here's how it looks at the moment after the stuff I did today. Hopefully tomorrow I'll get the trem fully sorted with the missing part and I'll get something to block the trem with. Then it's just a setup before I hand it back.